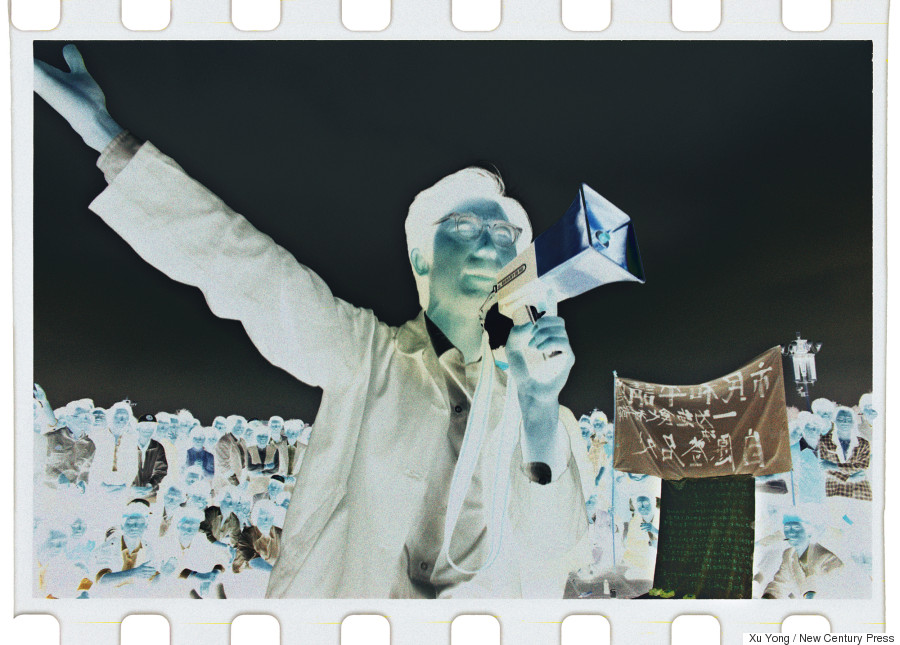 Photographer Xu Yong was in Tiananmen Square 26 years ago when Chinese government troops opened fire on their own people -- and he captured those moments.
Hundreds -- possibly thousands -- of unarmed protesters and onlookers were killed when tanks and soldiers entered central Beijing on June 3-4, 1989, to put down the student-led protests. Xu has held on to his camera negatives for decades and recently decided to publish them in an art book, titled Negatives, in what The New York Times called a "provocative" move against hard-liners in the current government.
Xu's book release coincides with the candle light vigil held Thursday night in Hong Kong by tens of thousands of students in solidarity with those killed during the Tiananmen Square protests.
For the first time in the annual vigil's quarter-century history, some student groups didn't take part and instead held their own memorials, a sign of an emerging rift between young and old over Hong Kong's pro-democracy identity that took root during the 2014 Occupy Central protests. The recent vigil was the only large-scale public commemoration of the victims on Chinese soil, and the Tiananmen events remain a taboo topic on the mainland.
"Unlike digital photographs, which can be manipulated, negatives never lie," Xu said about the unadulterated negatives.
"On the attempt to cover-up and induce amnesia on an historic event, negatives have more direct impact as evidence than normal photographs or digital media, Xu wrote in a description of the project. "However, perhaps using this form to immunize against amnesia is not that important. What should be carefully considered are the social conditions that have resulted in the prolonged process of completing these works."
Xu's more than two-decade-old negatives aren't stuck in the past. They can easily be seen in color on smartphones. If you're on an iPhone, go to your "settings" icon, hit the "general" tab, click "accessibility" and then mark the label "invert colors" to on. Android-users: go to "settings" then "accessibility" and select "inverted rendering" at the bottom of the menu.
Once you switch the color spectrum, you can either view the negatives on your phone's browser, or hold up the camera to a physical copy of the book or a desktop window to see the images in full color.
Historical magic. Take a look.
The Associated Press contributed to this report.
Calling all HuffPost superfans!
Sign up for membership to become a founding member and help shape HuffPost's next chapter
BEFORE YOU GO