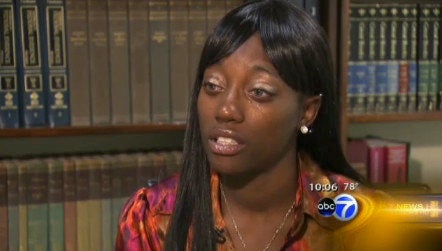 A woman who secretly recorded a conversation with two Chicago Police investigators while filing a sexual harassment complaint last August was acquitted of the felony eavesdropping charges Wednesday, with one juror calling the trial a "waste of time."
When Moore and her boyfriend attempted to report the incident and file a complaint with Chicago police investigators, they reportedly discouraged her from filing a report. That is when Moore pressed "record" on her Blackberry.
The jury found Wednesday that Moore's case met the requirements of an exception to the law that allows recording in cases where a crime is suspected.
But prosecutors had a different perspective on the case. Cook County State's Attorney Anita Alvarez's office contends that Moore's original statements to police "different drastically" than what she said in court, ABC 7 reports. They say credible evidence provided the basis of their prosecution of Moore.
"There is a lot of talk about the need for more transparency in government – we should demand that transparency from the police," Harvey Grossman, ACLU of Illinois legal director, said in a statement.
Thus far, the ACLU has been unsuccessful in their challenge of the law. Earlier this year a district court ruled against the organization. Judge Suzanne B. Conlon stated that the First Amendment does not protect citizens who record the police. ACLU has appealed and expects to participate in oral arguments in the fall.
As for the officers who are on tape encouraging Moore to refrain from filing the sexual harassment complaint? According to the Tribune, they were never investigated by the department. One of them was promoted to lieutenant.
The investigation file regarding Moore's original complaint has, meanwhile, been sealed by a court order.
"Everybody thought it was just a waste of time and that (Moore) never should have been charged," a juror told the Tribune.
Read more about other Illinois Eavesdropping Act cases here.
WATCH Moore discuss the charges filed against her:
Related
Popular in the Community