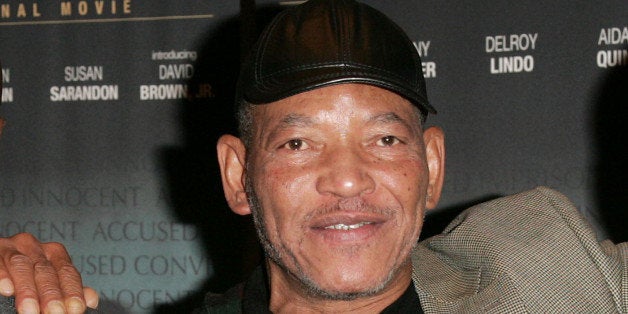 Compassion stained cheeks
Steel smothered innocence
Transcendent soul freed
-- Diann Rust-Tierney December 3, 2013
Delbert Tibbs was sentenced to death in Florida for the murder of Terry Milroy and the rape of his companion, Cynthia Nadeau. He was innocent. Delbert Tibbs was once quoted as saying "God sent me to death row so I could be a witness." Delbert Tibbs died on November 23, 2013. He was 74.
Delbert Tibbs is not a household name; it should be. He was a published poet. Pete Seeger wrote a song about him. The play and movie The Exonerated tells his story. He survived the worst that we could imagine -- being sentenced to death for a crime he did not commit. He survived the incomprehensible horror of being locked away from community, family and friends, and was subjected to daily indignities large and small. And he emerged from that experience when he was finally freed with an unfathomable wealth of compassion, understanding and love for people that compelled him to work for an end to the death penalty and freedom for other innocent people left behind.
Delbert Tibbs was the Assistant Director for Membership and Training for Witness to Innocence. Witness to Innocence is an organization of and for exonerated death row survivors and their families. As Delbert Tibbs stated so appropriately, they bring a stark reality to the myth that we have a criminal justice system that can accurately sort the innocent from the guilty -- let alone decide fairly who should live and who should die.
There is a special sense of loss thinking about Delbert Tibb's passing when I think about the loss of those years in the solitary confinement of death row.
Delbert's story follows the all-too-familiar course of the stories of many of the other 142 people released from death row because of innocence. Delbert Tibbs, a former seminary student from Chicago, was African American and the victims he was accused of harming were white. An all-white jury found him guilty in less than two days. The surviving victim misidentified him as her attacker and a jailhouse informant testified against him in hopes of securing a more lenient sentence.
Forty years after Delbert Tibb's wrongful conviction and death sentence states that continue to use death as punishment are no closer to getting it right. Witnesses still make mistakes; jailhouse informants still trade other's freedom and lives for their own. And despite our best efforts we have yet to achieve true race neutral justice.
Delbert Tibbs leaves a powerful legacy. He taught us that each of us has the power to make a difference regardless of our present circumstances or the deprivations of our past. And like Delbert Tibbs, when we witness injustice we must speak out and work tirelessly to end it.
We send our deepest condolences to the family and friends of Delbert Tibbs and to our colleagues at Witness to Innocence.
In his honor we pledge to continue the struggle with the same spirit of indefatigable compassion.
Calling all HuffPost superfans!
Sign up for membership to become a founding member and help shape HuffPost's next chapter