As I approached Tibet's capital, Lhasa, the highway divided. What I remembered as a rough two-lane road that ran through town and hosted an occasional vehicle was now a six-lane divided highway full of taxis, SUVs, trucks and buses. Huge shopping centers, ubiquitous cellular coverage and a train that facilitates the arrival of 6 million (mostly Han Chinese) tourists each year are rapidly changing Tibet.
Adding to all these changes, the effects of climate change are accelerating on the Tibetan Plateau. With the exception of the North and South Poles, Tibet's glaciers hold the largest body of frozen water on earth and serve as Asia's 'water tower.' These glaciers that feed the major rivers of Asia and supply nearly two billion people with their life-giving water, are disappearing at an alarming rate. Large areas of the once-fertile plateau are turning to desert and the Tibetan nomads and farmers I talked with are finding it harder than ever to subsist. The Chinese government, realizing its vital water supply is being threatened, has responded to the climate crisis by moving tens of thousands of nomads into resettlement camps and fencing off large portions of land in hopes the desertification will be reversed and the grasslands will regenerate.
In spite of all the massive changes occurring in Tibet, the devotion of the Tibetan people to their Buddhist practice appears as strong as ever. The number of pilgrims making their way to their sacred sites -- like the Jokhang Temple and Mount Kailash -- have actually increased in the last two years. In the mornings and afternoons I watched thousands of Tibetans, even elders crippled with bad hips and knees, make their daily walks around stupas, temples and mountains, spinning their prayer wheels and chanting their mantra, "Om Mani Padme Hum."
During my recent travels I photographed and interviewed countless Tibetan nomads, farmers, monks and nuns. My questions focused on their devotional practice, their adoption of technology and the challenges they face as a result of the changing climate.
All images and captions courtesy of Phil Borges.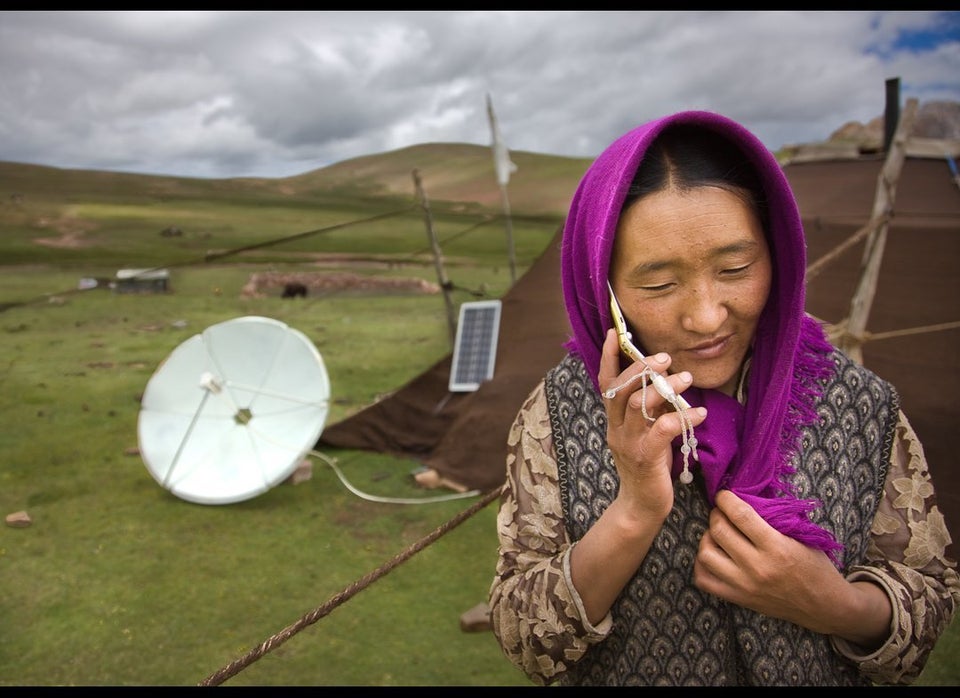 iLCP Phil Borges - Tibet
Phil's recent experiences traveling across the Tibetan Plateau over the last year and a half are now in the form of a beautiful book, entitled "Tibet: Culture on the Edge".
"I had returned to Tibet after a 15-year absence and the changes I saw both astonished and shocked me. My book provides an insight into these remarkable people, who live in one of the most fragile environments on earth, and face a rapid induction into the twenty-first century while trying to retain that which they hold most dear -- their Tibetan Buddhist practice and culture," Borges said.
For over twenty five years Phil Borges has documented indigenous and tribal cultures around the world. Through his exhibits, books and multimedia projects, he strives to create a heightened understanding of issues faced by people in the developing world. Phil is a Fellow of the International League of conservation Photographers.
Popular in the Community