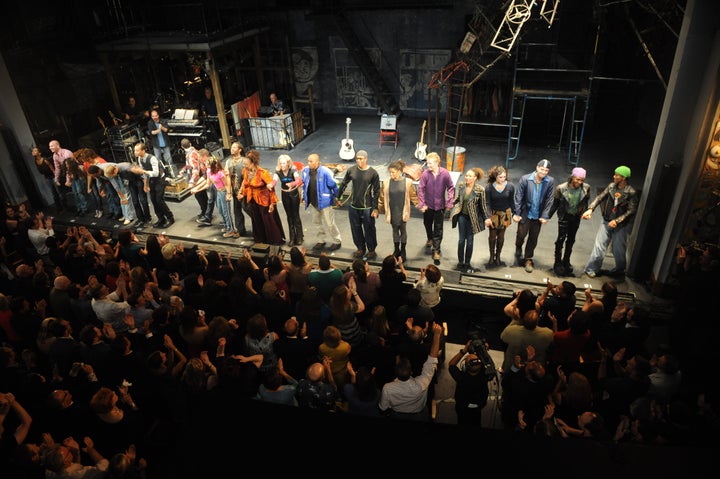 It's a Jonathan Larson summer in Chicago. Currently, the genre-defining musical theatre composer is receiving productions of his two major shows by a trio of distinguished local theatre companies.
Tick, Tick... Boom!, which is essentially the precursor to Rent, is a largely autobiographical musical about the late composer's artistic struggles as he begins to ease into his rock-meets-musical-theatre sound. Porchlight Music Theatre's superbly pitched production captures Larson's artistic valley just before he entered the highest peak of his tragically short career (Larson died of a rare, misdiagnosed heart disorder in 1996 just before Rent's first major production Off-Broadway).
As "Jon" (the Larson stand-in), we have the immensely talented Adrian Aguilar who holds this fragmented show together with charisma, humanity and killer vocals. As his best friend and former fellow artist, Bear Bellinger (what a name!) melts our hearts with his earnestness and golden voice. And Jenny Guse is tasked with playing the various female roles, including Jon's mis-matched love interest.
Director Adam Pelty keeps things simple, but also has done the smart thing by partnering with Anna Henson and Rasean Davonte Johnson to develop a series of eye-popping projections that powerfully punctuate the story. Together, this team drives home the tragedy of losing a talent at his prime through a simple yet powerful framing device. Stunning stuff.
Boom and Rent carry many similar themes, chief among them the struggle to find one's way without compromising one's internal ambition. So, it makes total sense to see Rent following Boom. Unfortunately, About Face Theatre and American Theatre Company's co-production is lacking in some core ways.
Now, I've never been a fan of Rent. Rather than boring you with why, I'll say this wildly uneven production didn't change my opinion. Direct David Cromer has staged the show in the center of an audience divided. Sure, this would be a great idea, if so many core scenes weren't staged in oddly placed corners concealed by the warehouse space's eye-blocking structural beams. The singing throughout, aside from a few exceptions, is nervous making (Derrick Trumbly, who plays Roger, seemed to have the most noticeable vocal issues and relied on falsetto when Larson's score screams for power-belting). Distracting sound issues (more than once the wrong mic was on and I could hear backstage sneezing and ruffling about) didn't help things.
There are many good things to be found in spite of these issues. A bearded Alan Schmuckler makes for quite an endearing and counter-intuitive Mark Cohen, the observant-yet-detached documentary filmmaker who provides the occasional show narration (a device that's oddly underutilized in this sloppily constructed musical. Did I mention I don't like Rent?). I was also particularly smitten by Esteban Andres Cruz's rough-and-ready Angel. This is no simply sassy drag queen -- Cruz's Angel will cut a bitch, but also has a heart of gold, as evident in her relationship with Tom Collins (the impressive Alex Agard).
It's that kind of fearless attitude seen in Cruz's performance that seemed missing from this surprisingly hesitant production.
But there's still that catchy "La Vie Bohème" to save the day, and the opening night audience wasn't afraid to sing along during this moment of defiant celebration.
Related
Popular in the Community