It's been a long time since I was part of a massive scrum, battling to get the 'hot' tickets to a show where seats were fought over like a rare commodity.
So, last week when I learned about tickets to a show that I wanted to attend, I wandered into the rough and tumble world of Ticketmaster and figured I'd play by the rules.
The show was The Music Of David Bowie at Carnegie Hall. And I was on line and ready to buy my tickets at 11 am when they went on sale. I logged in, picked out tickets -- and went to place my order. The site crashed -- and when I logged back in I was told that 2,100 were now ahead of me online. Ouch. I tried the phone, but it rang at the box office without an answer. So, I threw up my hands -- figured the crash had left me out in the cold and moved on.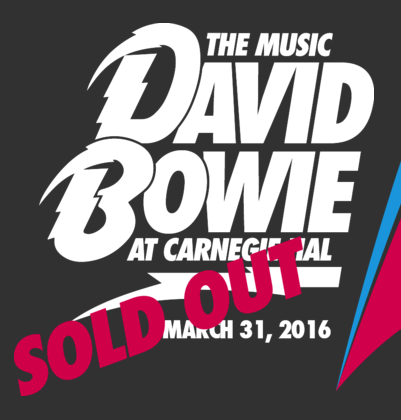 Then, the show's organizer announced that they'd added another show -- this time at Radio City Music Hall, and again there was an 11 am ticket opening the next day. So, again -- I was logged in and ready at 11 am as the on -- site countdown clock ticked away. But this time -- at 11 am, my very first keystroke was listed as "Sold Out". How is that possible, that the entire house at Radio City Music Hall was sold out within 60 seconds? And, when I called the Ticketmaster line, the friendly operator seemed kind of surprised as well. "Yeah, that's odd -- the whole house is sold out" he said. Maybe someone had bought a block of tickets? But the sales engine was limited to just 8 tickets per purchase.
Just to be clear, I don't think this has anything to do with the promoter, or the event itself. Far from it -- I think that the David Bowie event is going to be amazing, and 100% of the proceeds are going to seven charities including Grammy in the Schools, Fixing Instruments for Kids In Schools, For Music & Art, The Orchestra Now, The Center for Arts Education, Little Kids Rock, and the D'Addario Foundation.
It turns out -- getting tickets from Ticketmaster is no easy trick. Because an entire industry has sprung up around buying face value tickets and then selling them into the now massive secondary market at sites like StubHub. StubHub -- which is owned by eBay, is in its own legal battle with Ticketmaster.
But it is Ticketmaster that is the target of the wrath of ticket customers. A quick scan reveals a long list of customers who played by the rules as I did -- and found that they're tickets 'vanished' as the site mysteriously crashed and left them kicked back in line with no chance of completing the sale. Here's just a sampling of some of the public complaints.
Graig of Sunrise, FL on Dec. 19, 2015
The ticket situation with Ticketmaster is a scam. I had 5 people at 10 am checking ticketmaster and all good seats were already taken and placed on secondary websites for a ridiculous price. It was for AC/DC in Fort Lauderdale and New York. Both times with five people online there were no seats worth even going. It's sad what has happened in this industry. I wish AC/DC knew about this business practice -- maybe they don't even care. I have a son with cancer and needed tickets near the stage but cannot afford $600 per ticket in Florida and in New York they are $1,500 per ticket. Unbelievable.
grACE of Northport, NY on Dec. 19, 2015
Big adele story that no one could get tickets as soon as they went up for sale. This is not news. This is going on since bruce springsteen had them investigated years ago and still nothing has changed. Every time a big singer or band is on sale you cannot get online -- suddenly hours later all the scalpers have the best seats up for thousands of $. Some of these sites are owned by ticketmaster and if not you can bet those thousands that scam-master is getting a cut. This morn ac/dc on sale at 10 and by 10:01 you cannot get on in ny or phil venues. Says sorry no tix are available. Even thought I'd see if handicapped had seats. No. Investigate and let all of the fans who have been ripped off get free first 15 rows tickets forever.
Jeff of Mehoppany, PA on Dec. 19, 2015
Thank you Ticketmaster for wasting 2.5 hours of my time trying to purchase Adele Tix for the Phila shows. It was so great to watch my computer screen spin forever and say you are in the Q and are in order for next available tix. It was also great to never be able to get through on the phone -- only to be pushed to an automated service that could not understand what concert tix I had requested. I'd say, "Adele" and it what say "Zombies"? I'd say, "No, ADELE" and it would say -- "Muscles"? WTF Really!!! It is amazing how I was in online to get next available tix. Only needed 2 for an Xmas Gift and funny how all the ticket agencies had gotten 1000's to my 0. Can you say ticket monopoly!!!
Shelley of Thornhill, ON on Dec. 17, 2015
I went on the Ticketmaster site at 10 am sharp and was placed in queue to buy Adele tickets for my 2 daughters for her October show in Toronto. After waiting for about 30 minutes (though the site said less than 10 minutes), it was my turn to purchase tickets. I accepted the 2 tickets which were $195 each. Followed all the prompts, entered my credit card info, all the personal info, then saw my ticket confirmation that they were reserved. All I had to do was accept and they would be mine BUT after I hit the last button... a message came up that something went wrong with my order, and POOF... tickets were gone!!! It took me back to event page, where I would have to wait AGAIN! I was in tears! I waited and waited and waited... only to find out that they were sold out!! WHAT??? I called customer service, (got some call centre in Texas), and they didn't care. Called Head office in Toronto, left 2 messages... NO REPLY!
Ticketmaster seems to know that they've got disappointed fans. And the recent demand for Adele's tickets proved to be tipping point. "I know it must be frustrating to read or see in the news that we crashed during Adele's onsale and that fans are upset with [Ticketmaster] because they couldn't get tickets," Ticketmaster president Jared Smith wrote in the memo that Billboard magazine printed.
Adele's six nights at New York's Madison Square Garden had 4 million people trying to buy just 100,000 available tickets. "Unfortunately, when there is such a exceptional artist with unprecedented demand against short supply, there are inevitably going to be disappointed fans" wrote Smith.
So, is this just an issue of supply and demand -- or is the drive to profit from the secondary market creating an unfair competitive marketplace for consumers? One thing is certain, for an industry built on tech, there are an awful lot of disappointed customers with unrealistic expectations of what they're going to be able to achieve.
Calling all HuffPost superfans!
Sign up for membership to become a founding member and help shape HuffPost's next chapter