 Upstate New York's Borscht Belt was a resort haven for Jewish urban dwellers during the mid-twentieth century. Today its revitalization depends on embracing a different tourist demographic: Asian gamblers.
After the June 30 application deadline, 17 projects remain in the running for four new casino licenses in New York. In the public presentations and hearings that will precede a fall announcement of the winners, some assumptions regarding prime locations and clientele are likely to remain unspoken.
New York voters approved a referendum in November allowing table games at non-Indian casinos by 2016. The state's license application stipulates that the initial casino locations will be chosen in three designated regions,

"to create jobs, reduce unemployment in disadvantaged areas of the State, enhance the State's tourism industry and generate substantial revenue for public education and taxpayer relief."
In the Catskills, sites such as Grossinger's Resort and the Concord Hotel in Sullivan County, which boomed in the mid-twentieth century but were shuttered in the 1980s and '90s after decades of distress, originally seemed to be frontrunners to realize the state's promises of revitalization.
But casino veteran Foxwoods was among initial applicants that withdrew bids for a casino in Sullivan County because it believes neighboring Orange County's closer proximity to New York City will trump other considerations.
Malaysian company Genting Group, for example, finalized two applications this week to open properties in Orange County. (Genting also operates the Resorts World slots casino in Queens). Although Tuxedo, one of the proposed expansion sites, is not exactly "disadvantaged" compared to other contenders, it has the appeal of being only forty miles north of the largest city in the U.S.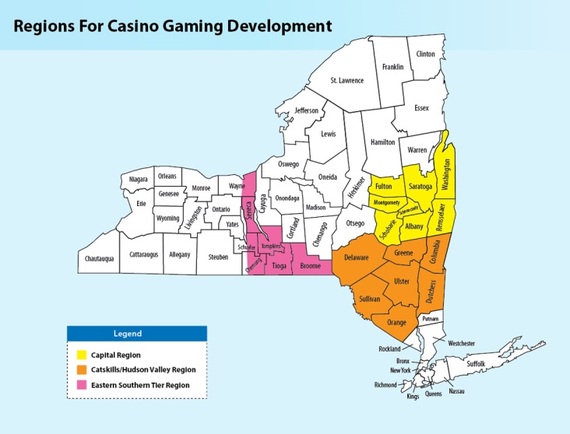 The Albany and Southern Tier regions are expected to receive one casino apiece, while the Catskills region has emerged as the presumed awardee of two licenses. Six bids are in Orange County. (New York State Gaming Commission).
What's left unsaid is that unparalleled sources of casino revenue come, in particular, from New York's Chinatowns. Industry strategists firmly believe Asian gamblers have a higher propensity for wagering large sums of money.
Globally, Macau -- the only part of China where gambling is legal -- annually brings in more than $45 billion in casino revenue. That's seven times the amount of money that comes through Las Vegas. Not surprisingly, the next casino to open in Las Vegas (also by Genting) will be Chinese themed, featuring pandas and a faux Great Wall.
Meanwhile, thousands of Asian New Yorkers take buses every day to out-of-state casinos. Eighty miles west of New York, the Sands Casino Resort Bethlehem regularly tops Pennsylvania's casinos in table game revenue, fueled by players' losses at so-called "Asian games" such as baccarat. The casino's industrial theme -- a referent to the massive steel plant that once stood on the site -- has gradually morphed into feng shui designs and red and gold motifs meant to assure Asian bus riders that their luck will turn for the better.
With the new licenses, New York casino regulators are looking for what their application form calls "recapture" -- letting residents lose their money at home rather than across state lines.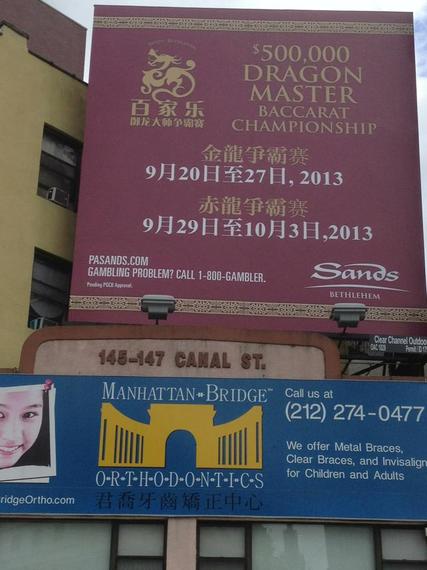 A Chinatown billboard advertises a baccarat tournament in Bethlehem. (Scott Moskowitz, 2013).
Culture Clash at the Casino
The ethnic-specific marketing strategies at play in the casino industry, however, often take locals by surprise and lead to new tensions. As one Bethlehem resident told me,

"We thought ordinary suburbanites were going to be drifting over from New Jersey. We weren't told about the New York contingent."
Many complain about bus riders' manners, hygiene, and loitering. Earlier this year, operator Las Vegas Sands had to issue a press release to deny rumors that patrons had been bitten by snakes Asian gamblers brought into the casino for good luck. Moreover, to meet these profitable players' needs, one in five casino employees at Sands Bethlehem are Asian -- seven times the concentration of Asian residents in the city as a whole -- leading more established residents to claim that "locals" are being pushed out of the new jobs developers promised.
Architectural designer Stephen Fan has studied similar effects in southeastern Connecticut near the Foxwoods and Mohegan Sun casinos. He co-curated an exhibit this past spring at the Lyman Allyn Art Museum in New London that explored cultural tensions between long-time suburban dwellers and new Asian residents drawn to casino jobs. Fears about sinking property values boil over, he says, as immigrants transform ranch houses into multifamily dwellings or dry fish in their front yards.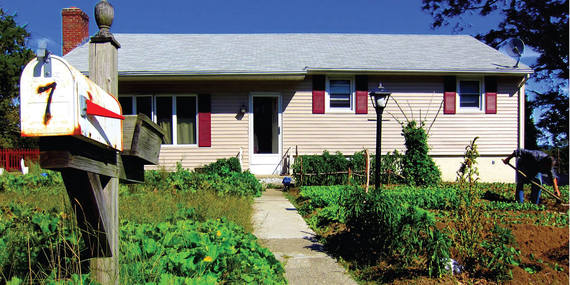 Some suburbanites are upset that new Asian neighbors are using front yards for vegetable gardens. A companion book to the SubUrbanisms: Casino Company Town/China Town exhibit is available here. (Stephen Fan).
In New York, upstate communities that wager on revitalizing their economies with downstate gambling money should expect similar demographic impacts as part of the deal. The question is whether residents will be open to new visitors and neighbors, or whether, as in other casino communities, ethnically charged sentiments that Asian gamblers and workers are the "wrong type" of economic saviors will create new fault lines.
It may be telling that last month, the American Gaming Association, the industry's trade group, released national survey data that paint a portrait of casino goers as middle-class, college-educated, "American" homeowners. The survey is part of an effort to convince legislators and the public that casinos are welcome community additions. But the survey sample included only English-speaking, registered voters -- criteria that exclude a significant portion of casino bus riders from Chinatowns across the country. Among some dubious findings: only one percent of respondents said they like to play baccarat even as many casinos rush to add more tables to their floors.
Despite their obvious influence, Asian gamblers are likely to remain largely invisible as New York regulators debate casino applicants' proposed locations and other qualifications in the coming months. The implications of the industry's racialized marketing strategies and xenophobic community resistance nonetheless speak to broad postindustrial shifts affecting New Yorkers of every ethnicity.
The significant growth in the gaming industry over the past decade, especially in America's Rust Belt, and the transnational mobility of people and capital associated with it, cannot be disentangled from the global economic restructuring and dislocation that have led to the region's decline. Casino legislation proliferates in a corporate climate that valorizes high-risk gambles, even if someone always comes out on the losing end. The sure bet is that players down on their luck, communities grasping at promises of revitalization, and states looking to get out of fiscal holes will continue to roll the dice.
Popular in the Community