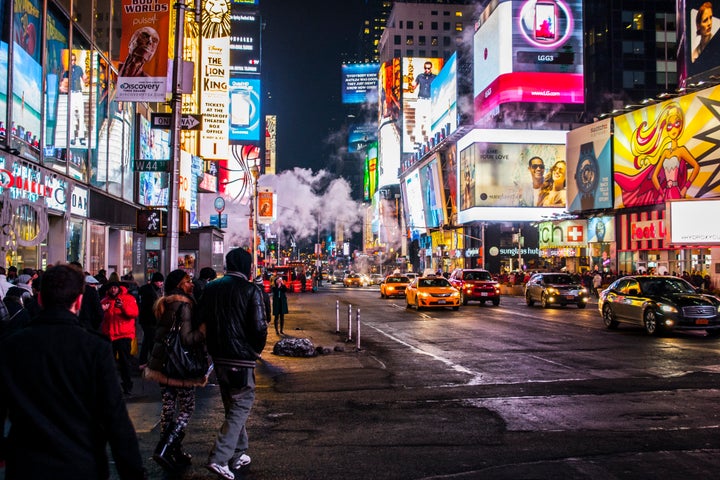 Summer is now upon us, which means we must cope with the loss of Saturday Night Live as it takes its annual hiatus. Where else can we see Melissa McCarthy as Sean "Spicey"? David S. Pumpkins anyone? Can't I see Steve Bannon as the Grim Reaper just one more time? As we wait for the show's fall return, I would like to share my experience of when my friend and I attempted to land two tickets to the December 19, 2015 filming of SNL in New York City. Hosts: Amy Poehler and Tina Fey. If you listen carefully, I think a Feminist just got their wings!
For anyone who's ever wondered how one snags a coveted SNL ticket, it's similar to the show American Ninja Warrior, except you've done zero physical or mental preparation and don't look good in spandex. Despite the laughs and frivolity SNL brings into our lives, the journey to actually seeing SNL is humorless: full of sleepless nights on a freezing sidewalk, 3 AM fist fights, and backstabbing families of four.
If you didn't win the ticket lottery or if you aren't close and personal friends with Kate McKinnon, you will need to line up outside 30 Rockefeller Plaza and wait until 7 a.m. on Saturday morning when they hand out tickets. The closer you are to the front the more likely you are to get in. When should you begin waiting in line? It all depends on the popularity of that episode! Darlings, the episode we chose to attend was not only hosted by Tina Fey and Amy Poehler, but it was also the Christmas Special, which notoriously means there is promise of special guests! What this really means though is that we waited in line for three days. THREE DAYS? Three days.
Who would choose to sleep on a sidewalk in December?
The five people you meet in line as you wait for SNL tickets:
1. The Ally. This is the person who'll save your spot when you have to pee and put a tarp over you when it starts raining. They'll also wake you up when the NBC Pages come out with soup, which—in addition to not being that bad—will, if nothing else, help distract you from the fact that all your toes have gone numb.
2. The Enemy. They'll yell things like "Hey everybody! You can't just set up a chair in line and then leave! This has been empty for over an hour! What's NBC's number?" Then they'll actually take out their phones and try to report missing people in line. They are out for blood. In our case, it was a cute family of four who set up a tent and too closely resembled the Gestapo. However, they were also at the front of the line and had probably been sleeping there for the past 4 days, so cut them a little slack ― they were not mentally stable.
3. The Groupie. This person will say things like "Oh, Bill Hader is such a great guy. He always stuck around after shows. But if I know Amy and Tina, they probably won't hang around." (Side Note: If he really knew Amy and Tina, he'd already have a front row ticket and wouldn't be sleeping outside with us schmucks.) Beware: The Groupie appears friendly, offering stories of old SNL seasons and funny anecdotes, but if you get between him and his ticket he'll throw you under the bus faster than you can say "Was-That-Lorne-Michaels?"
4. The Drunk Guy Across the Street. He'll make an appearance around 3 a.m. and isn't technically in line with you, but nonetheless noteworthy. His grand entrance will be made by literally being thrown out of a bar and then getting punched in the face. Twice! It's the first time you've ever seen someone get punched in the face! It's oddly anticlimactic. There's no cinematic "THWACK" or "OOMPH," it's just a clumsy drunk fist hitting some guy's face hard enough for him to fall over. He'll heroically stand up and stumble away. You'll go back to sleep.
5. Every Single Person in NYC. Whether they're walking, driving, or biking they'll yell "HEY! What are you all waiting for?" At first you'll excitedly say "SNL! Amy Poehler and Tina Fey are hosting!" with a big smile. Isn't this fun? But after a day and a half everyone will be so sick of answering this question they'll start throwing out different responses. My favorites were: "A new Taco Bell!", "Star Wars!" and "We don't know, but we've been here for 12 days." No one will question you because you earn a certain amount of authority when you choose to sleep on the sidewalk.
Ah, happy memories. Lovely people. You're probably wondering if we got the tickets. You're also probably wondering where NBC gets their soup—I know I still am. Well, this story does have a happy ending: we got—I kid you not—the last two tickets. We grabbed them and ran (fearing a ticket mugging). The show was amazing. Guest appearances were made by Maya Rudolph, Bruce Springsteen, and PAUL MCCARTNEY. Holiday cheer rang through Studio 8H as we all sang "Santa Claus Is Comin' to Town". I'd be lying if I said I didn't leave feeling inspired and like it had all been worth it.
My advice: go sleep on the sidewalk with your best friend so you can see SNL—then never ever do it again.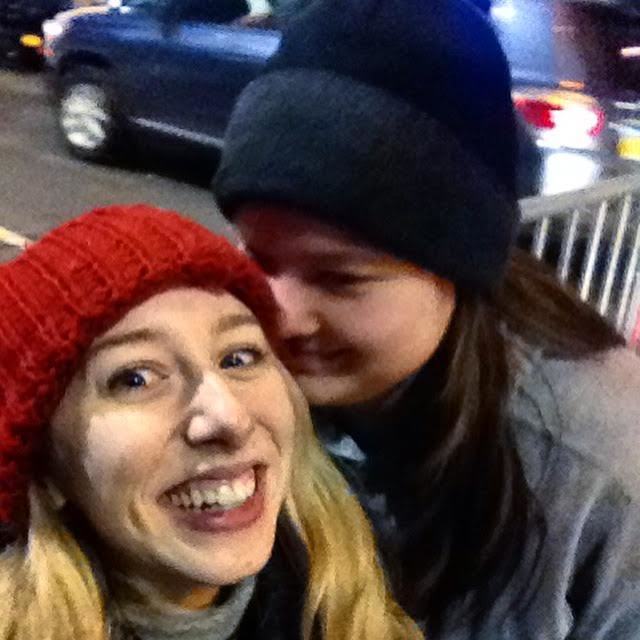 Calling all HuffPost superfans!
Sign up for membership to become a founding member and help shape HuffPost's next chapter
BEFORE YOU GO