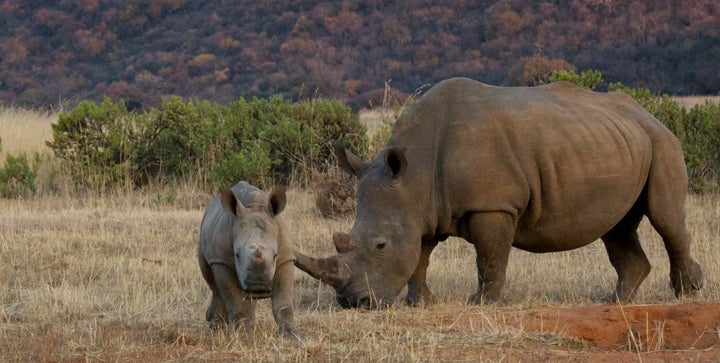 Although I didn't actually hear them yelling "De Plane! De Plane!," the family of baboons sauntering next to the runway in Hoedspruit, a small airport near Kruger National Park, reminded me of Tattoo welcoming our small prop plane to South Africa.
It was also a promising sign that this safari in Limpopo was going to produce a lot of wildlife for our shutter-clicking group of five girlfriends. Indeed, we soon learned that this airbase turned airport (inside it looked more like a safari lodge than a terminal) had recently stocked cheetahs in a last ditch effort to slow down the warthog population whose insistent root digging on the tarmac kept interrupting landings and take-offs.
By the time we arrived at Kapama River Lodge, our sumptuous digs for the safari, we had christened our group "the Lucky Five," because we'd already spotted a herd of zebra (only in South Africa, they call them zebb-ra, a pronunciation that we quickly adopted), a half dozen acacia-munching giraffes and enough warthogs that it was easy to understand the decision to install cheetahs.
And that was just the first 15 minutes. Kapama River Lodge, one of four lodges on the 33,000-acre wildlife reserve, one of the largest in South Africa, has the good fortune of being directly across the road from the Hoedspruit airport.
Not that we were in a hurry. Sitting in our open-air Land Rover, being regaled with safari tales by Tim Verreynne, our guide for the trip, we would have been happy to travel another hour or so. Especially when the bounty of animals prompted Skye, one of the Lucky Five, to comment that it was almost like being on a Disney ride. Except these were real animals with real teeth and real claws and real horns that couldn't be switched off at night when tourists go home.
The real teeth and claws and horns, we soon learned, were the genesis of the title "the Big Five."
"The Big Five are considered to be the five most dangerous animals in Africa," Tim explained, proud of the fact that Kapama Reserve can boast all five.
It was also all we needed to agree to Tim's rules which included "stay in the jeep," even though it was a little hard to see how our open-air jeep would provide much protection against a charging 8,000-pound rhinoceros.
Still, we were desperate to claim viewing of all five. To do that, we embarked on early morning and late afternoon game drives. And I do mean early morning. A knock on the door (no phones or TV in this five-star lodge) at 5 am meant get ready for coffee, croissants and cruising in the big jeep. Willie, our tracker, sat in the catbird seat that extended out in front of the jeep.
On our first evening game drive, we followed a female lion who had just enjoyed an evening sip from a not-yet dry watering hole. We were within 25 feet as she padded in and out of brush. Check off Number One.
Then we found a momma rhino tending her baby who already had a small horn -- and the same thick, prehistoric-looking coat of armor. Number Two.
A herd of elephants and a herd of wallowing water buffaloes -- not together, I must add -- enabled us to check off three and four. We high-fived, fist-bumped and got pretty cocky about our "Lucky Five" nickname, but we went in after the first two game drives still missing the elusive leopard.
We saw plenty of other wildlife that, even though lacking the Big Five designation, didn't look like something you'd want to meet alone in a dark alley. We spotted bush babies, hippos, eland, kudu, porcupines, more giraffes and zebra, warthogs and armored male dung beetles that roll their beloved around on tennis ball-sized balls of elephant doo-doo. Kapama, according to Tim, has 42 mammal species and 350 bird species, most of which start singing around 4 am.
When we weren't on game drives, we enjoyed the spa (nothing like a massage next to rooting warthogs), the two pools, the exquisite food and views of the northern Drakensberg mountain range. Dinner was served every night in the BOMA, a term in Africa that stands for British Officers Mess Area. Open-air, next to a roaring fire, we enjoyed spicy South African soups, fresh game like kudu and impala, locally-sourced salads, South African wine and the unmistakable sounds of the veldt settling down for the evening.
On the last game drive, the Lucky Five warned Tim and Willie, now fast friends, that we weren't leaving without seeing Number Five, the leopard. By then, we were passing giraffes and elephants like they were the corner 7-11. Not that you can ever really get used to that kind of wild majesty.
Finally, around 6:30 that night, when the sun had dropped below the scrub-dotted landscape, Tim got a call on his radio. Ever-cagey and responding to the call in Afrikaans, one of 11 official languages of South Africa, Tim wouldn't tell us what we were pursuing, but he promised it might be interesting.
On a game drive, interesting can mean anything from an elephant giving birth to a lion taking down a kudu to a rare animal making its way from Kruger National Park across Kapama's wide expanse.
After about 15 minutes of badgering Tim to tell us the "surprise," he pulled the Range Rover off road and proceeded plowing over bushes and small trees, shouting every few minutes or so to lean to the left or duck "because you don't want that thorn in your bicep" until there it was: a stunning leopard parading across the reserve.
Tim and Willie, who are experts at reading signals, could tell the leopard didn't feel threatened so we proceeded to follow the stealthy predator for a good 30 minutes, almost close enough to pet the square-ish rosettes on its sleek big-cat back.
That was Number Five. And so the Lucky Five designation lives on.
Support HuffPost
A No-B.S. Guide To Life
Related
Popular in the Community