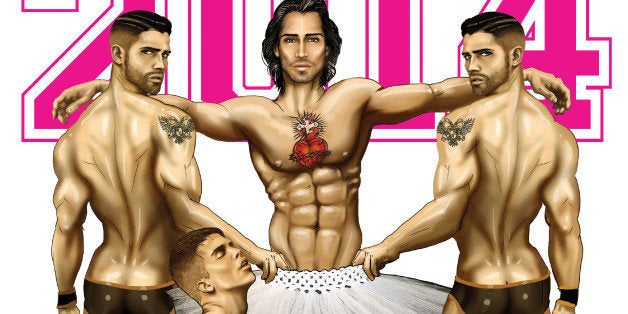 (RNS) On the eve of the 2014 Winter Olympics in Sochi, Russia, a group of Eastern Orthodox Christians is protesting Russia's anti-gay laws in a calendar featuring naughty nude drawings of gay men.
Orthodox Calendar, sold primarily online, features colorful illustrations of gay men in eye-catching costumes — think tutus and a Captain America cape — and provocative poses and settings that sometimes include crosses and crucifixes.
While there have been other collections of religious pin-up men — think manly Mormon missionaries, nice Jewish boys to bring home to Mom, even "Roman beefcake" Catholic priests — the Orthodox Calendar aims to make a political point against the Orthodox churches that the creators say are complicit in trying to keep gays and lesbians in the closet.
"Our wall calendars represent the very first organized global effort against homophobia in the Orthodox Church," Magdalena de Iona, a spokeswoman for Orthodox Calendar, wrote in an email interview. "Through them, we seek to counteract the negative and outdated influences of most of the Orthodox Church leadership."
A second 2014 calendar featuring full-color photographs of gay Orthodox men posing as priests or their tanned, tattooed and totally naked admirers is intended to support gay marriage, de Iona said. Both calendars are sold online and cost about $20.
The calendars were created by a team of six people from countries that were once part of the Soviet Union. Because of negative attitudes toward homosexuality in their countries, they wish to remain anonymous, de Iona said.
Orthodox Calendar published its first product in 2012. That calendar, de Iona said, featured photographs of gay men "and their guests" and was intended to promote unity, tolerance and freedom of speech. Last year's calendar focused on gay marriage, with pictures of gay couples.
The idea for this year's calendar focus came when Russian Orthodox Patriarch Kirill said last July that gay marriage would lead to the apocalypse, de Iona said.
"I told myself (the) 2014 edition will not leave people indifferent, and that was the most important thing to us," de Iona wrote. "Nothing is worse than indifference. It's indifference that will let (Russian) President (Vladimir) Putin and Patriarch Kirill actively promote physical and legislative attacks on the LGBT community in Russia."
Reaction to the calendars from the Orthodox Church has varied from total silence to condemnation and acknowledgment. The Greek Patriarchy, de Iona said, declared "they did not approve but understood it could be appreciated by creative people and minorities."
Consumers have been more approving. The calendar has been sent to 200 countries, de Iona said, and plans for a 2015 version are already in the works. Meanwhile, some of the artwork will be displayed at a gallery in Stuttgart, Germany, during next year's Gay Pride celebration.
Check out more photos here (some are NSFW):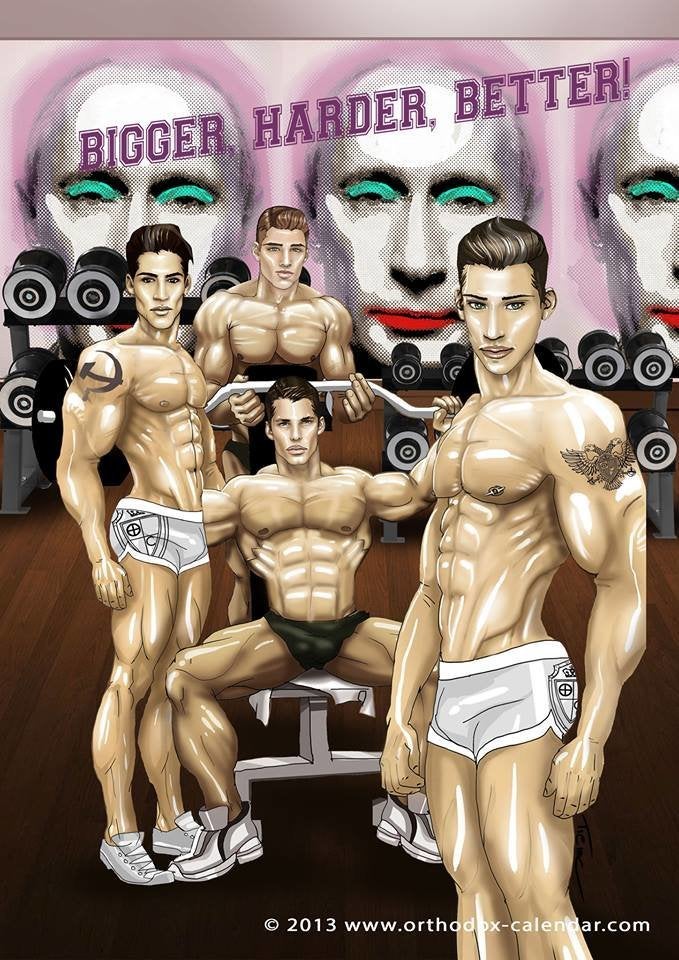 Orthodox Calendar
Popular in the Community