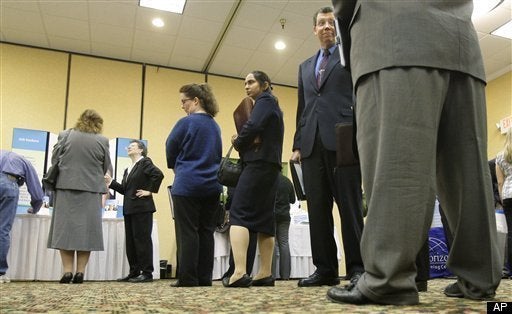 Senate Democrats are sending mixed signals about whether they'll give the long-term jobless more help beyond the 99 weeks of unemployment benefits available in some states. Without more weeks of benefits, more than a million people will lose their only lifeline in coming months.
The Senate has already gone through two epic battles just to extend the existing benefits, and now some senators are indicating they don't have the stomach for helping the unemployed even more.
"You can't go on forever," Senate Finance Committee Chairman Max Baucus (D-Mont.) told Bloomberg on Thursday, citing the politics of breaking 100 weeks and also the need for deficit reduction. "I think 99 weeks is sufficient."
But unemployed constituents are getting a more encouraging message from some senators' offices. In response to constituents concerned about exhausting benefits, Sen. Chuck Schumer (D-N.Y.), a member of Senate leadership, has a letter expressing firm support for adding more weeks of benefits after securing the current extensions for the rest of the year.
"Once I ensure that every New Yorker receives the full 99 weeks to which they are entitled," said the letter, posted by the Rochester Unemployment Examiner (and confirmed as valid by HuffPost), "I will work with my colleagues to create a fifth tier of benefits. More than 25,000 New Yorkers have exhausted the full 99 weeks of benefits and I am committed to providing them further relief."
Unemployed folks tell Huffington Post they heard similarly encouraging words from staffers for Ohio Democrat Sen. Sherrod Brown (a spokeswoman confirmed that Brown supports more weeks) and mildly supportive talk from other Democrats' offices, including that of Senate Majority Leader Harry Reid (R-Nev.) -- but nothing definitive.
It's called Tier 5. To fight the recession, Congress has added four tiers totaling 53 weeks of federally-funded benefits, called "Emergency Unemployment Compensation," to the 46 weeks of benefits made available by states. To people facing the end of their benefits with no jobs in sight, it's essential that Congress add a fifth tier.
HuffPost called Reid's Reno office and asked what was happening with Tier 5. "They're still negotiating this further extension," a staffer said. "I have not heard anything specific about adding a Tier 5. I have heard some senators say they wouldn't pass an extension unless it had that, I have heard other senators say they will never vote for an extension if it has a Tier 5."
Both the House and Senate have passed measures extended eligibility for existing benefits through the end of the year, but the measures need to be reconciled and voted on again in each chamber. Reid's office has said that that will happen before the end of May, which is when the current stopgap extension will expire. When asked about adding a Tier 5, members of Congress typically say they need to focus on getting the the full-year extension finished before adding extra weeks.
Aside from Baucus's insistence that it shouldn't be done, the most definitive statement about Tier 5 has come from Sen. Tom Coburn, the Oklahoma Republican who in the name of deficit reduction obstructed the most recent effort to reauthorize the existing 99 weeks of benefits.
"We have 99 weeks of unemployment compensation out there right now -- and we're gonna move that to 103, and then we're going to move it even further," Coburn said in March. Congressional leaders declined to comment on adding weeks.
Every utterance about Tier 5 is closely tracked by the unemployed, who have formed several communities online where they analyze what's happening in Washington -- and discuss how they might influence it. One enterprising layoff victim has been encouraging her fellow unemployed to bombard D.C. offices with faxed resumes.
"The number of people exhausting all levels of benefits is increasing every single week," said Judy Conti, a lobbyist for the National Employment Law Project. "This is a highly motivated group of people who are making their political and financial needs known to their representatives."
In California, 100,000 people have already exhausted their benefits. State officials told Bloomberg that people who've exhausted 99 weeks include 57,000 New Yorkers (a higher number than in Schumer's letter), 130,000 Floridians, and 30,000 Ohioans.
The unemployed will no doubt be assaulted with arguments that benefits keep them from looking for work. That argument misses the point: "In terms of the relationship between extended benefits and unemployment, I'm sure that shorter benefits will cause the current group of unemployed to be unemployed for less time," said Dean Baker, co-director of the Center for Economic and Policy Research. "However in the context of inadequate demand, this just means that they might be able to find a job, displacing someone else who would otherwise have the job."
The government announced Friday morning that the economy grew at 3.2 percent in the first quarter of 2010 -- not fast enough to put all those people back to work.
"[U]nless the pace of growth picks up significantly we will see high unemployment rates for years to come," said Josh Bivens, an economist with the Economic Policy Institute, in a statement. "For example, if we grew at the 3.2% rate that characterized the past three months for next three years, we would see unemployment rates higher than were reached at any time during the 2001 recession -- and this would be a full five years after the last downturn began. We shouldn't ask American workers to wait this long for labor market recovery. Congress and the Administration need to make passing another jobs package a top priority."
Popular in the Community