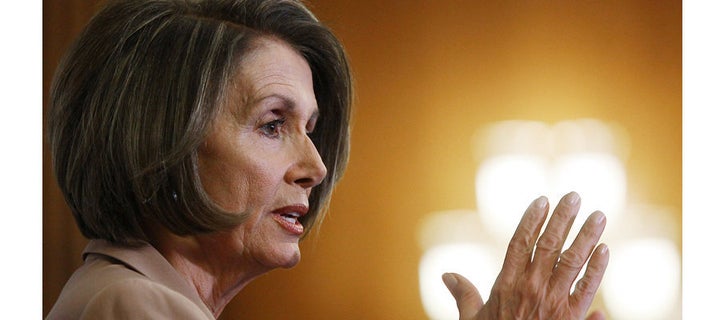 House Speaker Nancy Pelosi said Thursday that Congress will not take up any measure to give the long-term jobless more weeks of unemployment benefits beyond the 99 weeks available in some states.
Congress is currently locked in an epic battle just to preserve the 99 weeks for the rest of the year. In a seemingly futile effort to appease deficit hawks, Dem leadership already weakened its "extenders bill," formally known as the American Jobs and Closing Loopholes Act, by shortening the unemployment extension through November instead of December.
Hundreds of thousands of people, however, have already exhausted 99 weeks of benefits with no jobs in sight. Thousands signed a petition to demand Congress add a "Tier V" to the four tiers of benefits that currently make up the 99 weeks.
A reporter asked Pelosi at her weekly press conference if there were any plans to help the 99ers.
"No. This bill will go until the end of November, at that time we'll take up something, but not between now and then," said Pelosi (D-Calif.). "The situation I see is that members who are from low unemployment areas are very concerned about the deficit. Members who are from high unemployment areas are very concerned about jobs. So we have to come to a compromise as to how to move forward, and we did with this bill going to November."
But come November, if Congress takes up anything related to unemployment, it will most likely be another temporary extension of existing benefits. The extension under consideration this week is the fourth in the last six months. And while a handful of senators have pledged to constituents that they will fight for more weeks of benefits, Senate Finance Committee chairman Max Baucus (D-Mont.) has said that "99 weeks is sufficient."
HuffPost asked Senate Budget Committee chairman Kent Conrad on Thursday (D-N.D.) if Congress will take up another extension in November or if it might not bother even with that.
"It's so hard to know what the economic conditions will be at that point," he said.
Andrew Stettner, deputy director of the National Employment Law Project, which has been lobbying for Congress to extend benefits through the end of the year and beyond, said midterm elections will make things more tricky politically in November. NELP's goal is for Congress to reauthorize 99 weeks of benefits for the next two years if necessary.
"As an advocate, I'm a little worried about what happens at November 30th," said Stettner. "It's not a great time to get something done in a thoughtful way."
Stettner added that he does expect Congress to continue to extend enhanced benefits, though perhaps with fewer weeks in certain states.
"Nobody's expecting that there will be no extension next year," he said. "There have to be extensions given the job hole that we're in."
Calling all HuffPost superfans!
Sign up for membership to become a founding member and help shape HuffPost's next chapter