Summer is only (already?) half way done, and many of us have been busy with concerts, parties, cookouts and the like. If you're like me, your music collection is getting a bit stale, and you're looking for that awesome new song of the summer, right?
Well, there is plenty of fantastic, party-ready music out there just waiting for you, and if you don't know where to begin, I have the perfect place for you. Tiësto has made a playlist of EDM gems and remixes that are sure to whet any appetite, ranging from hard to soft, loud to calm and everything in between.
The internationally-respected DJ curated the list himself, so you know there is quite a bit of his own work featured (not that I'm saying that's a bad thing). Other than Tiësto singles and remixes, there are original tracks and reworkings of tracks from the likes of Bastille, Disclosure, Kiesza, and plenty of names you might not know yet.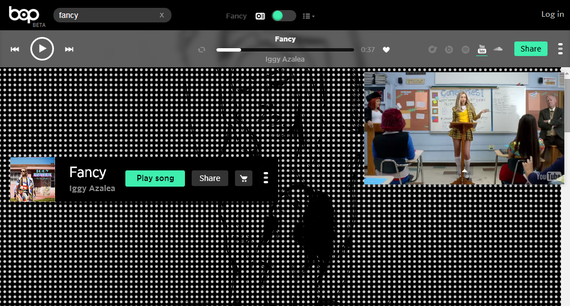 The producer created the playlist for new music tech startup Bop.fm, which is the most recent name to join the music streaming game. When most people are looking to listen to a new song, they head for YouTube, Soundcloud, Spotify, or any of the dozen or so other options for listening to music online, but none of them are perfect.
Let's say you're in the US, and you have friends around the world. You may find a great new artist on YouTube you want to share, so you send them all links. Just as they go to listen, that incredibly frustrating message pops up: "This clip is not available in your country". Why!?
The same -- and so many other issues -- can happen with any of the other streaming services. Some cost money, some have annoying ads, and others have a really limited catalogue. If you were looking to find a go-to place for listening, Bop.fm is worth a try.
The site is unlike all the other options in that it doesn't house any music on its own, nor does it have any of those complicated licensing deals with labels and artists that have started causing friction in the industry. Instead, it is more of an aggregator of all of them, there only to find the track you're looking for wherever it may be online. Type in whatever you're looking for and Bop.fm does the work, finding which site -- YouTube, Soundcloud, Spotify, Beats, or Rdio -- you'll be able to listen to it on.
The site is completely free and doesn't have any ads of its own, and it has plenty of playlists (such as Tiësto's, which is below) to help you discover new music. If you're like me, always having to bounce between services and websites to play certain songs, this one is for you. Give it a try while you listen to some kick ass new dance tracks given to you by one of the greatest, Tiësto himself.
Popular in the Community