In the last 15 years, seven movies that won the Toronto International Film Festival's audience award went on to score an Oscar nomination for Best Picture. Four of those movies -- "American Beauty," "Slumdog Millionaire," "The King's Speech" and last year's "12 Years A Slave" -- went on to win. Which is proof awards season goes through Toronto for a reason, and good news for the surfeit of features that will screen at this year's festival. TIFF organizers announced the initial lineup on Tuesday, and even with presumed awards favorites such as Alejandro González Iñárritu's "Birdman or the Unexpected Virtue of Ignorance" (set to debut at the Venice Film Festival) and David Fincher's "Gone Girl" and Paul Thomas Anderson's "Inherent Vice" (both tapped for the New York Film Festival) not in play, the dance card loaded with possible Oscar contenders. Ahead, 18 movies that should plant flags in awards season after Toronto.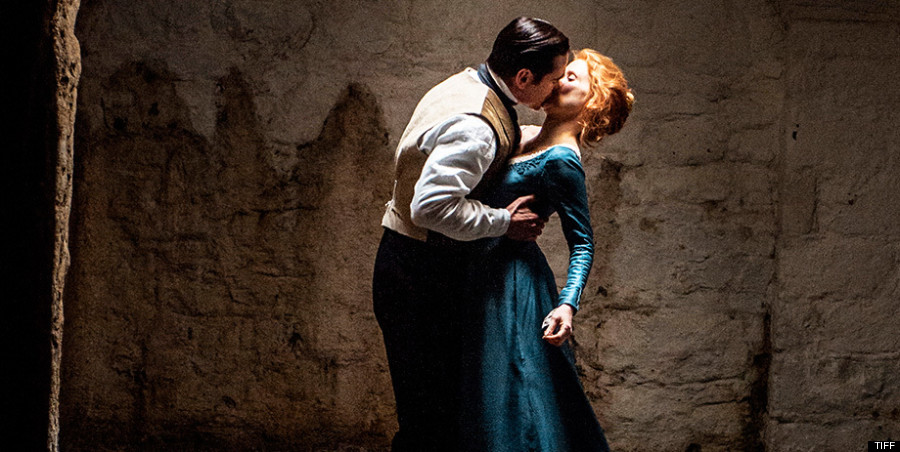 Colin Farrell and Jessica Chastain in "Miss Julie"
"Black and White" (dir. Mike Binder) (World Premiere)
What TIFF says: "'Black and White' is the story of a widowed grandfather who is left to raise his bi-racial granddaughter. When the little girl's paternal grandmother seeks custody, a bitter legal battle ensues that forces the uneasy family members to have an honest conversation about life, death, anger and America's racial divide. Starring Academy Award-winners Kevin Costner and Octavia Spencer, as well as Anthony Mackie, Jennifer Ehle, Gillian Jacobs, Bill Burr, Andre Holland and Jillian Estell."
Awards possibilities: "Black and White" doesn't have a U.S. release date, and director Mike Binder was previously responsible for "Reign Over Me" with Adam Sandler, so don't necessarily write this one down in ink on early Oscar ballots. And yet, Deadline.com awards expert Pete Hammond cited star Kevin Costner as a potential breakout should "Black and White" hit theaters before the end of the year: "Kevin Costner, who also produced, has never been better," Hammond wrote. Costner's last and only Oscar nods came for 1990's "Dances with Wolves."
"Foxcatcher" (dir. Bennett Miller) (Canadian Premiere)
What TIFF says: "Based on true events, this film tells the dark and fascinating story of the unlikely and ultimately tragic relationship between an eccentric multi-millionaire and two champion wrestlers. Starring Anthony Michael Hall, Steve Carell, Channing Tatum, Vanessa Redgrave, Mark Ruffalo and Sienna Miller."
Awards possibilities: "Foxcatcher" is already old hat on the awards circuit, having premiered at Cannes to rave reviews and Oscar predictions for Steve Carell and Channing Tatum. Expect that chatter to continue in Toronto.
"The Judge" (dir. David Dobkin) (World Premiere)
What TIFF says: "Big city lawyer Hank Palmer returns to his childhood home where his estranged father, the town's judge, is suspected of murder. Hank sets out to discover the truth, and along the way reconnects with the family he walked away from years before. Starring Robert Downey Jr., Robert Duvall, Vera Farmiga, Vincent D'Onofrio, Jeremy Strong, Dax Shepard and Billy Bob Thornton."
Awards possibilities: In 2012, Warner Bros. screened "Argo" in Toronto; in 2013, the studio brought "Gravity" across the Canadian border. Both wound up with multiple Oscar wins. This year, Warner Bros. has a few awards options in Toronto, including "The Judge," the first film from Robert Downey Jr.'s production company, and ...
"This is Where I Leave You" (dir. Shawn Levy) (World Premiere)
What TIFF says: "Shawn Levy's dramatic comedy follows four adult siblings who return home after their father's death to spend a week with their over- sharing mother and an assortment of spouses, exes and might-have-beens. Confronting their history and frayed relationships among those who know and love them best, they reconnect in hysterical and emotionally affecting ways. Starring Jason Bateman, Tina Fey, Jane Fonda, Adam Driver, Rose Byrne, Corey Stoll and Kathryn Hahn."
Awards possibilities: ... "This Is Where I Leave You," Shawn Levy's adaptation of Jonathan Tropper's famed novel. Neither serio-comedy looks to have the Best Picture bona fides of "Argo" or "Gravity," but acting honors, specifically for Downey, Duvall and Fonda, could be in play.
"Wild" (dir. Jean-Marc Vallée) (International Premiere)
What TIFF says: "After years of reckless behavior, a heroin addiction and the destruction of her marriage, Cheryl Strayed makes a rash decision. Haunted by memories of her mother Bobbi and with absolutely no experience, she sets out to hike more than a thousand miles on the Pacific Crest Trail all on her own. Wild powerfully reveals Cheryl's terrors and pleasures as she forges ahead on a journey that maddens, strengthens and ultimately heals her. Starring Reese Witherspoon, Laura Dern, Thomas Sadoski, Michiel Huisman, Gaby Hoffmann and Kevin Rankin."
Awards possibilities: Based on Cheryl Strayed's acclaimed memoir, "Wild" has all the early earmarks of an awards darling: a respected source material, a previously honored star (Reese Witherspoon), a director with momentum (Jean-Marc Vallée, who directed "Dallas Buyers Club" to a Best Picture nod) and a studio with experience (Fox Searchlight, which just won an Oscar for "12 Years A Slave"). Put it all together, and "Wild" looks like an a real contender.
"The Good Lie" (dir. Philippe Falardeau) (World Premiere)
What TIFF says: "Academy Award winner Reese Witherspoon and an ensemble of young Sudanese actors — all of whom have direct personal ties to the war in their country — bring the inspiring and uplifting story of The Lost Boys of the Sudan to the screen in a film about heartbreak and hope, survival and triumph. Also starring Corey Stoll, Arnold Oceng, Kuoth Wiel, Ger Duany, Emmauel Jal and Femi Oguns."
Awards possibilities: If "Wild" doesn't catch on for Witherspoon, there's always "The Good Lie."
"The Imitation Game" (dir. Morten Tyldum) (Canadian Premiere)
What TIFF says: "Benedict Cumberbatch stars as Alan Turing, the genius British mathematician, logician, cryptologist and computer scientist who led the charge to crack the German Enigma Code that helped the Allies win WWII. Turing went on to assist with the development of computers at the University of Manchester after the war, but was prosecuted by the UK government in 1952 for homosexual acts which the country deemed illegal."
Awards possibilities: With the backing of Harvey Weinstein, it's always possible that "The Imitation Game" could wind up in the Best Picture discussion. Here in July, however, all signs point to Benedict Cumberbatch as the film's biggest hope. At the very least, he certainly has Tumblr's support for Best Actor.
"The Last Five Years" (dir. Richard LaGravenese) (World Premiere)
What TIFF says: "In this adaptation of the hit Broadway musical, The Last Five Years is a musical deconstruction of a love affair and a marriage taking place over a five year period. Jamie, a young, talented up-and-coming Jewish novelist falls in love with Cathy, a Shiksa Goddess and struggling actress. The film, told almost entirely through song and a beautiful pop music score, portrays an honest, heartbreaking, often funny, exploration of love and its consequences on individual identity. Starring Anna Kendrick and Jeremy Jordan."
"Love & Mercy" (dir. Bill Pohlad) (World Premiere)
What TIFF says: "Focusing on Brian Wilson, the mercurial singer, songwriter and leader of The Beach Boys, Love & Mercy paints an unconventional portrait of the artist by interweaving seminal moments in his life, from his artistic genius to his profound struggles, and the love that keeps him alive. Starring Paul Dano, Elizabeth Banks, John Cusack and Paul Giamatti."
Awards possibilities: Bill Pohlad, producer of "The Tree of Life" and "12 Years A Slave," takes a stab at directing with "Love & Mercy." No distribution for this one yet, but movies about famous musicians -- "Ray," "Walk the Line" -- usually produce fine awards results for lead actors. That's good news for Paul Dano and John Cusack, who both play Wilson at various stages of his life.
"Manglehorn" (dir. David Gordon Green) (North American Premiere)
What TIFF says: "Angelo Manglehorn is a small town locksmith who never got over the love of his life. Clara was a beautiful, idealized woman who left him heartbroken 40 years ago. He still writes her letters obsessively as he tries to find her and get back the woman of his dreams. Manglehorn is the journey of this magical man, his son, his cat and a beautiful new woman trying to help him put the pieces of his heart back together. Starring Al Pacino, Holly Hunter and Chris Messina."
Awards possibilities: Al Pacino's last Oscar nomination came for 1992's "Scent of a Woman." Twenty-two years later, Pacino has a couple of movies playing in Toronto that could end his long drought: "Manglehorn," which sounds kind of bananas, and "The Humbling," which also sounds kind of bananas.
"Men, Women and Children" (dir. Jason Reitman) (World Premiere)
What TIFF says: "'Men, Women and Children' follows the story of a group of high school teenagers and their parents as they attempt to navigate the many ways the internet has changed their relationships, their communication, their self-image, and their love lives. Starring Jennifer Garner, Adam Sandler and Judy Greer."
Awards possibilities: Following the washout that was "Labor Day," Jason Reitman returns to Toronto with "Men, Women and Children," an adaptation of Chad Kultgen's novel. Reitman is hit and miss with awards season, but when he hits, as he did with "Juno" and "Up in the Air," the results are huge. So, "Oscar-nominated actor Adam Sandler" might sound silly right now, but tell that to two-time nominee Jonah Hill.
"Miss Julie" (dir. Liv Ullmann) (World Premiere)
What TIFF says: "A country estate in Ireland in the 1880s. Over the course of one midsummer night, Miss Julie explores the brutal, charged power struggle between a young aristocratic woman and her father's valet. Starring Jessica Chastain, Colin Farrell and Samantha Morton."
Awards possibilities: Between "The Disappearance of Eleanor Rigby" and "Interstellar," Jessica Chastain already has two Oscar contenders on the calendar for 2014. A third could come in this adaptation of "Miss Julie," which doesn't have distribution just yet. Unless whichever studio picks this one up waits until 2015 to give the other Chastain movies time to breathe.
"Mr. Turner" (dir. Mike Leigh) (Canadian Premiere)
What TIFF says: "This biopic explores the last quarter century of the great if eccentric British painter J.M.W. Turner (1775–1851). Profoundly affected by the death of his father, he forms a close relationship with a seaside landlady with whom he eventually lives incognito in Chelsea, until his death. Throughout his life, the popular — if anarchic — member of the Royal Academy of Arts travels, paints, stays with the country aristocracy, visits brothels, has himself strapped to the mast of a ship so that he can paint a snowstorm, and is both celebrated and reviled by the public and by royalty. Starring Timothy Spall, Dorothy Atkinson, Marion Bailey, Paul Jesson, Lesley Manville, Martin Savage, Joshua McGuire, Ruth Sheen, David Horovitch and Karl Johnson."
Awards possibilities: Like "Foxcatcher," Mike Leigh's "Mr. Turner" was a buzzy Cannes Film Festival premiere. Interested parties should keep an eye on Timothy Spall in the Best Actor race.
"Nightcrawler" (dir. Dan Gilroy) (World Premiere)
What TIFF says: "Lou Bloom, a driven young man, discovers the nocturnal world of L.A. crime journalism. Joining a group of freelance camera crews who film marketable mayhem, Lou makes his own place at the table, aided by Nina, a veteran of the blood-sport that is local TV news. Blurring the line between observer and perpetrator, Lou finds his calling in a murderous world reduced to transactions. Starring Jake Gyllenhaal, Rene Russo, Riz Ahmed and Bill Paxton."
Awards possibilities: Jake Gyllenhaal failed to secure an Oscar nomination for his striking work in "Prisoners," so maybe his role in "Nightcrawler" -- a part that Gyllenhaal lost a substantial amount of weight to play -- will do the trick.
"The Theory of Everything" (dir. James Marsh) (World Premiere)
What TIFF says: "The extraordinary true story of one of the world's greatest living minds, Stephen Hawking, who falls deeply in love with fellow Cambridge student Jane Wilde. Hawking receives an earth-shattering diagnosis at age 21. Together, Stephen and Jane defy impossible odds, breaking new ground in medicine and science. Starring Eddie Redmayne, Felicity Jones, David Thewlis and Emily Watson."
Awards possibilities: Benedict Cumberbatch isn't the only British actor with a shot a Oscar glory in 2014. Eddie Redmayne, who missed out on a nomination for "Les Miserables" in 2012, could score one for playing Stephen Hawking in James Marsh's new film.
"Time Out of Mind" (dir. Oren Moverman) (World Premiere)
What TIFF says: "George, a man on the decline, enters the New York City homeless shelter system when he runs out of options. George struggles to navigate his way through this new world with the help of Dixon, a shelter veteran while trying to reconnect with his estranged daughter Maggie. Starring Richard Gere, Ben Vereen, Jena Malone, Kyra Sedgwick, Jeremy Strong, Yul Vasquez, Coleman Domingo, Geraldine Hughes, Michael Kenneth Williams and Steve Buscemi."
Awards possibilities: Richard Gere has never received an Oscar nomination, so expect whatever studio picks up "Time Out of Mind" to make a full-court press for the 64-year-old veteran. It should be noted that Oren Moverman has success with actors, too: He wrote "I'm Not There" (for which Cate Blanchett was nominated) and wrote and directed "The Messenger" (which put Woody Harrelson on the list of nominees).
"Top Five" (dir. Chris Rock) (World Premiere)
What TIFF says: "Written, directed by, and starring Chris Rock, 'Top Five' tells the story of New York City comedian-turned-film star Andre Allen, whose unexpected encounter with a journalist forces him to confront both the career that made him famous and the life he left behind. Starring Chris Rock, Rosario Dawson, J.B. Smoove, Gabrielle Union, Tracy Morgan, Cedric the Entertainer, Kevin Hart, Jerry Seinfeld, Adam Sandler, Whoopi Goldberg, Sherri Shepherd, Jay Pharoah, Anders Holm and Michael Che. And featuring music by Questlove."
Awards possibilities: Wishful thinking, but a script nod for Chris Rock and an original music nomination for Questlove would be pretty cool.
"While We're Young" (dir. Noah Baumbach) (World Premiere)
What TIFF says: "Noah Baumbach's exploration of aging, ambition and success, stars Ben Stiller and Naomi Watts as a middle-aged couple whose career and marriage are overturned when a disarming young couple enters their lives. Also starring Amanda Seyfried, Adam Driver, Charles Grodin, Maria Dizzia and Adam Horovitz."
Awards possibilities: Noah Baumbach's "Frances Ha" was fantastic but ultimately ignored by Oscar voters. Maybe "While We're Young" will put the writer-director back in the conversation, even if it's only for screenplay honors.
Popular in the Community