From Sept. 4 through Sept. 14, the film world will reside in a place where Tim Hortons is king: The Toronto International Film Festival runs through those dates, and it'll be home to the world premieres of a surfeit of top awards contenders. Ahead, all the movies we're looking forward to seeing at Toronto.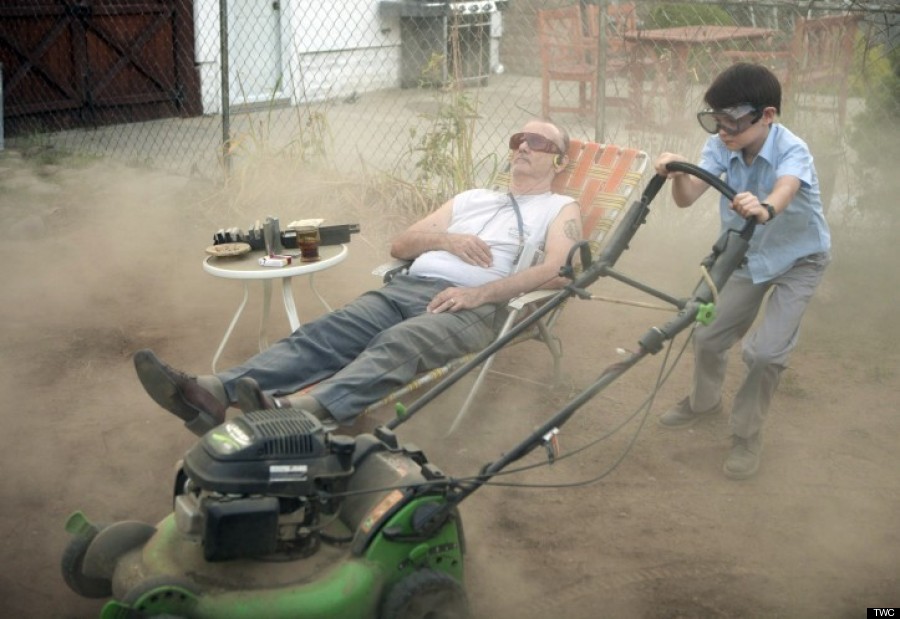 "Adult Beginners" (dir. Ross Katz) (World Premiere)
What TIFF Says: "Out of a job after a disastrous product launch, a big-city yuppie retreats to his suburban childhood home, in this heart-warming and hilarious film about crashing hard, coming home and waking up."
What We'll Add: Produced by Mark and Jay Duplass, "Adult Beginners" stars Nick Kroll, Rose Byrne and Bobby Cannavale. This could be Comedy Central's favorite indie.
"Big Game" (dir. Jalmari Helander) (World Premiere)
What TIFF Says: "Trapped in the wilderness after Air Force One is forced down by a terrorist attack, the President of the United States (Samuel L. Jackson) must rely on the survival skills of a 13-year-old woodsman, in this thriller co-starring Ray Stevenson, Jim Broadbent and Felicity Huffman."
What We'll Add: Nothing. This movie sounds absolutely perfect.
"Before We Go" (dr. Chris Evans) (World Premiere)
What TIFF Says: "Chris Evans makes his directorial debut with this winning romance about two strangers (Evans and Alice Eve, 'Star Trek Into Darkness') who spend a long, magical night in NYC after missing the last train at Grand Central Terminal."
What We'll Add: Evans has stated he wants to direct more in the future. "Before We Go" will give everyone a hint of what kind of filmmaker he'll try to become.
"Beyond the Lights" (dir. Gina Prince-Bythewood) (World Premiere)
What TIFF Says: "A rising young musician (Gugu Mbatha-Raw, 'Belle') falls into a passionate love affair with the cop assigned to protect her (Nate Parker), in this moving and inspirational romance from writer-director Gina Prince-Bythewood ('Love & Basketball')."
What We'll Add: Mbatha-Raw and Parker are two of Hollywood's next great stars, and this movie kind of sounds like "The Bodyguard."
"Black and White" (dir. Mike Binder) (World Premiere)
What TIFF says: "'Black and White' is the story of a widowed grandfather who is left to raise his bi-racial granddaughter. When the little girl's paternal grandmother seeks custody, a bitter legal battle ensues that forces the uneasy family members to have an honest conversation about life, death, anger and America's racial divide. Starring Academy Award-winners Kevin Costner and Octavia Spencer, as well as Anthony Mackie, Jennifer Ehle, Gillian Jacobs, Bill Burr, Andre Holland and Jillian Estell."
What We'll Add: Following this most difficult summer, it feels like "Black and White" could take on added social relevance for whatever studio picks it up after its festival debut.
"Boychoir" (dir. François Girard) (World Premiere)
What TIFF Says: "A troubled 11-year-old boy at a prestigious East Coast music school clashes with the school's demanding choir master (Dustin Hoffman), in this inspiring drama co-starring Kathy Bates, Josh Lucas, Debra Winger and 'Glee's' Kevin McHale."
What We'll Add: With "Chef," a supporting role in "The Cobbler" (more on that in a moment) and his part in "Boychoir," Dustin Hoffman is kind of in the midst of a comeback. We approve, and hope that "Boychoir" falls somewhere between "The Great Santini" and "Dead Poets Society" on the list coming-of-age dramas.
"Cake" (dir. Daniel Barnz) (World Premiere)
What TIFF Says: "While struggling with her own trauma, a woman in a chronic-pain support group (Jennifer Aniston) begins to investigate the suicide of a fellow group member (Anna Kendrick) and develops an unexpected relationship with the woman's husband (Sam Worthington), in this highly anticipated drama also starring William H. Macy and Felicity Huffman."
What We'll Add: Aniston, who also executive produced this movie, usually shines in small-scale character studies ("The Good Girl," "Friends With Money").
"The Cobbler" (dir. Thomas McCarthy) (World Premiere)
What TIFF Says: "A lonely NYC shoe repairman (Adam Sandler) discovers a magical heirloom that allows him to 'walk in another man's shoes,' in this charming fantasy co-starring Dustin Hoffman, Steve Buscemi and Ellen Barkin."
What We'll Add: One of two films premiering at TIFF with Adam Sandler in a role outside of his normal comfort zone. That is a good thing. ("Men, Women & Children," from director Jason Reitman, is the other one.)
"Eden" (dir. Mia Hansen-Løve) (World Premiere)
What TIFF Says: "Greta Gerwig and Brady Corbet star in the exhilarating new film from French auteur Mia Hansen-Løve ('Goodbye First Love'), which traces the rise of the French electronic-music boom in the 1990s."
What We'll Add: Daft Punk appears in this movie too!
"The Face of An Angel (dir. Michael Winterbottom) (World Premiere)
What TIFF Says: "Kate Beckinsale and Daniel Brühl ('Rush,' 'Inglourious Basterds') star in this fictionalized version of the notorious Amanda Knox murder case from ever-adventurous director Michael Winterbottom ('The Trip,' 'In This World,' '24 Hour Party People')."
What We'll Add: This will probably be better than the Lifetime movie.
"Foxcatcher" (dir. Bennett Miller) (Canadian Premiere)
What TIFF says: "Based on true events, this film tells the dark and fascinating story of the unlikely and ultimately tragic relationship between an eccentric multi-millionaire and two champion wrestlers. Starring Anthony Michael Hall, Steve Carell, Channing Tatum, Vanessa Redgrave, Mark Ruffalo and Sienna Miller."
What We'll Add: Future fans of "Foxcatcher" will want to read Mark Harris' excellent New York magazine cover story on the new film. This one sounds like it could be special.
"Gemma Bovery (dir. Anne Fontaine) (World Premiere)
What TIFF Says: "Gemma Arterton glows as the title character — a passionate young Englishwoman whose dull married life in a provincial Norman town steers her towards adultery — in this updating of Flaubert's masterpiece Madame Bovary from French director Anne Fontaine (Coco Before Chanel)."
What We'll Add: Gemma Arterton needs to become super famous.
"The Imitation Game" (dir. Morten Tyldum) (Canadian Premiere)
What TIFF says: "Benedict Cumberbatch stars as Alan Turing, the genius British mathematician, logician, cryptologist and computer scientist who led the charge to crack the German Enigma Code that helped the Allies win WWII. Turing went on to assist with the development of computers at the University of Manchester after the war, but was prosecuted by the UK government in 1952 for homosexual acts which the country deemed illegal."
What We'll Add: Benedict Cumberbatch won an Emmy award this year, and "The Imitation Game" puts him right into the conversation for an Oscar. "Benedict Cumberbatch number one with a bullet," wrote Awards Daily editor Sasha Stone following the film's premiere at the Telluride Film Festival. "Might win."
"The Judge" (dir. David Dobkin) (World Premiere)
What TIFF says: "Big city lawyer Hank Palmer returns to his childhood home where his estranged father, the town's judge, is suspected of murder. Hank sets out to discover the truth, and along the way reconnects with the family he walked away from years before. Starring Robert Downey Jr., Robert Duvall, Vera Farmiga, Vincent D'Onofrio, Jeremy Strong, Dax Shepard and Billy Bob Thornton."
What We'll Add: Robert Duvall's last Oscar nomination was back in 1999.
"The Last Five Years" (dir. Richard LaGravenese) (World Premiere)
What TIFF says: "In this adaptation of the hit Broadway musical, The Last Five Years is a musical deconstruction of a love affair and a marriage taking place over a five year period. Jamie, a young, talented up-and-coming Jewish novelist falls in love with Cathy, a Shiksa Goddess and struggling actress. The film, told almost entirely through song and a beautiful pop music score, portrays an honest, heartbreaking, often funny, exploration of love and its consequences on individual identity. Starring Anna Kendrick and Jeremy Jordan."
What We'll Add: There's a good chance "The Last Five Years" is our new favorite movie.
"The Little Death" (dir. Josh Lawson) (International Premiere)
What TIFF Says: "This edgy ensemble comedy from first-time director Josh Lawson takes us inside the homes of seemingly straight-laced Australian suburbanites to reveal a gallery of kinks, fetishes, oddball turn-ons, and pent-up repression let precariously loose."
What We'll Add: This one has been described as "Love Actually" but with kinky sex.
"Men, Women and Children" (dir. Jason Reitman) (World Premiere)
What TIFF says: "'Men, Women and Children' follows the story of a group of high school teenagers and their parents as they attempt to navigate the many ways the internet has changed their relationships, their communication, their self-image, and their love lives. Starring Jennifer Garner, Adam Sandler and Judy Greer."
What We'll Add: Technology!
"Mommy" (dir. Xavier Dolan) (Toronto Premiere)
What TIFF Says: "The hotly anticipated new film from Québécois wunderkind Xavier Dolan shared the Special Jury Prize at Cannes."
What We'll Add: Xavier Dolan might be the future of filmmaking.
"Nightcrawler" (dir. Dan Gilroy) (World Premiere)
What TIFF says: "Lou Bloom, a driven young man, discovers the nocturnal world of L.A. crime journalism. Joining a group of freelance camera crews who film marketable mayhem, Lou makes his own place at the table, aided by Nina, a veteran of the blood-sport that is local TV news. Blurring the line between observer and perpetrator, Lou finds his calling in a murderous world reduced to transactions. Starring Jake Gyllenhaal, Rene Russo, Riz Ahmed and Bill Paxton."
What We'll Add: Gyllenhaal has been on a run of great performances ("Prisoners," "Enemy"), but let's keep an eye on Rene Russo, who's due for a comeback one of these years.
"Rosewater" (dir. Jon Stewart) (International Premiere)
What TIFF Says: "In 2009, Iranian Canadian journalist Maziar Bahari was covering Iran's volatile elections for Newsweek. One of the few reporters living there with access to US media, he also appeared on 'The Daily Show with Jon Stewart,' in a taped interview with comedian Jason Jones. The interview was intended as satire, but if the Tehran authorities got the joke they didn't like it -- and that bit of comedy would come back to haunt Bahari when he was rousted from his family home and thrown into prison."
What We'll Add: Stewart's directorial debut earned solid reviews after its premiere at the Telluride Film Festival, and the trailer isn't bad either.
"Ruth & Alex" (dir. Richard Loncraine) (World Premiere)
What TIFF Says: "A long-married couple (Morgan Freeman and Diane Keaton) have an eventful weekend after they are forced to contemplate selling their beloved Brooklyn apartment."
What We'll Add: This sounds like a movie your parents would like.
"Samba" (dir. Olivier Nakache and Eric Toledano) (World Premiere)
What TIFF Says: "A recent migrant to France (Omar Sy) fights to stay in his adopted country with the help of a rookie immigration worker (Charlotte Gainsbourg), in this winning drama from the directors of the breakout hit 'Les Intouchables.'"
What We'll Add: Omar Sy needs to become super famous.
"Shelter" (dir. Paul Bettany) (World Premiere)
What TIFF Says: "Homeless on the streets of New York, two people from very different worlds (Jennifer Connelly and Anthony Mackie) find strength and solace in each other, in the moving directorial debut by acclaimed actor Paul Bettany."
What We'll Add: The film's publicity still is of Jennifer Connelly holding a sign that reads "I Used To Be Someone."
"St. Vincent" (dir.Theodore Melfi) (World Premiere)
What TIFF Says: "A cantankerous, cash-strapped, loose-living retiree (Bill Murray) becomes a spectacularly unlikely role model for his twelve-year-old neighbor, in this delightful comedy co-starring Melissa McCarthy, Chris O'Dowd, Terrence Howard and Naomi Watts."
What We'll Add: Bill Murray is to Theodore Melfi as Gene Hackman was to Wes Anderson? We'll take that.
"The Theory of Everything" (dir. James Marsh) (World Premiere)
What TIFF says: "The extraordinary true story of one of the world's greatest living minds, Stephen Hawking, who falls deeply in love with fellow Cambridge student Jane Wilde. Hawking receives an earth-shattering diagnosis at age 21. Together, Stephen and Jane defy impossible odds, breaking new ground in medicine and science. Starring Eddie Redmayne, Felicity Jones, David Thewlis and Emily Watson."
What We'll Add: Felicity Jones needs to become super famous.
"This is Where I Leave You" (dir. Shawn Levy) (World Premiere)
What TIFF says: "Shawn Levy's dramatic comedy follows four adult siblings who return home after their father's death to spend a week with their over- sharing mother and an assortment of spouses, exes and might-have-beens. Confronting their history and frayed relationships among those who know and love them best, they reconnect in hysterical and emotionally affecting ways. Starring Jason Bateman, Tina Fey, Jane Fonda, Adam Driver, Rose Byrne, Corey Stoll and Kathryn Hahn."
What We'll Add: This is where we'll cite the film's cast as a huge strong point.
"Time Out of Mind" (dir. Oren Moverman) (World Premiere)
What TIFF says: "George, a man on the decline, enters the New York City homeless shelter system when he runs out of options. George struggles to navigate his way through this new world with the help of Dixon, a shelter veteran while trying to reconnect with his estranged daughter Maggie. Starring Richard Gere, Ben Vereen, Jena Malone, Kyra Sedgwick, Jeremy Strong, Yul Vasquez, Coleman Domingo, Geraldine Hughes, Michael Kenneth Williams and Steve Buscemi."
What We'll Add: Richard Gere has never won an Oscar, so keep that narrative in mind throughout awards season.
"Welcome to Me" (dir. Shira Piven) (World Premiere)
What TIFF Says: "A woman suffering from Borderline Personality Disorder (Kristen Wiig) becomes an overnight celebrity after a huge lottery jackpot allows her to launch her own off-the-wall talk show."
What We'll Add: Kudos to Kristen Wiig for continuing to confound expectations. Instead of doing something like "The Target Lady: The Movie," she does this.
"While We're Young" (dir. Noah Baumbach) (World Premiere)
What TIFF says: "Noah Baumbach's exploration of aging, ambition and success, stars Ben Stiller and Naomi Watts as a middle-aged couple whose career and marriage are overturned when a disarming young couple enters their lives. Also starring Amanda Seyfried, Adam Driver, Charles Grodin, Maria Dizzia and Adam Horovitz."
What We'll Add: Is this the Charles Grodin comeback we've been waiting for?
"Wild" (dir. Jean-Marc Vallée) (International Premiere)
What TIFF says: "After years of reckless behavior, a heroin addiction and the destruction of her marriage, Cheryl Strayed makes a rash decision. Haunted by memories of her mother Bobbi and with absolutely no experience, she sets out to hike more than a thousand miles on the Pacific Crest Trail all on her own. Wild powerfully reveals Cheryl's terrors and pleasures as she forges ahead on a journey that maddens, strengthens and ultimately heals her. Starring Reese Witherspoon, Laura Dern, Thomas Sadoski, Michiel Huisman, Gaby Hoffmann and Kevin Rankin."
What We'll Add: The Reeseaissance is here.
REAL LIFE. REAL NEWS. REAL VOICES.
Help us tell more of the stories that matter from voices that too often remain unheard.
BEFORE YOU GO
PHOTO GALLERY
Fall Movies 2014