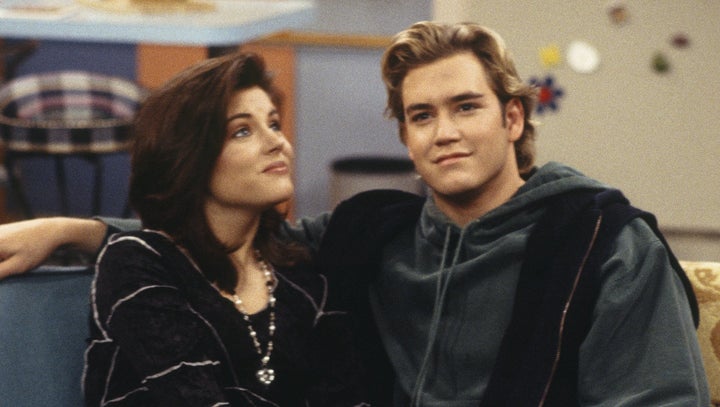 The news has been floating around, and while chatting with The Huffington Post, Tiffani Thiessen confirmed that, yes, Zack Morris himself, Mark-Paul Gosselaar, would join her for Season 2 of her show, "Dinner at Tiffani's." 
"Yeah. We do we have Mark-Paul and his wife this season," said Thiessen. Gosselaar and his wife will join Thiessen and her husband for a highly anticipated episode.
In addition to Gosselaar, Thiessen's other co-stars Elizabeth Berkley and Mario Lopez have also made appearances on the show, but could there ever be an episode featuring just the "Saved by the Bell" cast? Thiessen set the record straight. 
"Dinner at Tiffani's" is like the greatest name for a cooking show.
You're my new best friend.
[Laughs] Did you just come up with this name and were like, "Well, now I need a cooking show"?
It came pretty organically, I have to say. Literally, my friends used to kind of say, "Let's go have dinner at Tiffani's." And that's how it came about. So when I started hearing it more and more, I'm like, this is a show idea. I have to literally hone in on this.
If you could have any three people on the show, who would it be?
I'd say it'd be pretty cool to have the president and first lady. I'll give you four, actually. Every season I've asked Will Ferrell to come on because we worked together years and years and years ago, and then Jimmy Fallon. I'm probably one of his biggest fans, and I just think he's awesome and would probably be the best dinner guest ever.
Wow, so are these going to actually happen?
Jimmy is here in New York, and I keep asking Cooking Channel [to] do a New York version of my show, so hopefully we can get a lot of my New York friends. Will Ferrell, I've asked two seasons in a row ... He's very sweet. His people have said, "He loves you. He appreciates you asking. He's just very busy, but try next time." So I'm gonna keep trying.
Could there ever be an all "Saved by the Bell" episode in the future?
[Laughs] I don't think so. No, no plans of that. No, I think us doing our skit on "Jimmy Fallon" was as close as people are going to get, which was, I think, pretty cool.
Okay, so "Dinner at Tiffani's" is great, but, really, why not "Breakfast at Tiffani's"?
[Laughs] Because it's more fun at night. You have cocktails!
Season 2 of "Dinner at Tiffani's" airs Wednesdays at 8 p.m. on Cooking Channel.
PHOTO GALLERY
Child Stars: Then And Now
REAL LIFE. REAL NEWS. REAL VOICES.
Help us tell more of the stories that matter from voices that too often remain unheard.