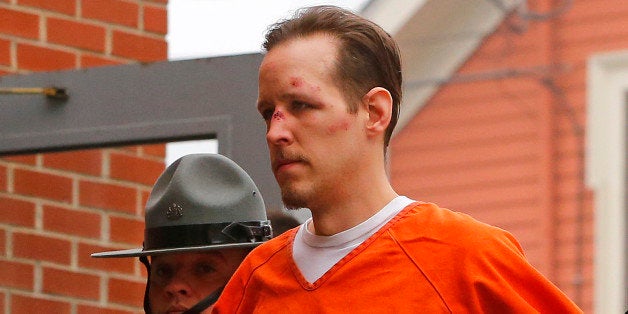 (Reuters) - The sister of the survivalist who eluded a 48-day manhunt in the mountains of Pennsylvania until his capture last week said on Monday she did not believe the police version of how he ended up with wounds and red marks on his face.
State police said that Eric Frein, who has been charged with murdering a state trooper and wounding another in a sniper attack outside their barracks in September, cut his nose and face while hiding in thick woods and dodging search teams.
"I think we all know for a fact he didn't get it in the woods," Tiffany Frein, the suspect's sister, said in a telephone interview. "That's an obvious thing."
On Monday, the U.S. Marshals Service in Scranton, Pennsylvania, said its marshals had done nothing "inappropriate" while arresting Frein and said it would provide a fuller account of the arrest later in the day.
The hunt for Frein, 31, involved hundreds of officers from state, local and federal agencies, using helicopters, armored vehicles and sniffer dogs. Police said last week that he surrendered without a fight. Two firearms were found in the hangar where he was arrested but Frein was carrying no weapons.
Tiffany Frein described her older brother as "really smart."
"I don't know what to think," she said of the crimes he is accused of committing, adding that she had not thought of him as a troubled person.
"We don't really talk much," she said when asked how the rest of the family had reacted to the shootings and the manhunt.
Frein, who was on the Federal Bureau of Investigation's list of Ten Most Wanted fugitives, is being held without bail and has not spoken to his family yet, his sister said.
"We can't talk to him for a week or two, I think," she said.
Frein, bruised and gaunt, appeared at the Pike County Courthouse last week in the handcuffs used by Corporal Bryon Dickson, 38, whom he is accused of killing on Sept. 12 at the state police barracks in Blooming Grove. Frein also is charged with wounding Trooper Alex Douglass, 31, in the shooting.
Raymond Tonkin, Pike County's district attorney, says he will ask that Frein be sentenced to death if convicted.
"I think that's a little extreme," Frein's sister said. "If anything he needs help."
(Reporting by Joe McDonald; Editing by Jonathan Allen and Eric Beech)
Calling all HuffPost superfans!
Sign up for membership to become a founding member and help shape HuffPost's next chapter
BEFORE YOU GO
PHOTO GALLERY
PA State Police Barracks Shooting