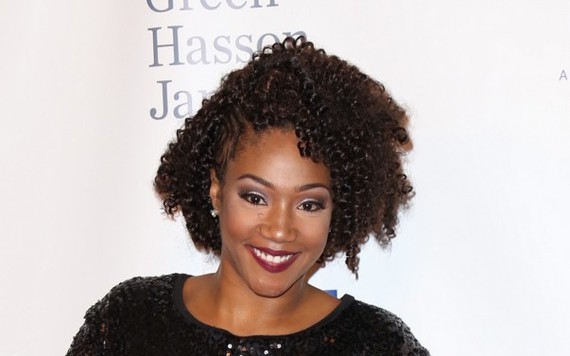 Tiffany Haddish may make you laugh until your side hurts, but life for The Carmichael Show actress hasn't always been funny. In fact, her childhood was quite unamusing.
When she was 13-years-old, her mother flew headfirst through the windshield of a car during a horrific traffic accident. The crash triggered her mom's schizophrenia, which was so severe that Tiffany and her four siblings were forced to enter the foster care system until their grandmother received custody.
On top of that, she was scoring poorly in school, and she was a target for bullies.
"I was getting beat up and being made fun of all of the time. They used to be so mean to me, and I used to cry," she remembers. "Then I watched Who Framed Roger Rabbit one day, and the detective asked the rabbit, 'Why are all of these people doing nice things for you?' He goes, 'Because I make them laugh. If you make them laugh, people will do anything for you.''"
That's what Tiffany began to do. She started cracking people up, and her social worker noticed the innate talent and the fact that her jokes kept sending her to the principal's office. So she gave the starlet an ultimatum: go to therapy or enroll into the Laugh Factory Comedy Camp.
Yep, she chose the latter, and guess who was one of her instructors there? It was Charles Fleischer, the voice of Roger Rabbit. Can we say full circle?!
"When I got into the camp, I learned when to be funny, when not to be funny, how to approach a situation and how to perfect crowd control," she explains. "It helped me, because I was also the school mascot. Girl, I was a weirdo! I was the only talking mascot in the whole school district."
Although she quit the gig for about four or five games - all because she didn't have a boyfriend - she didn't give up on her dreams of making it in the entertainment industry.
But she ran into another hurdle - homelessness. Once she turned 18, she was booted from the foster care system and left to fend for herself.
"I was living in my Geo Metro in Beverly Hills, so you couldn't tell me I wasn't doing it right. I was sleeping in front of this one house every day, and every morning at 6:45, the police would come and make me move," she says.
While Tiffany ended up landing a job in retail after graduation, she was still unhappy, so she decided to seek counseling. That's where she spilled out all of her guts about those abandoned Hollywood dreams, and her counselor suggested she try her hand at comedy again.
Good thing she listened, because after rocking the mic at a few amateur nights, opportunities came knocking. From taking on standup specials including Who's Got Jokes and Def Comedy Jam to guest appearances on sitcoms such as The Game, Real Husbands Of Hollywood, and OWN's If Loving You Is Wrong, the 36-year-old has been making a name for herself for the last ten years.
Oh, and that home she was sleeping in front of all of those years ago belonged to a Def Comedy Jam executive.
"After I did the show, one of the directors invited me to his house for a Super Bowl party," she reminisces. "I pull up to the house, and I was like, 'I used to live right here!' He said, 'What do you mean? I've been here for 20 something years, and I've never seen you.' I told him, 'Yes, I did. I used to live in my car right out there.' He said, 'That was you?'...I feel like my whole life keeps coming full circle."
"Full circle" is the same term that could be used to describe how she scored her role on The Carmichael Show, whose second season began on Sunday. She wasn't originally casted to play the former sister-in-law of the sitcom's creator and star, Jerrod Carmichael. While she gave plenty of props to her fellow comedian and friend for launching the series, she made sure to express her displeasure about just one thing.
"I was very upset that he didn't hire me or invite me to audition," she admits. "I came to him like, 'I am so happy for you! Congratulations! But I think it's real messed up that you didn't even give me a chance to come in and read one line?! Why you say you respect my comedy and you think I'm talented but not invite me out or nothing?! ... But if you need help with anything, you let me know. I'm here to be of service."
Carmichael took her words to heart. When the leading lady who was initially hired to portray the part couldn't attend the table read and some of the rehearsals, he called Tiffany. And when that same leading lady had to back out altogether, he called Tiffany. Now, she's the quick-witted Nekeisha we get to watch each week, and she's ready to take the second season of the breakout hit by storm.
Tiffany might have had a less-than-appealing upbringing, but she's turned her pain into purpose.
"It all paid off - even the foster care. It was kind of like the worst time of my life, but for me, it was also the best time," she recounts. "It was training time. Dealing with always being told 'no' got me ready for this entertainment game. So now when I'm rejected from something, I realize that it's not that bad. I'm grateful."
For the youth who are having a hard time coping with their foster care challenges, Tiffany is there to lend a helping hand. Through her Chuckles Not Knuckles program, where she gathers a few comedians to perform for high schoolers, her partnership with the department of children services and her motivational speeches at schools across Los Angeles, she's inspiring kids and giving them hope.
"No matter where you come from and no matter what you've been through, whatever you want to be in life, you can do it. Do one thing everyday towards that goal. It'll happen, and it'll come true," she says.
Trust her. She's living proof.
Catch "The Carmichael Show" on NBC Sundays at 9 P.M. ET.
Read more compelling, entertaining and thought-provoking African-American focused content at EBONY.com.
Popular in the Community