Tiffany Haddishopened up about her relationship with Common in a recent interview, revealing that she's in "love" and that it's "the best relationship" she's ever been in.
Last week, the actor appeared on "Jackass" star Steve-O's podcast, "Steve-O's Wild Ride," to talk about her acting career, comedy and more. Early in their discussion, Haddish spoke about her decision to shave her head, saying she wanted to "know myself from head to toe," before veering off into her relationship status.
"I am in a relationship," she declared, adding, "Yeah, we're twins now" in reference to Common being bald as well.
The 40-year-old told Steve-O that Common was very supportive of her decision to shave her head and called the result "beautiful."
"He's like, 'Wow, you did it, man. You've got a lot of courage. You look so beautiful. I love it.' And I'm like, 'Ah, put your head on my head,'" she said.
Haddish explained that while the duo met on the set of the 2019 film "The Kitchen," their friendship "wasn't anything sexual or anything like that because I just wasn't really ... My eyes were set on something else." But after the filming, they stayed friends and over time, their connection evolved.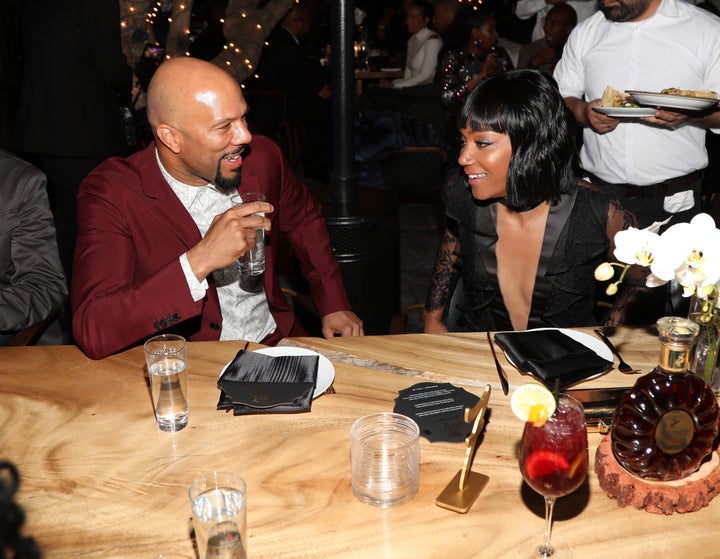 The comedian explained that after working together with Bumble on a charity event during the coronavirus pandemic, the pair began video-chatting more often, which led to their friendship becoming something more.
"And then he got tested for everything, I got tested for everything, and yeah, we've been fucking," she said.
Later in the interview, Haddish gushed about the relationship.
"This is hands down the best relationship I've ever been in. Knock on wood," she said, adding: "I've lost 20 pounds since I've been in this relationship. I feel more confident in me and it's not him that's doing it. I'm just way happier and it's like knowing that I got somebody that cares about me that really has my back. It seems like he does anyways. And I love it. I love him."
Steve-O lauded the interview as being the best he's had and we couldn't agree more.