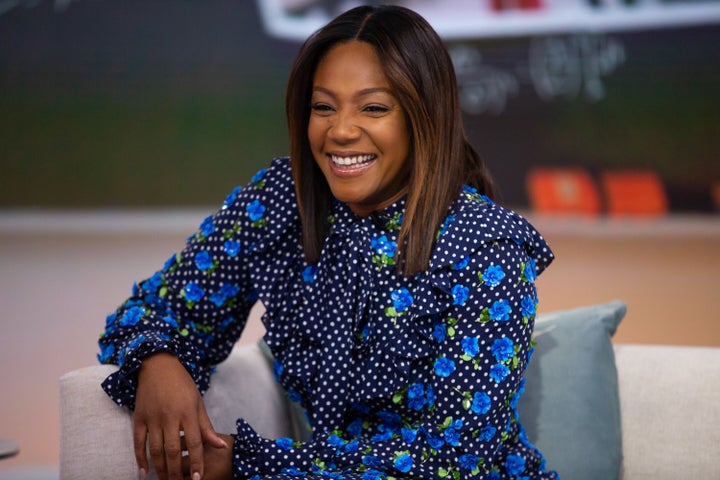 "I think the reason why, a lot times, we don't get paid the same as men do is because we don't talk about it. I think we do need to talk about it," Haddish told Variety for the magazine's Power of Women feature published on Tuesday.
The "Girls Trip" and "Night School" actress said it's essential that women talk to other women about their pay. For example, Haddish said she's asked fellow actress Kate Hudson how much she gets paid for certain gigs, and that's helped her determine how much money she should ask for.  
"You know what they say? 'A close mouth don't get fed.' And a lot of times we don't open our mouths because we don't even really know what we're supposed to get," Haddish added. 
"So, that's why I do the research. I ask around," she continued. "I've made friends with line producers that cut those checks, production managers, so I can be like, 'So, on average, how much does a girl get paid for? How much does a guy get paid?' OK, I'm gonna ask for the guy fee on this one." 
The gender pay gap is widespread and affects even the most famous and successful women in Hollywood. Just look at Forbes' annual highest-paid list for actors and actresses: Last year, Mark Wahlberg topped the list for men, earning $68 million, while the highest-paid actress, Emma Stone, earned $26 million. 
When asked how proud she was of her recent Emmy win for her appearance on "Saturday Night Live," Haddish was completely candid.
"Can I be honest?" the comedian said. "Not that much! Because I didn't get a check with it."
"When people really want those Oscars so bad and those Emmys and everything so bad, I thought it was because they give you a check," Haddish continued. "Like they come out with the award and they hand you a check! I've been watching sports and NASCAR, horse races, championships, football games, they get a trophy, a ring, and a bonus check. But when you win an Emmy, they give you a gift bag of a bunch of things that you probably not going to really use. I like the trophy a lot, don't get me wrong, but they could have put a check in there!"
Haddish said her "Girls Trip" co-star Jada Pinkett Smith helped her understand what an honor it is to be given an award for her work. Haddish said she's grateful for the recognition, but wants to be paid for hard work. 
"I care about being able to take care of my grandma, take care of my mama, my niece, my sister, and brother, and if I ever have children take care of them, create some generational wealth," she said. "And I think the only way to do that is to have some money so you can buy some land and things like that, and then buy a studio. Yeah, I need checks! I don't think anybody's obligated to give me anything. I only think I deserve what I work for and that's that."
REAL LIFE. REAL NEWS. REAL VOICES.
Help us tell more of the stories that matter from voices that too often remain unheard.