The "Night School" star told Stephen Colbert on "The Late Show" Thursday that her goal is to do "50 movies by the time I'm 50."
Which is great for her fans (and Haddish's IMDb page), but not so much for her love life.
"I haven't been dating," Haddish admitted to Colbert about five minutes into the interview. "My personal relationships haven't been that good. But I have been keeping up with my weighted blanket and my toys that I get off of Groupon. And batteries ― batteries are a girl's best friend."
Haddish told Colbert all about her weighted blanket, which she described as being "filled with what I think is sand." The pressure from the blanket is supposed to relieve anxiety and stress.
But Haddish uses it for another reason: "You can throw that over your legs, and you spray a little cologne over it, and you throw it over your arms, and it feels like a man is holding you."
"And then you open up your nightstand drawer," she continued as she pantomimed taking a stick-like item out of a drawer. "Put your batteries in and go to sleep."  
"You don't have to make them breakfast or talk to the weighted blanket or nothing," she quipped.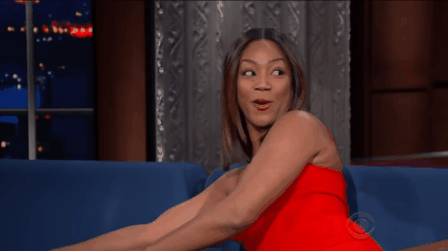 It seems like Haddish is doing just fine on her own, but she said she's open to romantic possibilities.
"I'm waiting though, I'm waiting with my weighted blanket."
Watch the rest of her delightful interview, which includes a hilarious ongoing prank between her and Kevin Hart, in the video at the top of this post.
Calling all HuffPost superfans!
Sign up for membership to become a founding member and help shape HuffPost's next chapter