When you're a celebrity, there's a lot of pressure to look a certain way and, of course, dress a certain way. To make things even more complicated, there's also an unwritten rule that celebrities should rarely ― if ever ― repeat an outfit. Tiffany Haddish is here to change all that.
The actress and stand-up comedian bought a $4,000 white Alexander McQueen gown early last year. Since then, she's already worn it three times to three major events: the "Girls Trip" premiere in July 2017, her November 2017 "Saturday Night Live" hosting gig, and most recently while presenting an award at the Oscars. A taboo, by Hollywood standards.
But Haddish told Glamour magazine recently that her effort to rewear the dress has already had a bit of an effect on the industry.
"A lot of people have been like, 'I love the dress. I love what you're doing.' And I've seen some people in the same outfit twice since then," she said. Even her friend and former co-star, Jada Pinkett Smith, is on board.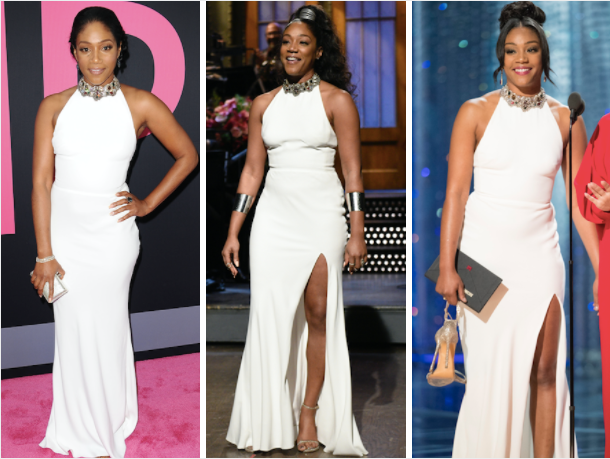 "Jada was like: 'I'm so proud of you not letting the machine change who you are,'" Haddish said. "'Be who you are; keep wearing what you want.'"
The 38-year-old said she's also heard from people outside the industry who say seeing Haddish repeat her outfits has really helped them.
"I know this girl that goes to a private school — she's not rich, she's going on a scholarship — and kids make fun of her if she's wearing the same jacket after three days," Haddish told Glamour.
"When she saw me [in the McQueen dress], she hit me up. She said it made her feel so good to see that I was wearing the same dress, when people make fun of her and are like, 'Girl, you've got the same jacket on!' She's like: 'I'm Tiffany Haddish today!'"
When Haddish hosted "SNL" back in November, she worked her effort to rewear the dress ― which she had on at the time ― into her opening monologue.
"My whole team, they told me, 'Tiffany, you cannot wear that dress on "SNL." It's taboo to wear it twice,'" she explained. "And I said, 'I don't give a dang about no taboo. I spent a lot of money on this dress. This cost way more than my mortgage.'"
Because, as Haddish so perfectly put it on the variety show: "I feel like I should be able to wear what I want, when I want, however many times I want, as long as I Febreze it."