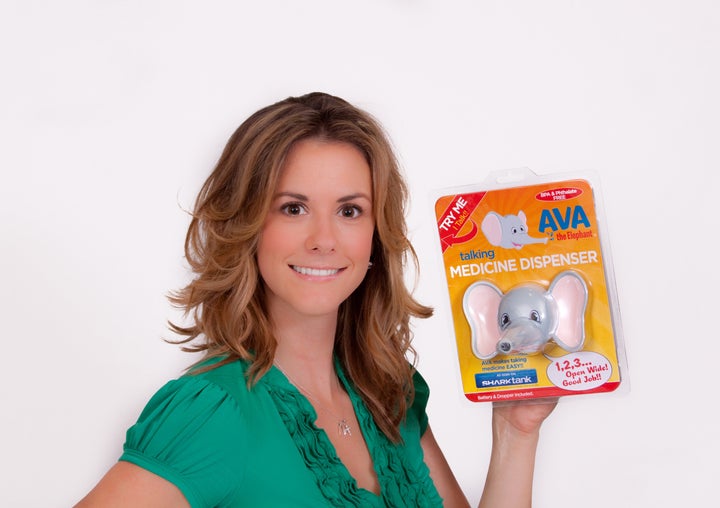 After appearing on the pilot episode of ABC's "Shark Tank," Tiffany Krumins was riding high. She had wooed one of the "sharks" with her business idea, and was set to receive $50,000 to start her company. A few short months later, she was diagnosed with cancer.
"It was a roller coaster," Krumins said. "I went from being on a national TV show and hearing that my dreams were coming true and the excitement of actually living that out -- to hearing that I have cancer."
One of the high points of that ride came when real-estate mogul Barbara Corcoran offered to invest in Krumin's idea: AVA The Elephant, a talking, elephant-shaped medicine dispenser for kids that alleviates their fears of taking medicine. With Corcoran on board, Krumin was able to make the transition from idea to business -- and from nanny to entrepreneur.
AVA now sells for $9.99 at more than 10,000 retail outlets, including CVS, Krogers, Safeway and Toysrus.com, and is available in five countries and multiple languages. But as far as she's come, Krumins' inspiration and motivation remains the same -- to help children -- even as she's now facing what could be her toughest battle yet.
You got the idea for AVA when you were working as a nanny for special needs kids and kids with cancer. What specifically inspired you?
I had an experience with a little boy with Down Syndrome who I worked with daily. He had a very difficult time getting his hair cut, and one day I had kind of a lightbulb moment where I set up animals around the table and incorporated them into cutting his hair. It worked -- these animals brought some sort of calmness to the situation, and I was the only person he would let cut his hair. So the day that I was administering medicine to him, his mother and I had to restrain him, and I thought, "There needs to be an animal involved in this, too." Pulling out a dropper is so sterile and hospital-like. There's nothing friendly about it. I had the idea of hiding the dropper and making it more child friendly. I went home that night, took sponges and fabric, and kind of played around with a prototype of my idea, and then I taped the insides of a talking greeting card to the back of it and recorded my voice on it. I took it to work the next day, and it worked like a charm with this little boy who I'd never seen take medicine.
So while larger companies improved the taste of medicine for kids, you found it wasn't the taste that was the issue?
Exactly. It was the delivery and also the anxiety with parents. A lot of the parents show that it's going to be a traumatic experience by pulling out the medicine and nervously saying, "It's medicine time." This breaks down all those barriers.
How did you decide to take your idea to "Shark Tank"?
I saw a casting notice on Craigslist that said "Do you have the next big idea, but you don't have the funding to make it happen?" I auditioned for the show and sent in a video with that same prototype, and I got a call back that same day. I was surprised to be chosen, to be honest. I knew I had a good idea, but I didn't know what I was getting myself into. I was on the very first episode, so I wasn't aware of how they could destroy entrepreneurs or rip them to shreds. I went in naive to the whole situation.
At that point you didn't have much to lose, having invested just about $2,000?
I had done a very solid patent search to see if it existed anywhere, but I hadn't invested much, compared to a lot of people on "Shark Tank" who've had their homes mortgaged and been in business for years.
Barbara Corcoran offered to invest $50,000 for a 55 percent ownership in your business. Were you surprised by her request to become a majority owner?
I expected them to say it's just an idea, and in fact, most of the guys did say this is just a product, not a business. But I envisioned a bigger brand, with a lot more products that I had ideas for, and I'm thankful that Barbara saw the potential of what it could be.
When Barbara said she wanted to be majority owner, that did surprise me. I don't think I completely understood how all of that worked when I walked in, but it hit me that I had nothing to lose and she had everything to offer -- not just the funding, but connections -- and without her, this wouldn't be a product. So I saw the opportunity and took it.
After "Shark Tank," how did you take it from idea to business? Was Barbara hands on?
To be honest, she didn't know the industry either -- she had purchased many businesses, but not in retail. We kind of had to learn it together. We dove in and had to figure out the patent process and just kind of go through all those steps. And then it kind of halted, because I was diagnosed with thyroid cancer three months after the show. So we had a wrench thrown in our plans and had to navigate that together as well.
And the radiation treatments forced you to be in isolation, apart from those who could support you?
When you have thyroid cancer, you do a different kind of radiation treatment. I had to go into this weird room and take a radiation pill that I couldn't even touch and then I became radioactive, so every time I took this, I'd have to go into isolation for seven days at a time. I spent quite a bit of time isolated, working on this company, trying to get though the sickness and scans and surgeries. It was a rough ride for a while there.
So at that time you were just pouring yourself into the business?
Yes, that's exactly what I did. And looking back, I kind of wish I hadn't, because I don't think it was the healthiest thing, but I was just coping the best way I could. I just put everything into my company, sitting in front of my computer and making business calls.
Did you have moments where you considered folding the business?
I had a lot of those moments. There were so many days where I asked myself, "What am I doing? Why am I growing this brand, this business when I'm fighting for my life and could be fighting for it for a long time to come?" So that was extremely difficult. Starting a business is hard but nowhere near as hard as starting a business while you're treating cancer.
How did you find the strength to continue?

I told Barbara, "I don't know if I can do this." It's a detailed business to learn, and running the day to day of all that, I hit a wall. But if I stopped, I knew I would be letting her down, and I was thinking of the kids we could help. I was envisioning handing out boxes of AVA the Elephants to children in hospitals. That dream actually came true. I met a little boy named Jacob, who goes by the nickname The Leukemia Slayer. Although I didn't go to the hospital due to health concerns, I sent Jacob a huge case of AVAs to give out to all the children on his oncology floor. Hearing that they loved AVA was one of the highlights of owning my business so far.
And you're in remission now?
I'm in remission for my thyroid cancer, but the doctors are now fearful that I may have breast cancer. They're monitoring some lumps that are precancerous, and with my family history and my history with cancer, they are keeping an eye on me. So it continues. We're busy launching our second product in six weeks -- a temperature monitor aid -- and moving our production from out of the country back to the U.S., which I spent nearly six months attempting to make happen, all while I'm going through health scares again. It's like I'm reliving what I went through before, with the day to day of running the business and satisfying all the different needs as the business grows.
Has your experience affected how you see your product? You started the business because you were empathetic before, but now you know personally what a lot of these kids with cancer go through.
God put me on this path for a reason. I get to meet such amazing children. I take AVAs to Camp Dream Street in California, and it's not like taking them a chintzy little gift -- it's something meaningful. That makes it all worth it, and I know that's the reason I'm doing this, to give back.
It's kind of a slippery slope -- there are moments where I feel very guilty, because I got a better prognosis for my first cancer diagnosis than many of these kids get. But my experience definitely increased my compassion for them. I always felt that compassion, but now I'm heartbroken by some of these situations. It keeps me motivated in the business side every day.
You started the business because you were inspired to help one little boy. Are there any kids you've met since then that have encouraged you about your mission?
I met one little boy, Braison, in the beginning stages of ASA. He has an inoperable brain tumor, and he fell in love with AVA. I keep in touch with him and his family almost daily. He's just been AVA's biggest fan. This little boy has to take 30 or 40 medications a day -- and that everyday routine was overwhelming to him. But his mother said now with AVA, he and his brother actually fight over who gets to take what medications. He's fighting because he wants to take medications now. Kids like Braison are exactly why I do this.
Name: Tiffany Krumins
Company: AVA the Elephant
Age: 31
Location: Atlanta
Founded: January 2010
Employees: None
2012 Projected Revenue: $1 million
Website: www.avatheelephant.com/
Popular in the Community