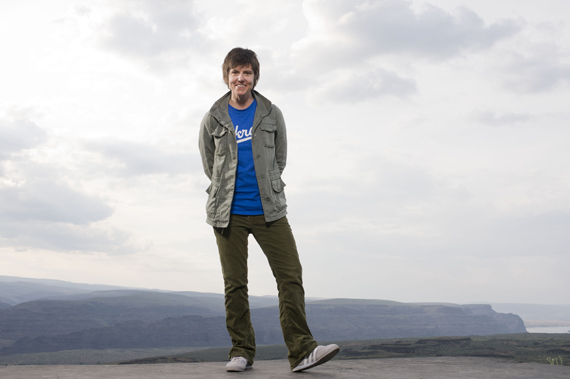 Comedian Tig Notaro at the Sasquatch! Music Festival in May 2011 (Steven Dewall/Redferns/Getty Images)
IT ONLY TOOK a cancer diagnosis for comedian Tig Notaro to be called a master of her craft by its reigning champion.
In August, Notaro took the stage at the nightclub Largo in Los Angeles for a show that was expected to be a typical Notaro performance: Wry, acerbic and playful. But when a smiling Notaro opened by telling the applauding audience, "Thank you, thank you, I have cancer, thank you, I have cancer, really, thank you," the jolt in the room was palpable. What kind of comedian publicly announces her breast cancer diagnosis without her tongue firmly in cheek?
The kind that has been producing some of the most inventive, if not widely-seen, stand-up comedy in America for years. Louis C.K. was in the audience at Largo, and the next day told his nearly 2 million Twitter followers, "[I]n 27 years doing this, I've seen a handful of truly great, masterful standup sets. One was Tig Notaro last night at Largo."
The endorsement of the man GQ recently proclaimed to be the funniest person alive was immeasurable for Notaro, who is now cancer-free. She experienced the biggest boost of her career thanks to C.K.'s words, and his decision to release through his website the audio of her performance, "Tig Notaro Live!" (pronounced as in "Tig Notaro Will Live!").
Stand-up might be one of the most solitary ways to make a living, so support for a fellow comedian doesn't always come naturally. Hell, C.K. seized control of his career by producing his TV show with minimal other people. But this time, he used his pulpit to broadcast that Notaro's performance was a high point in the history of stand-up. It was a reminder that stand-up can transcend mother-in-law humor, deeply move an audience and even affect a comic's harshest critics: other comedians.
Soon after he released Notaro's performance, C.K. was quizzed by Terry Gross on NPR's Fresh Air on the other "masterful" performances he had witnessed throughout the years. His answers — George Carlin, Jerry Seinfeld, Chris Rock — were hardly surprising, but his lifelong comedy diet revealed the sensibilities that make C.K. the funniest comedian of the new millennium.
I asked some of today's leading standup comedians about their own favorite performances they've seen over their careers. Ahead, see how Mike Birbiglia, Jim Gaffigan, Andy Kindler, Marc Maron and Notaro herself responded.
Jim Gaffigan
I'd say the best performance I've seen was Dave Attell on any night when I first started stand-up in the 90s. I would watch in amazement as Attell would do a new 20 minutes of material every night at the Comedy Cellar. You would only hear the new material once. I remember thinking, "If only I could write at the level of the daily material he threw away." His daily new material would do all the work. It's not that he wasn't trying, he was, but it was the strength of the material that blew me away. Even audience members that didn't like what he was talking about laughed. Dave Attell was, and is, undeniable.
Marc Maron
Sam Kinison at The Comedy Store. When he conceived the "homosexual necrophiliac" bit, it was beyond anything I'd seen before. He'd found some news article about two dudes who were paying mortuary owners to have sex with the freshest male corpse. He would lay face down and start speaking as the dead guy. Then he starts rocking back and forth as if someone's fucking him. And then [he's] like, "What's this? Is that a dick in my ass?" The vulnerability of him taking the point of view of this dead guy who thinks he's going to heaven, and then he just gets fucked — that one had a profound effect on me. There were no parameters other than the one's you make yourself for what you can and cannot do onstage.

Mike Birbiglia
My wife and I once went to see Doug Stanhope at Caroline's. He's so fearless the audience settles into this level of connectedness with him that I've never witnessed before. I was watching this documentary on performance artist Marina Abramovic. She would sit basically from 9 a.m.-5 p.m. and people would come up, sit down and she would just make eye contact with them. That's along the lines of what Doug does. He's letting people peer into his soul in a way comedians can only hope to come close to.
Andy Kindler
The set I remember was one that Brian Regan did on the old Dennis Miller show. This was when Dennis Miller had a network show, in the '90s... not that I want to give him any kind of positive notice in a story. [Regan] told a story about donuts, and he did a bit where he was doing that Brian Regan thing where he's constantly confused, where he's pretending he's not that bright. But he is that bright; he wouldn't be able to tell the story if he weren't bright. Oh, and any recent set by James Adomian has been so funny. He's the next coming of Jesus.

Tig Notaro
One that sticks out [to me] is not stand-up, it was a sketch group. They're called the Pajama Men. They both do unbelievable characters, and their bodies and faces morph into things I couldn't believe. I remember just thinking, where is this going? But having all the faith in the world they were way too smart for this to not pay off. And Jon Dore. I was unfamiliar with him, I saw him in Portland the first time. I felt like he had that utter silliness that really gets to me. It's so hard to get excited about comedy when you see it so much. But Jon Dore and the Pajama Men gave me such a thankful moment.
Popular in the Community