Villagers in India are being applauded for "their exemplary restraint and positive conservation attitude" after saving a tiger that got trapped in a barbed-wire fence.
The female tiger was discovered on a coffee plantation in the village of Nidugumba on Dec. 4 with her left paw snarled in the metal barbed wire, according to the Wildlife Conservation Society. Coffee planter Sullimada Muthanna and others in the community called authorities and prevented the tiger from being harassed by those gathered around while they waited for help to arrive, according to the Deccan Herald.
Veteranarians and forest rangers from the Nagarahole National Park arrived on the scene, tranquilized the tiger and untangled her from the fence. She was brought to the Mysore Zoo for further treatment.
"WCS India applauds the village of Nidugumba for their exemplary restraint and positive conservation attitude, and compliments the staff and officers of the Karnataka Forest Department for their model handling of a situation that could easily have turned into a tragedy for the tiger as well as humans," Dr. Ullas Karanth, WCS Director for Science - Asia, said in a news release. "Too often, in situations involving a large predator that is accidentally cornered in human-dominated landscapes, people can swiftly form mobs and attack the animal as well as impede forest officials handling the situation. This often ends tragically with the death of the big cat and sometimes injuries to people and forest staff."
Nidugumba is located less than a mile away from Nagarahole National Park, according to the Deccan Herald. The park is home to about 10 to 12 tigers per 100 square kilmoeters.
The WCS is the world's leader in tiger conservation, increasing tiger numbers in targeted locations around the globe. Over half the world's tiger population resides in India, according to the Wildlife Protection Society of India. A 2011 report estimated the number of wild tigers in India at just 1,571.
If you would like to make a donation in support of saving some of the Earth's most spectacular and imperiled wildlife, please visit the Wildlife Conservation Society.
LOOK: A female tiger was entangled in barbed wire but was eventually saved by villagers.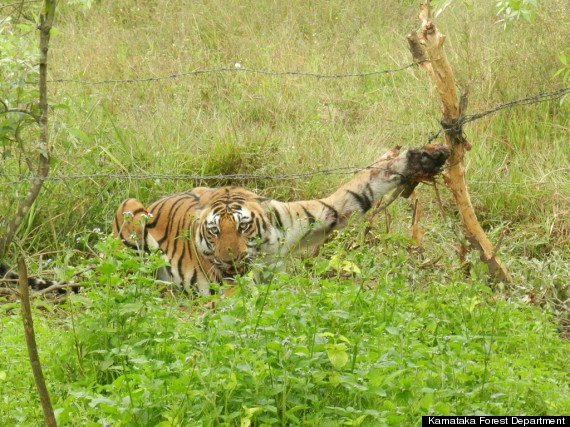 Calling all HuffPost superfans!
Sign up for membership to become a founding member and help shape HuffPost's next chapter
BEFORE YOU GO
PHOTO GALLERY
Tiger Overload