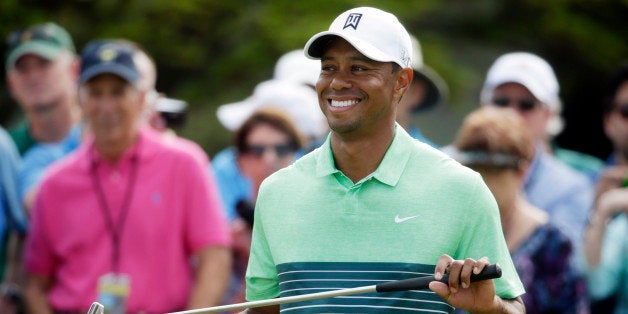 With the upcoming Masters Tournament, I found myself thinking back to the days when many were sure that Tiger would eclipse Jack Nicklaus's record of 18 Majors.
After all, Tiger had burst onto the pro scene in 1996 winning Rookie of the Year, SI Sportsman of the Year and the following year he took home the Masters. Tiger had some dominant years but also had to battle through some injuries. By 2008, he had amassed 14 Majors and, at 32, it seemed like a done deal that he was going to pass Nicklaus' record. After all, Nicklaus was about three years older when he hit the 14 Majors mark. And then...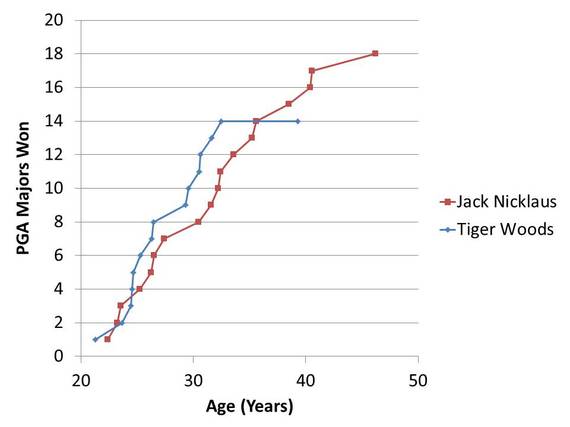 Here we are in 2015. Tiger is approaching 40 years old and hasn't won a major since 2008, a longer barren stretch than Nicklaus ever suffered. Of course, Nicklaus had a late career surge capturing three majors in his 40s, including the dramatic win in 1986 when he was 46.
I was in grad school when Tiger Woods took over the sports world and recall how he redefined golf as a cool sport for all ages and races. Like many people in their 20s, I was ready to explore this world of seemingly unlimited options and opportunities. I regularly met brilliant researchers who had already made their mark in science and I aspired to do likewise.
Today I am middle aged. The options and opportunities I am considering are narrower in scope, but I have a better understanding of who I am and what is important to me. I choose my activities more carefully, trying to make the most of my more limited time and energy.
Every year it seems less and less likely that Tiger will catch Jack. He certainly lost his way both professionally and personally. But I bet there are a lot of people Tiger's age that, like me, would love to see him win at least once more. After all, even middle-aged people like us enjoy the reminders of the endless possibilities of youth.
Calling all HuffPost superfans!
Sign up for membership to become a founding member and help shape HuffPost's next chapter