It's apparently all fun and games at one big cat sanctuary — even when a leopard is charging at your back.
A hair-raising video captures the animal racing up behind a handler to attack, seemingly playfully, just seconds before a tiger jumps in and swats him away.
Eduardo Serio, who founded Mexico City's Black Jaguar White Tiger Foundation, was lounging around with at least six big cats when the mischievous leopard named Dharma crept up from behind.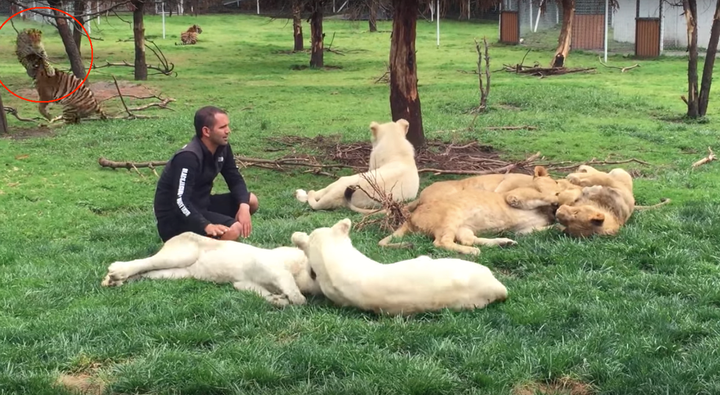 As Dharma flew into the air toward Serio, Aztlan jumped up and pushed him to the side. The tiger then trailed the leopard as it tumbled at Serio's side, where it received a stern scolding.
Aztlan, for his part, received a hearty pat on his side and a "gracias" from Serio.
The video was uploaded to YouTube in October, but recently went viral after being uploaded to Reddit. The scene is captioned as "the kids playing."
It was far from Serio's first close call, however.
A video from early June showed a jaguar trying to sneak up on Serio as he stood against a wall.
Just before the cat appeared ready to pounce, Serio whipped around and shouted, catching the animal off-guard. After being caught, the jaguar repeatedly licked Serio's face.
The animals ― including jaguars, tigers, leopards, lynxes, lions and pumas ― are said to come from circuses, zoos, and both legal and illegal breeders.
"The Foundation is about changing people's attitudes and perceptions about all animals," their website reads. "Black Jaguar-White Tiger is rooted in the belief that education can start a revolution; a revolution about Love and Respect for all living beings."
Related
Popular in the Community