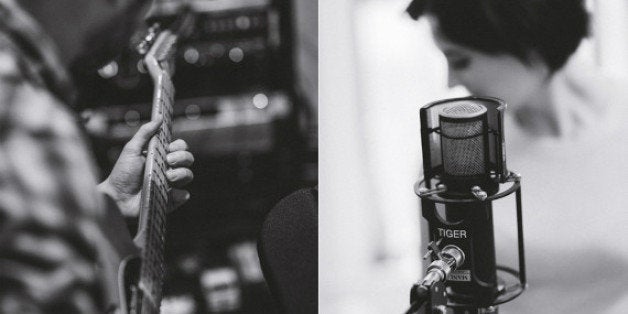 Tiger Darrow and Andrew Orkin make music for a living, but as any working artist can attest, the old adage "do what you love" doesn't always amount to creative fulfillment (at least not in a city where the definition of "affordable art" is anything under $10,000). So they started their own side project -- and a Kickstarter to help fund music videos to accompany two songs off their debut EP. They launched the crowdfunding campaign last week with the goal of raising $3,000 by early October. Their goal was quickly met.
The pair has teamed up on projects since they first met at New York University in 2012, where Darrow, 22, was working toward a bachelor's degree in songwriting and Orkin, 26, was completing a master's in film scoring. In the three years since, Darrow and Orkin have written film scores, played in other people's bands around New York City, and helped each other on solo projects.
But now, they're getting ready to launch what Orkin calls the "pinnacle" of their collaboration so far: A debut EP, under the moniker Tiger + Man. After two years of deliberation they finally hunkered down to write the five songs that make up the EP, working from their respective homes as well as Orkin's workspace at Fall On Your Sword studios, a film scoring and audio post production company based in Williamsburg, Brooklyn. The album is being mixed by Grammy-award-winning Scott Jacoby, with Grammy-nominated Emily Lazar -- whose credits include Sia's recent mega-hit, "Chandelier" -- mastering.
According to Orkin, the music stems from the intersection between electronic and acoustic instrumentation. "I find music that's purely electronic lacks that human element," he says. "And I think there's so much stuff happening with electronic music now that if you're not incorporating that into your music, you're kind of naïve." Inspired by artists like St. Vincent, New York-based Son Lux, and British multi-instrumentalist Jack Garratt, Tiger + Man fits snugly in the space between complex and accessible. "We wanted it to be for music school nerds," Darrow says, "but also just for people who like music."
Darrow and Orkin got their first shot of encouragement when they began approaching directors, photographers, and visual artists to enlist their services for what Darrow calls the "visual part of Tiger + Man." They had no prior relationship to many of the artists they contacted, like the Israeli photographer Nir Arieli, best known for photographing dancers in motion. Arieli immediately agreed to work within Orkin and Darrow's limited budget because he found the project intriguing and wanted to try something new.
If you work in a creative field, Orkin says, "when you're working for clients, you're answering to someone. And that's often, in my mind, not pure collaboration." But with Tiger + Man, Orkin and Darrow enlisted artists who they felt could put their own imprint on the project. "We're making it a collaboration with people instead of being like, 'Hey, will you do this for me?'" Darrow says. "It's more, 'Will you do this with me,' which I think is important as an artist."
Orkin remembers reading a 2013 article written by Talking Heads frontman David Byrne, in which the musician lamented New York City's declining status as a haven for artists. "Middle-class people can barely afford to live here anymore, so forget about emerging artists, musicians, actors, dancers, writers, journalists and small business people," Byrne writes. "Bit by bit, the resources that keep the city vibrant are being eliminated."
"A lot of what Byrne says is still valid, about it being stupidly expensive for artists to live here," Orkin says. "His whole point was, if you want to be an artist, you need to be working on your art full time. Otherwise you're never going to be good." But, he adds, "I think for artist who are working full time at their craft, there's still this craving to be doing fun and free-spirited work."
Which is exactly why he and Darrow created Tiger + Man. "We both write music for a living, and it wasn't like we needed to do this to make money," Orkin says. "We don't want to be rock stars."
Darrow agrees. "We had stuff to say."
PHOTO GALLERY
25 Things to Do in New York This Fall
REAL LIFE. REAL NEWS. REAL VOICES.
Help us tell more of the stories that matter from voices that too often remain unheard.