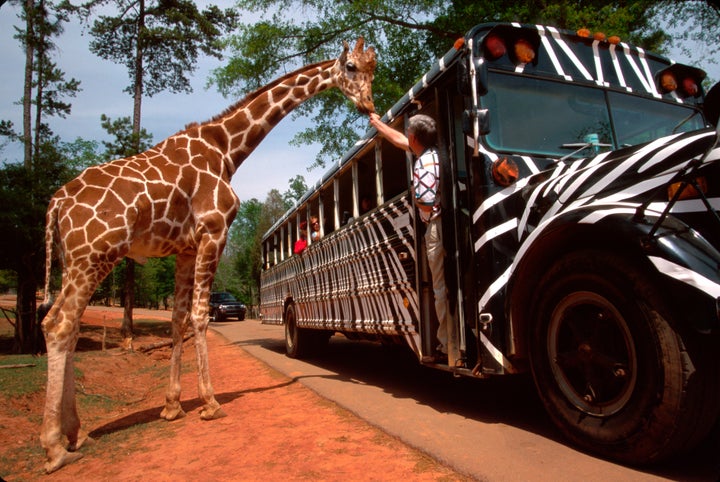 Two tigers briefly went missing at a Georgia zoo Sunday morning after a tornado whipped through the area, prompting warnings for locals to call 911 should they see the animals.
The big cats were among several animals that had their enclosures breached after the Wild Animal Safari park in Pine Mountain sustained "extensive tornado damage," the park said in a statement posted to Facebook late Sunday morning.
The cats were eventually located, tranquilized and returned to a secure enclosure without any injuries to animals or staff, said the park, located roughly 77 miles southwest of Atlanta.
Locals had been advised to call 911 should they see what was initially reported as a single tiger escape around 8:30 a.m., Sgt. Stewart Smith, a public information officer with the Troup County Sheriff's Office, told HuffPost in an email.
The park announced Sunday morning that it was closed due to storm damage, though it did not immediately make a public comment about the escape.
"We have sustained damage at the park and will not be open today. We are working diligently to keep our team and animals safe and will update with more news as it is available," the park said in a statement posted to Facebook. It did not immediately respond to a request for comment.
A tornado tore through Troup County, located near the Alabama border, around 7:20 a.m. Sunday, leaving multiple buildings damaged and people trapped inside, according to the Georgia Mutual Aid Group.
Parts of Alabama and western Georgia remained under a tornado watch until 1 p.m. local time Sunday, according to the National Weather Service.
The park is located on 300 acres, is home to 75 animal species, and celebrated its 30th anniversary in 2021, according to its website.
Related
Popular in the Community