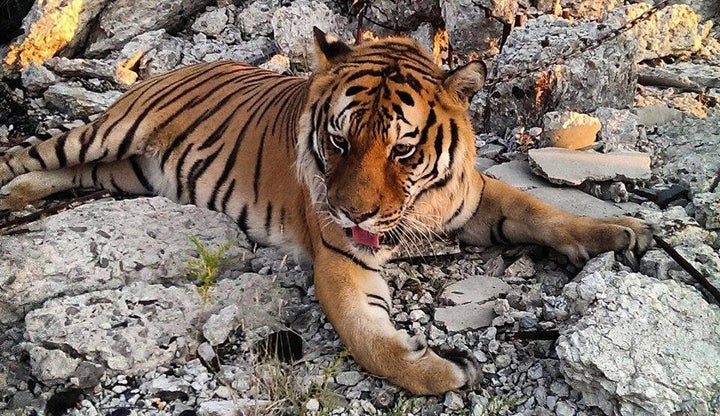 Although some reports indicated Barchock was doing this to force the escaped animal back in its cage, he said the nonviolent tactic was actually an attempt, at trainers' instructions, to make the leashed tiger continue moving down the stairs. The trainers, Barchock and Yarrow have all insisted the animal was safely chained during the entire shoot.
The Packard Plant is a crumbling, 3.5 million-square-foot former auto factory that was recently purchased by a developer and is in the process of renovation.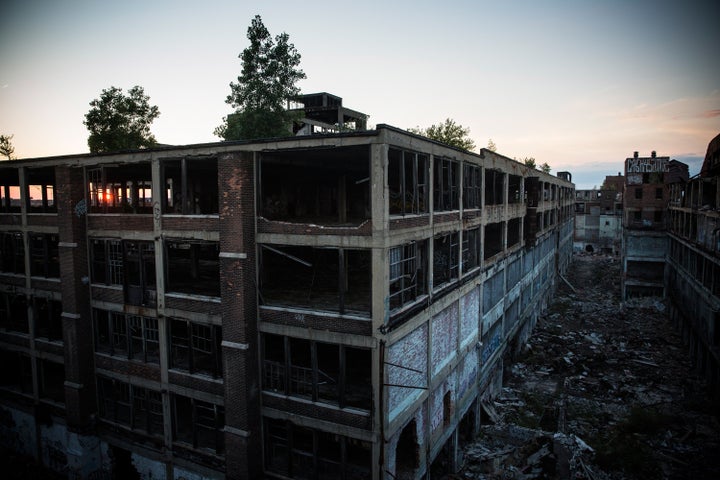 Yarrow booked the building for two days, but was kicked out last Monday morning after several hours of shooting when Packard Plant Project Director of Development Kari Smith learned the crew was using not only the tiger, but two wolves and another wildcat. She told The Huffington Post she had signed off on the shoot but was not aware that animals would be present, and said the setting wasn't safe for wildlife.  
Yarrow said in a statement last week that his team did have city officials' permission to bring in animals and use them in their shoots, which a city spokesman confirmed to the Detroit Free Press.
Many people criticized the idea of using a building that's often served as a shortcut symbol of Detroit's decline as a backdrop for a wild animal photo shoot.
"At the end of the day, it's exploitative," said Tiff Massey, a Detroit artist. "It seems like everybody wants to come to the Packard Plant or [other popular abandoned buildings], and that's what used to define Detroit and what's happening. They'll never show the neighborhood that's sitting behind it." 
Yarrow, a wildlife photographer, conservationist and hedge fund manager, told HuffPost he and his team spent several days photographing in the city. The shoots with animals were only a small portion of the work they did during an otherwise uneventful trip.
He said he believed what happened during the Packard Plant shoot had been misconstrued because a resentful former staffer tried to "get a social media storm going."
Barchock quit the project after the team was forced to leave the Packard Plant. But the photographer, who does work with an animal rescue organization, said he hadn't wanted to publicize the incident himself, and said he wasn't happy with how he came across in the video that had been shot and spread around social media.
Barchock agreed that the shoot had been misrepresented in reports.
"Nothing ever was out of control, the tiger just got tired and didn't want to move," Barchock said, adding that "for such a high-production thing, with animals and people and the locations involved, it was just very unorganized."
Barchock spent several weeks coordinating with Yarrow's team and helped select the Packard Plant and other locations, per their specifications. Model Gia Genevieve and several local men were used in the shoot along with the animals, Barchock said. 
"It's a great canvas on which to paint, Detroit," Yarrow said Friday. "It would have been nice to do more work against some of the canvas, of the iconic buildings."
Massey, whose recent sculpture work deals in part with reverse white flight, said she feels her majority black city is becoming a "white wonderland."
"I think it basically goes along with the new narrative … that you can do whatever you want to do here, it doesn't matter who you are, where you are -- if you have the money, the land is hot and ready for the taking," she said. "There's a total disregard for the natives."
Vince Carducci, an art and culture critic and dean of undergraduate studies for Detroit's College for Creative Studies, compared Yarrow's shoot to colonialist ideas and said he was tired of artists constantly using a former auto factory to make a point about post-industrialism.
"The whole idea of Detroit as kind of this wilderness, jungle, post-Modernity [symbol] is, for those of us who live here, really kind of miscast," he said. "It's kind of the way Europeans romanticize some kind of primordial wilderness, the noble savage ... that idea is 300 years old." 
Yarrow disagreed with the charge that the shoot was exploitative for including images of urban decay, a pervasive presence in Detroit. 
"Maybe on that basis, [the Eminem movie] 'Eight Mile' was exploitative," he said. "I think 'Eight Mile' was good for the city, so why should we be doing anything different?"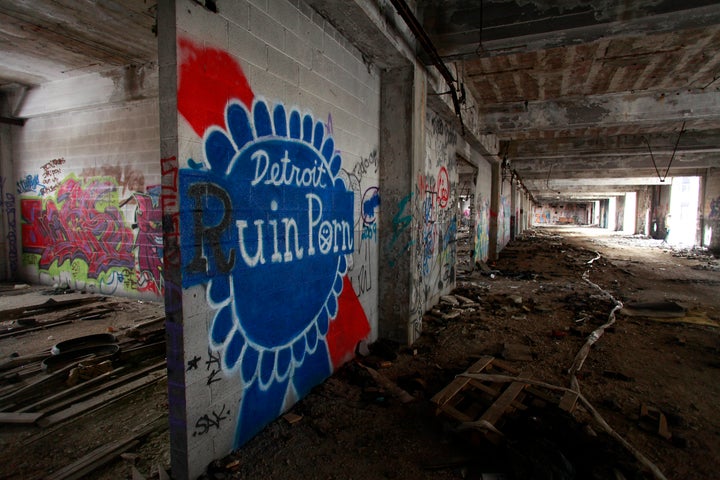 The Packard Plant has long been an irresistible destination for urban explorers, skiers, dirt bikers, graffiti-writers, ravers, scrappers and squatters, not to mention photographers, installation artists, bands and filmmakers. It appears as the dystopian setting of a number of movie projects, including a Korean boy band's music video, a steampunk short film and "Transformers: Dark of the Moon."
But where some see beauty or an inspiring backdrop, others see harmfully romanticized views of urban decay and "ruin porn."
Throughout history, artists have made images of ruins as an attempt to control their anxiety about ruins by fetishizing them and making them aesthetically pleasing, said Apel -- something she views as a natural human impulse. But what happens when the fetishized view is continually perpetuated, and photographs of Detroit's abandoned buildings outnumber and obscure actual residents?
Work like Yarrow's "feeds into a global idea of Detroit that really doesn't have much to do with the real effects of poverty and the disenfranchisement of people living here," Apel said. "The poor who are the victims of ruination bear the brunt of it, and bear the cost of it."
PHOTO GALLERY
Nonprofits Making A Difference In Detroit
Calling all HuffPost superfans!
Sign up for membership to become a founding member and help shape HuffPost's next chapter