Authorities are investigating the origins of a tiger seen running around a Georgia neighborhood before attacking a dog, leading to its shooting death by police.
The big cat was spotted around 6 a.m. Wednesday near I-75 outside of Stockbridge, roughly 20 miles southeast of Atlanta, before it was fatally shot, the Henry County Police Department said.
"The tiger began to run toward the Meadow Brook community off of Jodeco Road, to the back of a residence and began to attack a dog," police said in a release that noted animal professionals were contacted.
Fearing for the public's safety, officers fatally shot the animal, with police telling CBS 46 that they didn't have time to retrieve a tranquilizer gun.
Brittney Speck, who moved to the area two months ago, said it was her little dachshund named Journey that was attacked while in her backyard.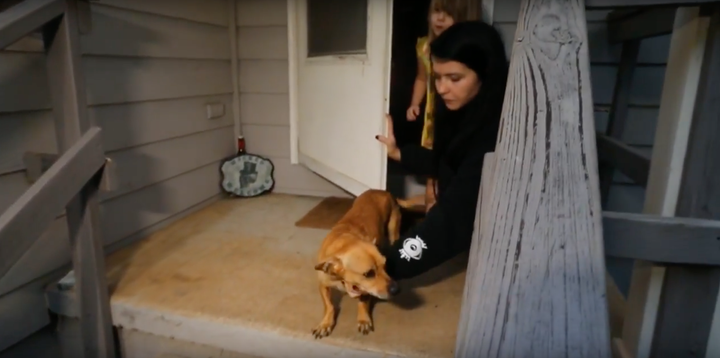 "She's great, she's OK," she said of her brave dog, seen wagging her tail, though a bit timid of approaching reporters and their cameras.
"She's a little shaken up. I'm sure she's had better mornings," Speck said. She expressed relief that it wasn't her three children ― ages 3, 4, and 7 ― who were outside at the time.
"It was massive, it was huge," she emphasized.
Where the tiger came from remained unknown as of Wednesday morning.
Noah's Ark Animal Sanctuary in Locust Grove, Georgia, about 17 miles south of where the cat was killed, said that all of their tigers are accounted for. However, when police contacted them, they headed to the scene hoping to assist. 
"We responded immediately and were on the way to the scene with hopes of chemically immobilizing the tiger and bringing it to Noah's Ark. Unfortunately, human life became at risk and the tiger was shot by the authorities," the wildlife sanctuary said in a statement. "Thank you to the officers for trying their best to bring this animal to safety."
"There are a lot of theories, but who knows?" he said. 
REAL LIFE. REAL NEWS. REAL VOICES.
Help us tell more of the stories that matter from voices that too often remain unheard.
BEFORE YOU GO