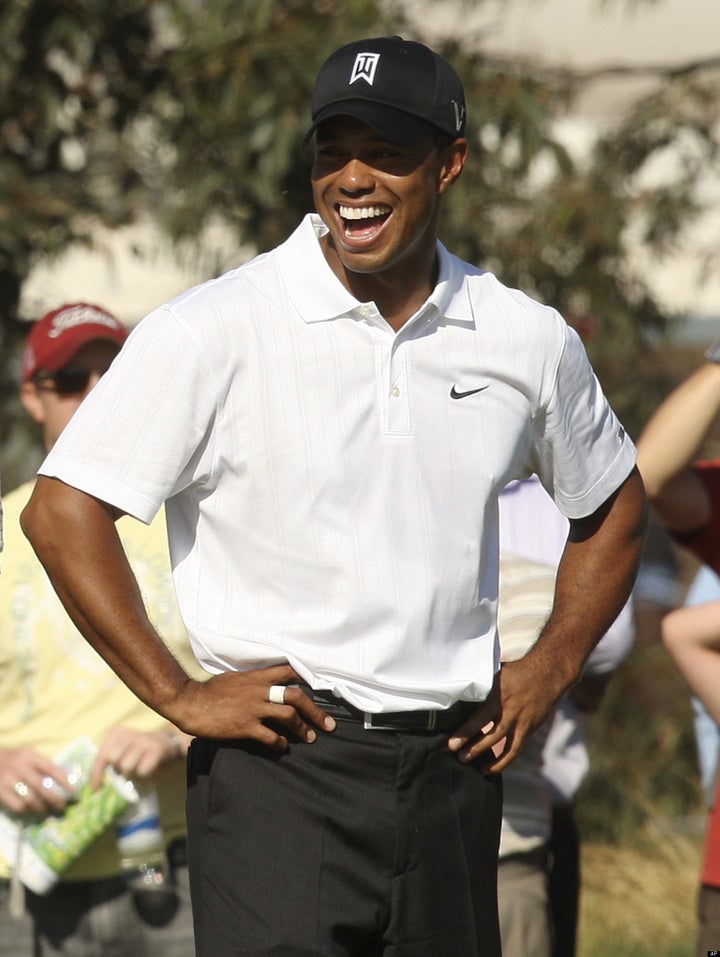 UPDATE: Listen to the 911 call HERE.
(AP - FRED GOODALL) WINDERMERE, Fla. -- Florida authorities went to Tiger Woods' mansion to clear up questions about how he crashed his SUV into a fire hydrant and a neighbor's tree and said they plan to release tapes of the 911 call on Sunday.
Florida Highway Patrol spokeswoman Sgt. Kim Montes said Saturday that investigators are "trying not to get on the rumor mill."
The world's No. 1 golfer smashed his Cadillac near his $2.4 million mansion at 2:25 a.m. Friday and was briefly hospitalized, police said. Though there still has been no information on where he was heading at that hour, plenty of details from the crash have emerged: His lips were cut, and Windermere police chief Daniel Saylor said Woods' wife, Elin Nordegren, used a golf club to smash out a back window and help Woods from the car.
The police report said alcohol was not a factor.
There are still plenty of questions. Shortly before 3 p.m. Saturday, two patrol vehicles entered Woods' gated community of Isleworth, where more than two dozen media and clusters of TV trucks were camped out.
Montes said the investigation should be finished within the next few days.
Woods is to host his Chevron World Challenge next week in Thousand Oaks, Calif., which benefits his foundation. Woods' news conference had been scheduled for Tuesday afternoon, although it was not clear if he would still play, or even attend.
"We do not know if Tiger is playing; we are anticipating a great week of competition," said Greg McLaughlin, the tournament director and president of his foundation.
One of Woods' neighbors, who didn't want her name to be used, said it was quiet in front of his house Saturday. She said there are usually two or three cars parked outside his home and that was the scene now as well.
The patrol said the accident occurred at 2:25 a.m. Friday and classified the injuries as serious. The first word from Woods' camp -- some 13 hours after the crash -- was that it was a "minor accident," and he was in good condition after being treated and released.
Saylor said his two officers found the 33-year-old Woods lying in the street with his wife, Elin, hovering over him.
Saylor said Woods' wife told officers she was in the house when she heard the accident and "broke the back window with a golf club." He said the front-door windows were not broken and that "the door was probably locked."
"She supposedly got him out and laid him on the ground," he said. "He was in and out of consciousness when my guys got there."
In a telephone interview, Woods' father-in-law, radio journalist Thomas Nordegren, told The Associated Press in Stockholm that he would not discuss the accident.
"I haven't spoken to her in the last few ... " Nordegren said about his daughter, Elin, before cutting himself off. "I don't want to go into that."
Woods' mother-in-law Barbro Holmberg also refused to address the matter.
"She doesn't want to comment on private issues like these," Holmberg's spokeswoman Eva Malmborg said.
Roger Federer, who has become close with Woods in recent years, said after losing in the semifinals of the ATP World Tour Finals in London, "I haven't spoken to him. I heard it's not too serious, which is a good thing."
Asked at a Friday evening news conference if the couple could have been arguing, Saylor said he had no knowledge of that.
The accident came two days after the National Enquirer published a story alleging that Woods had been seeing a New York night club hostess, and that they recently were together in Melbourne, where Woods competed in the Australian Masters.
The woman, Rachel Uchitel, denied having an affair with Woods when contacted by the AP.
"I resent my reputation is getting completely blasted in the media," she said during a telephone interview late Friday. "Everyone is assuming I came out and said this. This is not a story I have anything to do with."
Uchitel said she was in Melbourne two weeks ago with clients and never saw Woods the entire time she was there.
"The story stands for itself," National Enquirer executive editor Barry Levine told the AP on Saturday.
Saylor described Woods' wife as "frantic" when two officers arrived and found her kneeling over him in the street. The couple has been married five years and have two children, a 2-year-old daughter named Sam, and son Charlie who was born in February.
Nordegren, a former model from Sweden who once worked as a nanny for Jesper Parnevik, is as private as Woods. She keeps a low profile at tournaments, watching her husband from behind the ropes, and moves on when photographers start taking her picture.
Woods rarely faces such private scrutiny, even as perhaps the most famous active athlete in the world.
He usually makes news only because of what he can do with a golf club. Few other athletes have managed to keep their private lives so guarded, or have a circle of friends so airtight when it comes to life off the course.
Woods' $2.4 million home is part of an exclusive subdivision near Orlando, a community set on an Arnold Palmer-designed golf course and a chain of small lakes. The neighborhood, which is fortified with high brick walls and has its own security force, is home to CEOs and other sports stars such as the NBA's Shaquille O'Neal.
Woods has won 82 times around the world and 14 majors, becoming the first player of black heritage to win a major at the 1997 Masters when he was 21.
He won six times this year after missing eight months recovering from reconstructive surgery on his left knee. Even though he failed to win a major, Woods said he considered this a successful year because he did not know how his knee would respond.
Doug Ferguson reported from Jacksonville, Fla. Associated Press writers Tamara Lush and Lisa Orkin Emmanuel in Miami and Louise Nordstrom in Stockholm contributed to this report.
Popular in the Community