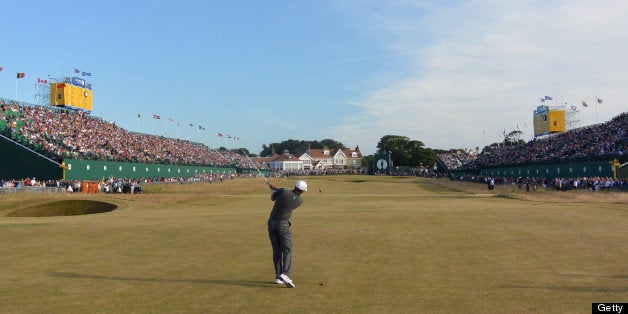 GULLANE, Scotland — Tiger Woods has spent his week at Muirfield chasing long-iron tee shots down bouncy, hard fairways. But now, after a Saturday full of dramatic swings at the top, he is chasing major-less heavyweight Lee Westwood entering the Open Championship final round.
Long irons and lag putts. That has characterized Woods' conservative 54 holes, though he did finally hit a driver, on the long fifth. Expect more of the same safety-first game plan Sunday even though Woods trails the hot-putting Westwood by two strokes.
Not that he seemed concerned with that trend.
Woods is a couple behind at 1 under because of a two-shot swing at the par-5 17th. Westwood birdied after piping a driver some 70 yards past his playing competitor's 3-wood, and Woods bogeyed after finding a fairway cross bunker on the right and laying up about 100 yards from the hole.
Woods said he had 238 yards to carry the bunker. He was into the wind and his ball sat on at upslope. But he mishit the shot.
"If I hit it flat and flush, it's fine," said Woods, who would miss a 16-foot par putt. "It carries. But I spun it. And you spin it against that wind, it's not going to go very far, and it went about 225 yards or so. That 17th hole has little ridges and I happened to end up on a slight upslope. I had to trap it to get it there and I just couldn't do it."
Hence, Woods fell back into a tie with early starter Hunter Mahan, whose 68 put him in the final twosome Sunday with Westwood. Woods will go just before then, paired with Masters champion Adam Scott. That means Woods will be reunited inside the ropes on yet another big Sunday with Steve Williams, Woods' caddie for 13 major victories but now Scott's looper.
Woods played well tee to green for the third day in a row and stands tied for second in driving accuracy, averaging 11 fairways a day. So he's happy with his ball-striking and strategy.
"I played well today," said Woods, tied for second in driving accuracy but 69th in distance. "I really did. All in all it was a good solid day."
But he didn't putt as well as he had the first two days. He took 33 putts, seven more than Westwood, and didn't make anything longer than 4 feet other than an uphill 25-footer for birdie on the second hole.
One of his best chances came at the 10th, where his 15-foot birdie putt grazed the left lip. And his 20-foot birdie attempt at 18 came up short, dead center. Woods said he didn't trust his eyes on that last green. He noticed the grass was greener than on other holes, meaning the pace would be slower, but still didn't hit it hard enough.
Westwood went from two shots behind Woods to three ahead on Nos. 4-7 thanks to an eagle, birdie and two terrific par saves. But they were tied again at the turn because of two Westwood bogeys and Woods' birdie at the ninth.
Asked about those dramatic swings, Woods said, "I was trying to grind along and play my own game, regardless of what Lee was doing. I was just trying to execute my own game plan."
A similar strategy awaits Sunday. That means long irons and lag putts.
"Tomorrow hopefully I can play just a little bit better and make a couple more putts," Woods said.
BEFORE YOU GO
PHOTO GALLERY
PHOTOS: British Open, Third Round