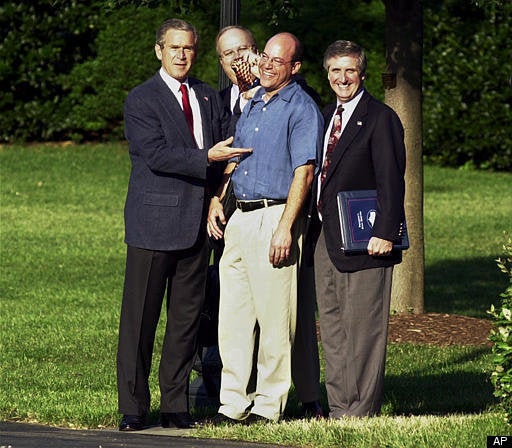 The New York Post reports that Tiger Woods has hired former George W. Bush press secretary Ari Fleischer to help rehabilitate him image.
Two sources in the golf community have told The Post that Ari Fleischer, the former presidential advisor to George W. Bush and the man who was brought in to help repair the steroid-shattered image of Mark McGwire, has been huddling with Woods, plotting a strategy for his return to golf -- at the Arnold Palmer Invitational starting March 25 at Bay Hill in Orlando, Fla.

"They were in his living room this week going over a strategy for how to handle Bay Hill in two weeks," one source told The Post.

The other source told The Post, "I would be shocked if he didn't play the Arnold Palmer."
Woods apologized to basically everyone in a lengthy and rambling speech in February, but it's clear he has much to do if he wants to get his career back on track.
Women linked to Tiger Woods:
Emma Rotherham allegedly had early-morning sex on Woods' office couch. Tiger reportedly loved to see her in black stockings and suspenders.
Julie Postle (PHOTOS) allegedly met Woods when she worked as a cocktail waitress in Orlando. Tiger was reportedly "obsessed" with Postle and "really hunted" her. She was also photographed in a bikini.
Rachel Uchitel (PHOTOS) was the first of Tiger's alleged mistresses. Woods reportedly emailed her once to say that "I finally found someone I connect with." In another alleged email, Woods shared a steamy fantasy of Uchitel simultaneously having sex with Derek Jeter and Bones star David Boreanaz. A National Enquirer source called Uchitel a "celebrity whore."
Theresa Rogers has been described as a "cougar" who allegedly boasted that she taught Tiger "everything he needed to know to be a great lover." She reportedly conceived a baby while she was seeing Woods, but an article suggests she believes the father is a Serbian basketball player she was also seeing at the time. According to another article, Woods told Rogers that he only married Elin Nordegren to boost his image. The 40-something Rogers may have negotiated a payoff in exchange for her silence.