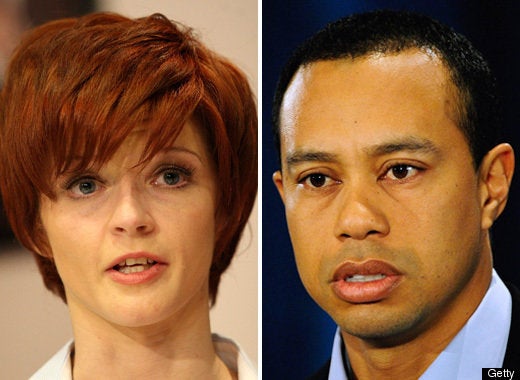 Now, his alleged lover has released a series of extremely graphic text messages that, if authentic, show the golfer expressing his desire for a range of sex acts.
Early in the message thread, the sender tells James, "I want to be deep inside you." Later, he explains that he wants to "hold you down while I choke you." He says he will "slap your face and pull your hair for making noise." He also informs James that "you are my f--king wh--e."
Perhaps most shockingly, in one of the alleged texts Woods asks James if she has "ever had a golden shower done to you."
During occasional moments, the texter is not as obsessed with sex. After one canceled visit he apologizes for a "Parent hood melt down," and in another he discusses what he wants to eat: "No turkey unless it's a club sandwich." In the final text he becomes furious at her for apparently acting recklessly in public: "Don't F--king talk to me. You almost just ruined my whole life. If my agent and these guys would have seen you there, F--k."
Click here for the full transcript.
More women linked to Tiger Woods
Emma Rotherham allegedly had early-morning sex on Woods' office couch. Tiger reportedly loved to see her in black stockings and suspenders.
Julie Postle (PHOTOS) allegedly met Woods when she worked as a cocktail waitress in Orlando. Tiger was reportedly "obsessed" with Postle and "really hunted" her. She was also photographed in a bikini.
Rachel Uchitel (PHOTOS) was the first of Tiger's alleged mistresses. Woods reportedly emailed her once to say that "I finally found someone I connect with." In another alleged email, Woods shared a steamy fantasy of Uchitel simultaneously having sex with Derek Jeter and Bones star David Boreanaz. A National Enquirer source called Uchitel a "celebrity whore."
Theresa Rogers has been described as a "cougar" who allegedly boasted that she taught Tiger "everything he needed to know to be a great lover." She reportedly conceived a baby while she was seeing Woods, but an article suggests she believes the father is a Serbian basketball player she was also seeing at the time. According to another article, Woods told Rogers that he only married Elin Nordegren to boost his image. The 40-something Rogers may have negotiated a payoff in exchange for her silence.
Related
Popular in the Community