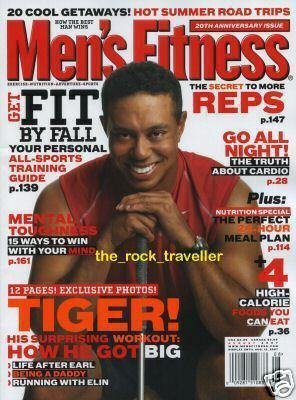 The Wall Street Journal Friday has new details on the deal struck by Tiger Woods' representatives and American Media to kill a National Enquirer story on his infidelity by giving an extensive cover interview to sister-publication Men's Fitness.
The New York Post's Keith Kelly reported earlier this month that the National Enquirer killed a story on a Woods affair in 2007 in exchange for a Men's Fitness feature on the golfer (who, incidentally, had a deal with Conde Nast's Golf Digest magazine).
Kelly spoke to former Men's Fitness editor-in-chief Neal Boulton, who said, "[American Media CEO] David Pecker knew about Tiger Woods' infidelity a long time ago...He traded silence for a Men's Fitness cover." Boulton claims to have left the company shortly thereafter in disgust.
Mr. Woods had cut an unusual deal with American Media Inc., the owner of both Men's Fitness magazine and the National Enquirer tabloid newspaper. Mr. Woods agreed to the cover shot and photo spread in Men's Fitness, whose circulation of about 700,000 per issue is less than half of Golf Digest's nearly 1.7 million, in return for the National Enquirer squelching a story and photographs purportedly showing Mr. Woods in a liaison with a woman who wasn't his wife, according to people directly involved in the arrangement.
What's more, the WSJ reports, the National Enquirer essentially tricked Woods' camp, as their evidence of his affair was probably not even strong enough to run in the magazine!
The Enquirer had photographs of Woods and a Florida waitress named Mindy Lawton in a car together in a church parking lot in "late winter or early spring of 2007," the WSJ reports. The paper cites an individual who saw the pictures in reporting that "the photos were so poorly lit that it was nearly impossible to tell what the couple was doing in the parking lot" and that "it was unlikely the story could have been published without more evidence."
Still, when the Enquirer approached Woods' reps about the photos, the reps almost immediately "made an offer," the WSJ reports:
If the Enquirer dropped the story, Mr. Woods would sit for an elaborate interview for sister publication Men's Fitness, according to people with direct knowledge of the arrangement.
Related
Popular in the Community