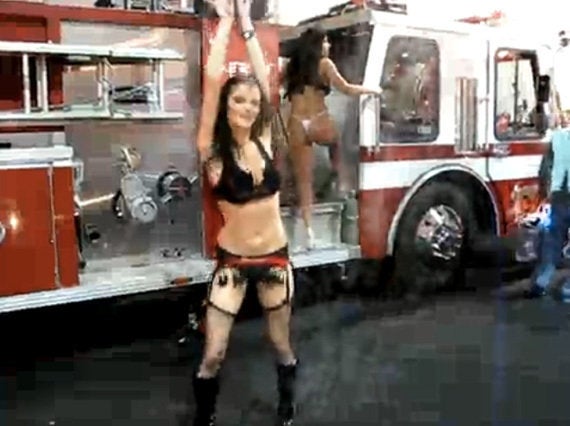 Joslyn James, one of two porn stars with whom Tiger Woods allegedly had an affair, is speaking out about their scandalous past. (Click HERE for NSFW photos and video of the erotic actress.)
The porn star says she became pregnant -- twice! -- after regularly having unprotected sex with the superstar golfer. The New York Daily News reports that James will tell "Inside Edition" tonight that the first pregnancy ended in a miscarriage, while she arranged an abortion during the second pregnancy.
It has been previously rumored that one of Woods' alleged lovers tried to become pregnant with his love child. A 40-something "cougar" who boasted she "taught [Woods] everything he needed to know to be a great lover" reportedly conceived a child during the time she and Woods slept together, but she was always under the impression that the father was a Serbian basketball player.
James was in the news recently when she expressed outrage about a set of golf balls themed around Tiger Woods' alleged mistresses. She felt the balls could promote violence against women. She is also wanted in Washington state for missing child support payments.
Women linked to Tiger Woods
Emma Rotherham allegedly had early-morning sex on Woods' office couch. Tiger reportedly loved to see her in black stockings and suspenders.
Julie Postle (PHOTOS) allegedly met Woods when she worked as a cocktail waitress in Orlando. Tiger was reportedly "obsessed" with Postle and "really hunted" her. She was also photographed in a bikini.
Theresa Rogers has been described as a "cougar" who allegedly boasted that she taught Tiger "everything he needed to know to be a great lover." She reportedly conceived a baby while she was seeing Woods, but an article suggests she believes the father is a Serbian basketball player she was also seeing at the time. According to another article, Woods told Rogers that he only married Elin Nordegren to boost his image. The 40-something Rogers may have negotiated a payoff in exchange for her silence.
Support HuffPost
The Stakes Have Never Been Higher
Related
Popular in the Community