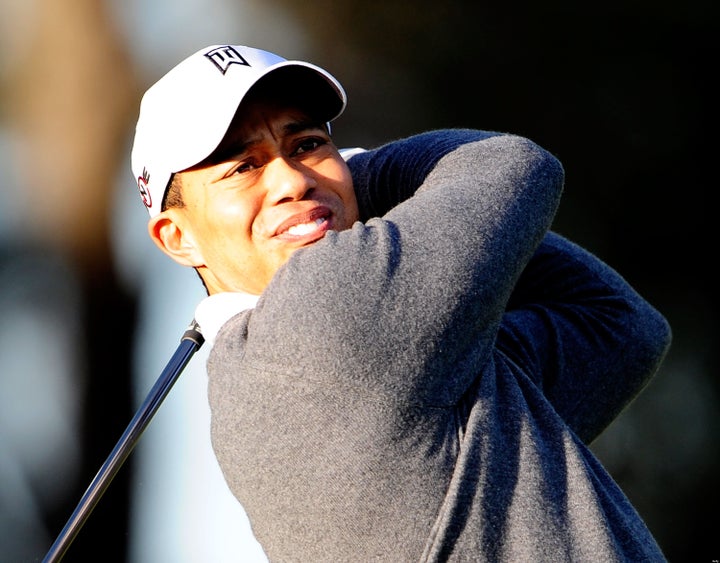 Tiger Woods has spoken with Presidents Obama and Clinton, according to an an article at GolfDigest.com. Jaime Diaz confirms that Woods visited the Gentle Path clinic in Mississippi, allegedly entering with a "whatever it takes" mentality. The program includes the previously reported Disclosure Day, whereby patients have to reveal all of their past indiscretions to their spouse.
Diaz also confirms that Woods' wife Elin Nordegren (PHOTOS) has visited Woods at the clinic, and the couple and their kids spent Christmas together in Southern California.
Woods' mother is quoted in the article, and is described as "staunchly supportive of her son," despite the damage his scandal has caused her. SportsByBrooks notes Tida Woods' past interviews with Diaz and speculates that she could be the source of many of the article's revelations.
Perhaps the most surprising new development in the Golf Digest piece is the brief news about Woods' contact with two presidents:
President Obama also made a personal call to offer encouragement. So did Bill Clinton, whose experience might be particularly instructive.
The article ends with a note of optimism from Woods' mother. "He will face himself, solve the problem, and when he comes back, he will still love to play and love to win. I think more than ever, because his closet will be cleaned out and his mind will be free. And I know he will break Jack's record," she says. Click HERE to read the full article.
Women linked to Tiger Woods
Emma Rotherham allegedly had early-morning sex on Woods' office couch. Tiger reportedly loved to see her in black stockings and suspenders.
Julie Postle (PHOTOS) allegedly met Woods when she worked as a cocktail waitress in Orlando. Tiger was reportedly "obsessed" with Postle and "really hunted" her. She was also photographed in a bikini.
Rachel Uchitel (PHOTOS) was the first of Tiger's alleged mistresses. Woods reportedly emailed her once to say that "I finally found someone I connect with." In another alleged email, Woods shared a steamy fantasy of Uchitel simultaneously having sex with Derek Jeter and Bones star David Boreanaz. A National Enquirer source called Uchitel a "celebrity whore."
Theresa Rogers has been described as a "cougar" who allegedly boasted that she taught Tiger "everything he needed to know to be a great lover." She reportedly conceived a baby while she was seeing Woods, but an article suggests she believes the father is a Serbian basketball player she was also seeing at the time. According to another article, Woods told Rogers that he only married Elin Nordegren to boost his image. The 40-something Rogers may have negotiated a payoff in exchange for her silence.
Related
Popular in the Community