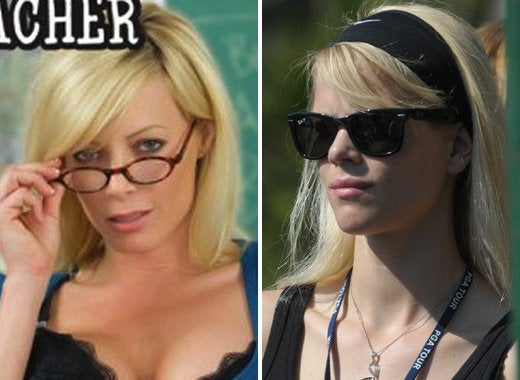 Tiger Woods' wife Elin Nordegren cannot get over the fact that Woods' alleged sex partners included porn stars, according to RadarOnline. The web site reports that Nordegren (PHOTOS) has at "many times" told her husband, "You slept with a porn star."
A source quoted in the article says Nordegren does not know the porn star's name, adding, "All she knows is that she was told Tiger slept with a porn star and she said it made her want to throw up." A source also said she "thinks it's sick."
However, if previous reports are true, Nordegren is missing the extent to which her husband was involved with sex actresses. Woods has been linked to not one, but two porn stars. Holly Sampson was the first to be named in connection with Woods. The buxom adult actress (PHOTOS) said that sex with Tiger was a "sensual, beautiful experience." In a video posted to a pornography web site last May, Sampson detailed her "amazing" sex with Woods. Even more shocking, Sampson may have worked as an escort (NSFW photos).
While the porn stars are two of Tiger Woods' most scandalous alleged mistresses, Nordegren would seemingly have other targets as well. Former Playboy model Loredana Jolie (PHOTOS), for instance, says Woods' sex fantasies were "not normal" and claims he had sexual encounters with men.
More women linked to Tiger Woods
Emma Rotherham allegedly had early-morning sex on Woods' office couch. Tiger reportedly loved to see her in black stockings and suspenders.
Julie Postle (PHOTOS) allegedly met Woods when she worked as a cocktail waitress in Orlando. Tiger was reportedly "obsessed" with Postle and "really hunted" her. She was also photographed in a bikini.
Rachel Uchitel (PHOTOS) was the first of Tiger's alleged mistresses. Woods reportedly emailed her once to say that "I finally found someone I connect with." In another alleged email, Woods shared a steamy fantasy of Uchitel simultaneously having sex with Derek Jeter and Bones star David Boreanaz. A National Enquirer source called Uchitel a "celebrity whore."
Theresa Rogers has been described as a "cougar" who allegedly boasted that she taught Tiger "everything he needed to know to be a great lover." She reportedly conceived a baby while she was seeing Woods, but an article suggests she believes the father is a Serbian basketball player she was also seeing at the time. According to another article, Woods told Rogers that he only married Elin Nordegren to boost his image. The 40-something Rogers may have negotiated a payoff in exchange for her silence.
Calling all HuffPost superfans!
Sign up for membership to become a founding member and help shape HuffPost's next chapter