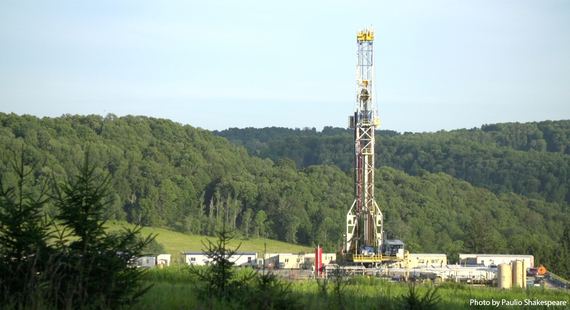 One of the most intractable problems of fracking is the threat its toxic, radioactive wastewater poses to our environment and our health. The U.S. Environmental Protection Agency's proposal to prevent municipal wastewater treatment plants from accepting this hazardous wastewater is one important step toward a solution.
On its face, allowing facilities to treat wastewater laced with heavy metals, radioactive elements, and other dangerous toxic chemicals alongside dirty bath water is a terrible idea. These are plants designed to treat human waste and food scraps. They aren't equipped to deal with arsenic or benzene, which go untreated and are released into our rivers and lakes.
Even more alarming, the chlorine used to disinfect water can mix with the bromides present in fracking's wastewater to form trihalomethanes, toxins linked to bladder cancer, miscarriages and still-births.
Pennsylvania learned these lessons in 2011, when Carnegie Mellon University researchers detected abnormally high levels of bromides in the state's western rivers. The contamination prompted state officials to ask drillers to voluntarily stop sending their wastewater to the region's 15 sewage treatment plants.
The industry complied. The public relations website for the Independent Petroleum Association of America even proclaimed that industry "had known for years" that "wastewater from fracking should not be treated at water treatment facilities and released into river waters."
Since 2011, frackers have stopped sending their waste to treatment works, but the practice has continued to be permitted. EPA proposed a rule in April to change that, and rightly so. After all, as regulators crack down on other dangerous forms of waste disposal, reverting back to sewage treatment plants may become more attractive to frackers, and perhaps for this reason, at least one industry group has said it opposes the measure.
It is a good proposal. Yet even if it is approved, other fracking wastewater disposal methods still present a conundrum for public health and the environment. Plants specially designed to treat fracking waste are far from foolproof, as Duke University researchers found in Pennsylvania. Waste often spills into rivers and streams during storage and shipment. And studies show reinjecting the waste deep underground is most likely causing earthquakes.
The fact remains that fracking wastewater is monumental problem for which there simply is no adequate technical or policy solution. So we'll support tightening the screws, one by one, on fracking's dangers. And we'll keep tightening until we've banned this dirty drilling practice for good.
Related
Popular in the Community