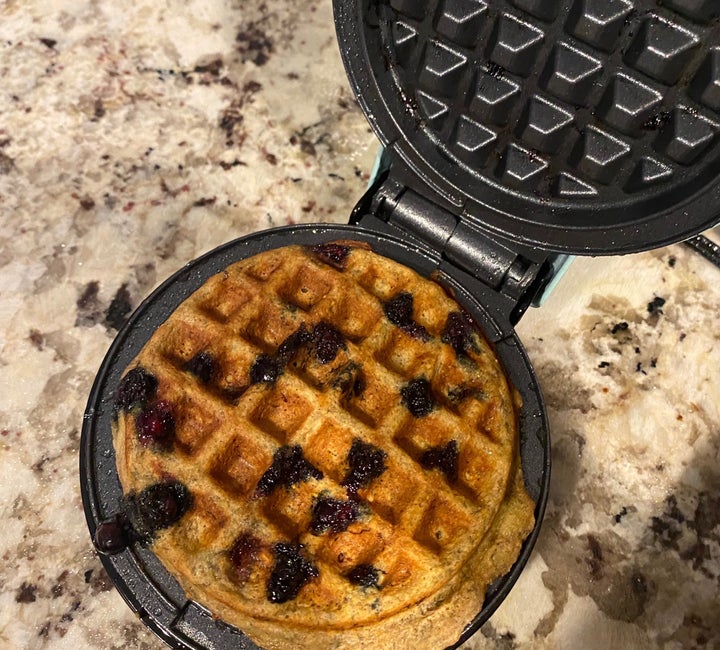 On Real Tok, we test out the latest TikTok product trends to help you make slightly more informed late-night impulse internet buys. You're welcome.
Morning, lunch or 2 a.m. after a night out, there's no wrong time to eat homemade waffles. Of course, while you may always crave those warm, fluffy syrup vessels, you're likely never in the mood to do all the preparing and cleanup. Cue the mini waffle maker.
The mini waffle makers come in a bunch of styles of colors. You can get a heart-shaped one that makes heart-shaped waffles or one covered in pirate flag-like skulls and crossbones. I got the "aqua," which looks like a cute 1950s kitchen appliance. The waffle griddle itself is four inches in diameter so so, too, will be your waffles. The appliance needs to be plugged in and gets a little hot while cooking, so just make sure you have a safe, open spot near an outlet in your kitchen workspace.
After you plug the machine in, the blue light on top will go on to show it's heating. The only real issue is that there's no "on/off" switch or temperature control, so you need to be mindful of plugging and unplugging it and watching over your snack as it's cooking.
The Dash mini waffle maker with over 158,000 five-star reviews
The Dash mini electric round griddle
Promising reviews:
"Perfect for singles. At first, I laughed thinking it was too small to really do anything. I was so wrong, it's an amazing little waffle maker!! Can cook almost anything on it! I have cooked eggs, waffles, and french toast." — S. Peterson
"I can't stop cramming random stuff into my tiny waffle maker. YES! Tiny Eggo-sized waffles! Put anything into it- hashbrowns, tater tots, waffle mix, canned biscuits! Add nuts and berries and things! It even comes with a little recipe booklet! It fits in the palm of your hand, you could literally stuff it in the back of a drawer, but you won't, because as soon as you get it everyone wants mini waffles for every meal. It heats up super fast and is a breeze to clean. If you're making a whole mess of waffles, be sure to give it a quick spritz of nonstick spray every couple of waffles or so, so it doesn't rend your delicious waffles asunder. Excellent value. Buy 10 of them and a food truck, you'll be in business." — Bryce Pierce
"Seriously I love this thing more than my regular-sized waffle maker!! It makes waffles that are a tad smaller than Eggo waffles. They are a perfect size. My kids love that I am willing to make waffles in it on weekdays instead of just on weekends with my other one. So easy to use...no clean-up is necessary. The waffles come out perfectly every time, no spray needed! Almost thinking I should get another one...hmmmm. You will not be sorry with this little guy...a keeper!" — Thefabfive
"Look, I'm not going to lie. I saw people waffling cheese and pickles on Tiktok using these little waffle makers and I had to have one. Does it waffle things? Yes. Is it easy to clean? Yes. Is it cute as a button? Also yes! I have the one with little rainbows on it and it's just super cute. As far as things that Tiktok made me buy goes... this is 100% a great appliance!" — Melissa
Before You Go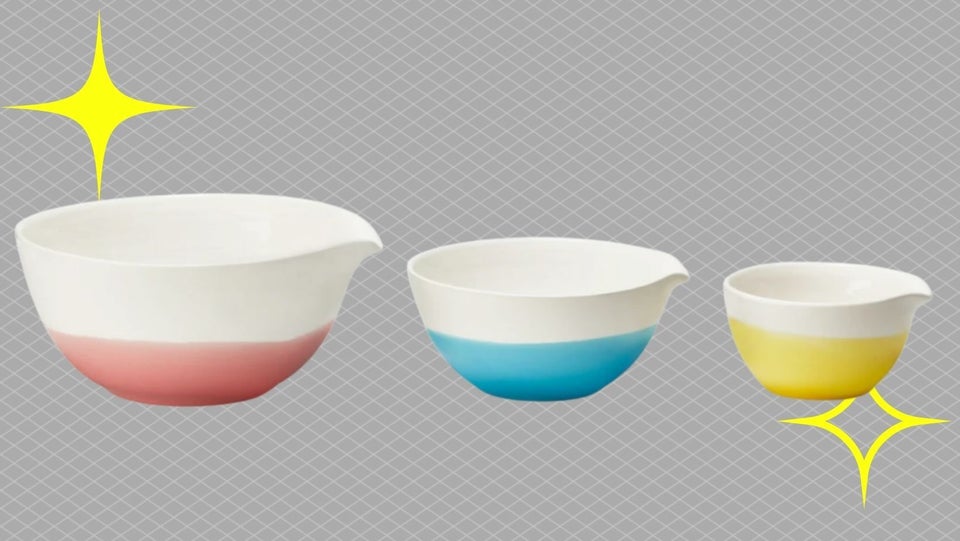 Vintage-Inspired Dishes And Cookware For Your Kitchen And As Gifts
Popular in the Community