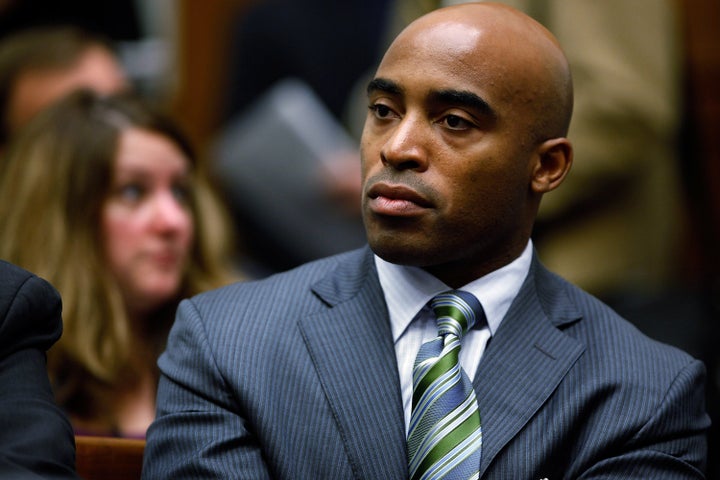 I tried to reach Barber on Sunday, but he wasn't talking. I hear he's devastated that no team gave him a chance. You might wonder if teams would bring him in after the first game of the season, so his contract wouldn't be guaranteed, and that could still happen. But with no team calling Lepselter with even a hint of interest, it's more likely teams would start with backs who've been in some football competition this summer.
Speaking to the New York Post after King's column was published, Lepselter attempted to downplay King's characterization of his client's emotional distress. The agent did, however, concede that Barber "has moved forward accordingly" now that the NFL has made it clear that he will remain a "former NFL player" in all news stories generated by his upcoming wedding.
At this point, even the scrap heap is populated with running backs younger than Barber, who retired after a stellar 2006 campaign with the New York Giants to pursue a career in broadcasting. His 2,127 yards from scrimmage were the fifth most in the NFL that season. He had led the game in that stat the two previous seasons.
But not only are Barber's physical skills lightly regarded after being away from the game for so long, but his missteps as a broadcaster have called into question the presence he would bring into the locker room. After burning his bridges with many of his Giants teammates with his critical comments in the booth, Eli Manning came out this summer and said that he'd rather have Plaxico Burress return to the team than Barber.
Generally, veteran players looking to latch onto a ballclub for one last go around can sell themselves as role models and leaders. Given his public missteps, Tiki cannot even offer that to a potential employer.
RELATED VIDEO: Kerry Collins prepared to play if needed.
REAL LIFE. REAL NEWS. REAL VOICES.
Help us tell more of the stories that matter from voices that too often remain unheard.