It's a weekend of espionage and excess as Tiki Oasis 12 invades San Diego with 3,000 unconventional conventioneers convening to celebrate the cross pollination of high-spy style and tropical indulgence at the Crowne Plaza Hotel in San Diego, August 17-19th.
This year's theme, Exotic Espionage and Polynesian Pulp, surfs the connection between Tiki culture (far away, sensual locales and cocktails) and spies, private eyes, and secret agents (namely far away, sensual locales and cocktails),while celebrating the 50 years of cinematic James Bond. It also dovetails nicely with Bradley Manning's trial, real life international man of mystery Julian Assange's bid for amnesty to avoid both a trial on alleged sex crimes in Sweden and extradition to the U.S. for Wikileaks' related espionage, and a rise in both domestic and international spying. Was that intentional? Who knows, but in recent years Tiki Oasis has magically managed to reflect the current zeitgesit; last year's theme, South of the Border, tied in nicely to immigration issues, and next year America's hinterlands receives full focus with Hulabilly--Tiki at Its Doggone Best, a perfect compliment to the scrutiny the U.S. will receive no matter who wins the election.
In keeping with the aloha spirit where all travelers are welcome, Tiki Oasis offers free, family-friendly events open to the public throughout the weekend, including Artists' Alley where artists set up shop; the 3rd Annual Tiki Art Show with two dozen artists like Atomikitty, BigToe, Dawn Frasier, Ken Ruzic, Tweelebop, Maya Rogers, Doug Horne, and Eric October exploring the mysterious connection between spies and Tiki plus a spy/Tiki-themed decorated briefcase contest; and the Tiki Marketplace vending areas indoors and out, stocked full of vintage clothing, records, jewelry, décor, and much more. Plus noted cocktail culture/Tiki artist Shag will be signing at the Shag Store booth Saturday from 2 p.m. to 4 p.m.
Saturday also features a free, open to the public car show for 9 a.m. to 4 p.m. with over 30 vintage automobiles (including the James Bond Q-Branch Gadget Car; the "Get Smart" Tiger Sunbeam; a 1965 Mustang convertible with spy gadgets; a 1955 black Porsche Speedster; a 1956 Chevrolet pickup truck with tropical floral graphics; and a Tiki'd-out Volkswagen 15 Window Deluxe Microbus with tiki torches, a mai tai theme, and Shag prints), 20 tricked out scooters, and live performances by Los Venturas from Belgium at 10:00 a.m. and 2:00 p.m. and DJ Tiki Tena and BigTiki Dude all day.
While weekend and day passes for Friday and Saturday are sold out, tickets remain at the door for Sunday, August 19th, a day and night of Tiki fun and history including ukulele jam, movies, slide shows, a Tiki bus tour of San Diego, cocktails and DJs culminating in performances by Rob Zabrecky, currently the Magic Castle's Stage Magician of the Year, and the band Casino Royale.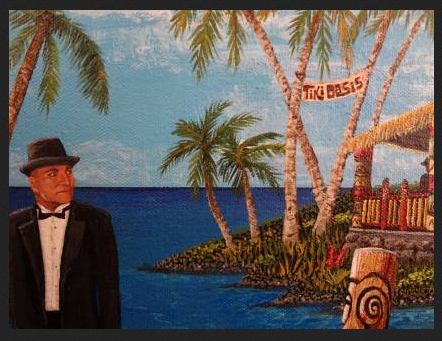 Wendy Cevola
Tiki Oasis 12: Exotic Espionage and Polynesian Pulp
Crown Plaza Hotel
2270 Hotel Circle North
San Diego, CA
Sold out Friday August 17 and Saturday August 18
TICKETS AVAILABLE for Sunday August 19, $35
Car show Saturday, 9am-4pm, free and open to public
Art show, Art Alley, and Tiki Marketplace free and open to public all weekend
Related