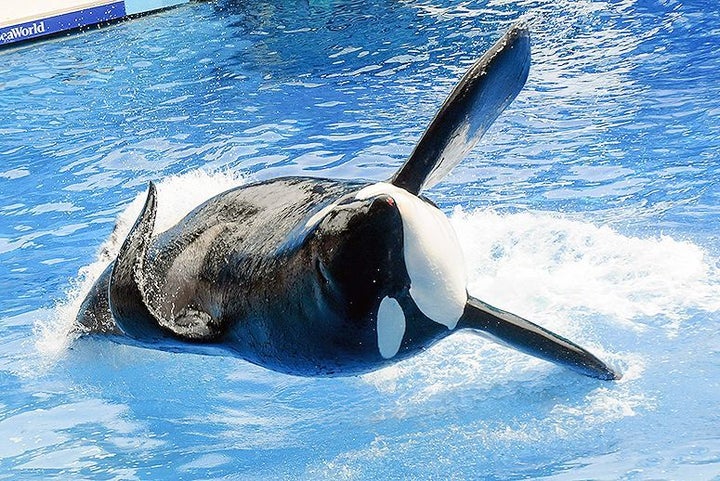 Let us never forget Tilikum and his story.
Tilikum's life story is one of an innocent, beautiful, tragically tortured orca held at Sea World Orlando until he was finally liberated by his death on Friday, January 6, 2017.
Stolen from the oceans, from his mother, and siblings at the young age of two, he was tortured, bullied, kept away from anything resembling a natural family order, and was reduced to nothing more than his semen. He was a young, male orca, who held onto "life" as long as he could. Perhaps he stayed alive by holding onto the belief that someday he would be reunited with his family.
He became a non-human spokesperson for the plight and cruelty of captivity everywhere. Not just for orcas, not just for dolphins, but truly, for any sentient animal.
There were many opportunities, organizations, and donors willing to assist him in being a free whale, or at least a retired whale, where he could live out his days in a sea-pen, in a more natural setting where he could feel the natural rhythms of the ocean, and swim, for real, once again. He was denied this right, and instead, languished and logged for years in a pool, smaller than many backyard pools. His story, as described in the CRITICALLY IMPORTANT movie 'Blackfish', opened my eyes to his plight, and the plight of the dolphins and orcas who are just like him.
Watching how these innocent mammals, just like us, are rounded up and stolen from their home, their family, and their freedom, and then seeing how humans force them to "live," is not only cruel, inhumane, but also shows their wills to live.
Tilikum's real life ended at the age of two when he was stolen from his family. He was possibly a nursing toddler, dependent on his mother for everything, including his emotional and physical development. This was all stolen from him. EVERYTHING was stolen from him.
When I first learned about Tilikum one year ago, my son was exactly the same age as Tilikum was when he was stolen.
I imagine that being my boy.
We know that dolphins and orcas feel as we do, have a full range of emotions, and are as nuanced as you or I.
When you imagine your child being kidnapped, put into solitary confinement, and tortured throughout his life, just for food, you can only begin to imagine the sadness his mother and family must have felt. Then, and only then, can you begin to feel the fear, despair, and hopelessness Tilikum must have felt.
The tedium, boredom, and mental images in your mind playing and replaying over and over and over again. I think that would make anyone go crazy. It is sad that he was tortured as he was, and that humans are responsible. There were so many opportunities to recuperate him, to un-train him, and allow him to be a wild orca. There were so many opportunities to allow this to happen while he lived, to do the right thing.
Why weren't these things done?
Greed, selfishness, stubbornness?
Even now, there are several other orcas, and many other dolphins still in captivity who deserve, and whose right it is, to be released back to freedom or retired in a responsible way. None of these dolphins or orcas volunteered for or were in any way a willing participant in their own captivity.
Which brings me to Lolita, or Tokitae, the solitary female orca at the Miami Seaquarium. "Swimming" in the smallest killer whale tank there is for over 45 years, sharing it with dolphins of another species. She deserves her freedom and deserves to be reunited with her family, the well known southern resident killer whales of the Pacific Northwest who are in grave danger of extinction.
But, once again, CAPTIVITY, the Seaquarium refuses to release her to a sea pen near her family. They are simply using her and waiting for her to be liberated by her death.
I do hope that someday soon, her human captors will do the right thing and return her to her home. It is time to empty the tanks. Let's do it right now, make amends and show the rest of the world that animal amusement/abusement parks are NOT OK!
If we think family is important to us, we have just scratched the surface. Because family is everything to dolphins and orcas.
If you have children, or even a pet, and couldn't imagine your life without them in it, then you are one step closer to becoming an anti-captivity advocate yourself.
Please, educate those around you. Host a movie night, watch "The Cove", or "Blackfish".
Watching animals in the wild has no compare. Watching the grief an animal goes through when it loses a family member can only be described as "human." But that shouldn't be a surprise. We are all made up of the same genetic material. We all come from vestigial ancestors. Our brains are all alike.
If we feel fear, sadness, anger at the loss of a loved one, they do too.
Hopefully, this is where the story of captivity ends. The life and subsequent death of Tilikum should be the bookends on captivity. Let's end captivity forever.
Calling all HuffPost superfans!
Sign up for membership to become a founding member and help shape HuffPost's next chapter