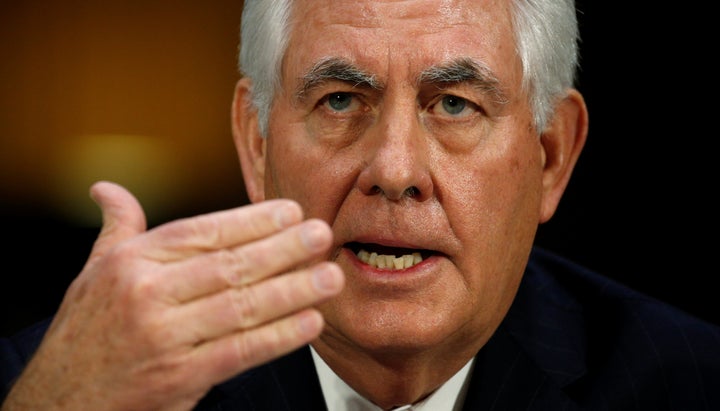 Rex Tillerson, President-elect Donald Trump's pick for secretary of state, offered tentative support on Wednesday for State Department programs that provide contraceptives and economic aid to women in developing countries.
But the former Exxon Mobil Corp. chief executive stopped short of pledging to commit at least the same amount of money to such programs.
"As I understand it, we currently invest something around a half a billion dollars a year in programs directed at family planning through foreign assistance," Tillerson said during his Senate confirmation hearing. "I think that's an important level of support."
Pressed by Sen. Jeanne Shaheen (D-N.H.) on whether that means he would support the programs, he demurred, claiming he knows little about the policies beyond how much money is spent.
"If confirmed, and I had the opportunity to examine all aspects of the program," he said, when asked if he would support the continuation of the initiatives. "I just am aware that we do spend about half a billion dollars now."
In December, the Trump transition team set off a wave of panic at the State Department when it asked for information on staffing and funding for all of its programs on gender equality. Some believed this was the beginning of the end for these programs. The transition team issued a statement affirming its commitment to women's rights.
Still, that didn't calm critics concerned with Trump's history of disparaging comments toward women.
Tillerson himself has spent his entire career at Exxon, a male-dominated company with a lousy track record on gay rights. Even today only 16 percent of managers at the oil giant are women and the company has fought off efforts to reveal data on whether it has a gender pay gap. It was only in 2015 that Exxon made benefits for employees with same-sex partners. At a time when most white-collar employers offer paid parental leave to all employees who welcome new children, Exxon only gives leave to women who physically give birth. Adoptive parents are not included.
It's not very clear where Tillerson stands on these issues.
"I have seen firsthand the impact of empowering women, particularly empowering women's participation in economic activities in the lesser developed part of the world," Tillerson said Wednesday. "There is study after study to confirm that when you empower women in these developing parts of the world, you change the future of the country because you change the cycle in that family."
"Whether that woman has daughters or sons, when you empower women and see them participating on an economic level it changes the way they see things as they grow," he added.
Exxon Mobil's new chief executive may want to take heed.
Before You Go

War On Women Illustrations
Popular in the Community