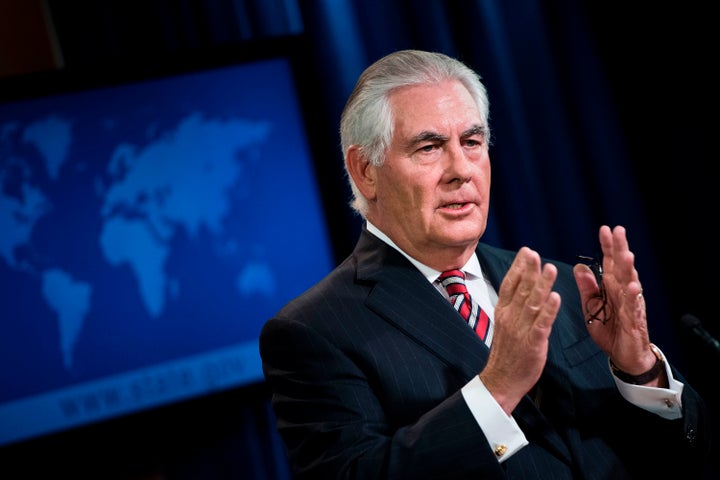 One of the few times I had the opportunity to be in the room with Secretary John Kerry was in a gorgeous library at Georgetown where a group of religious actors ― mostly Jewish, Christian, and Muslim leaders ― gathered to learn more about the efforts of the Obama administration in pursuing peace between Israelis and Palestinians. The gathering was convened and called together by Shaun Casey, then the special advisor to Secretary Kerry and head of the Office of Faith-Based Community Initiatives (later known as Religion and Global Affairs) at the State Department. The gathering was one of many attempts under the Obama administration to allow religious actors to contribute constructively toward issues important to our religious communities, while also allowing religious actors to provide valuable information and insights to U.S. foreign policy.
On August 28, 2017, POLITICO reported that Secretary Tillerson is looking to eliminate dozens of special envoy posts. In a letter identifying the organizational changes, Secretary Tillerson notified Senator Corker and the Committee on Foreign Relations of the changes, which include eliminating the department of Religion and Global Affairs (RGA) and having only portions of its previous functions integrated into the department of International Religious Freedom (IRF). The letter reads:
The Ambassador-at-Large for International Religious Freedom (IRF) will continue to be an ambassador-level position confirmed by the U.S. Senate, and will be organized under and report to the Under Secretary for Civilian Security, Democracy, and Human Rights (J). Additionally, IRF will assume the functions and staff of the U.S. Special Representative for Religion and Global Affairs, U.S. Special Representative to Muslim Communities, U.S. Special Envoy to the Organization of Islamic Cooperation, and Special Advisor for Religious Minorities in the Near East and South/Central Asia.

For the U.S. Special Representative for Religion and Global Affairs this will involve removing the title and realigning 10 positions and $1,303,000 in support costs within D&CP from the Office of the Secretary to the Ambassador-at-Large for International Religious Freedom (IRF).
While efforts to consolidate resources on a more conservative budget might be lauded, it is vital to understand the unique contributions of the office of Religion and Global Affairs. Earlier this year, 40 leaders of religious institutions representing hundreds of millions of constituents signed a letter (dated January 18, 2017) addressed to the Secretary of State calling on the administration to retain the RGA Office: "The State Department's Office of Religion and Global Affairs serves America well and is a valued nexus between U.S. policymakers and people of faith in addressing international concerns."
While aspects of RGA will be integrated into the office of International Religious Freedom, there is significant concern from religious leaders that IRF can tend to focus on isolated issues of state discrimination toward religious actors and will minimize the contribution of religious actors in broader foreign policy issues. In addition, "religious freedom" has been largely viewed as a partisan issue which bends toward the interests of neoconservatives within the political sphere.
Since its inception, commissioned under the State Department during Hillary Clinton's tenure and expanded significantly under Secretary Kerry, RGA has historically increased the ability of Jewish, Christian, Muslim, and other faith leaders to contribute in-depth analysis and information to help shape U.S. policy approaches that benefit from the wisdom of religious actors. In addition, RGA has provided space for marginalized peoples, including women and ethnic minorities, to contribute their voices into government and civil society spaces that have at times been hostile.
In light of recent domestic events such as Charlottesville, religious progressives and faith communities of color increasingly critique the Trump administration as derelict. The decision for RGA to be absorbed by an alternative office which may very well continue to limit those voices will likely be viewed with similar distrust and disdain. The former Special Advisor to Secretary Kerry and head of Religion and Global Affairs, Shaun Casey, posted on Twitter regarding the decision: "Tillerson squanders a great legacy by killing the Office of Religion and Global Affairs. He is blind regarding the global power of religion."
As the leader of an ecumenical Christian organization committed to peacebuilding in the Middle East, I maintain profound concerns about limiting the voices of religious actors to only those concerned about issues of religious freedom. Churches for Middle East Peace (CMEP) is committed to recognizing the religious importance of the Middle East to Jews, Christians, Muslims, and others; and to protecting religious freedom of all. The elimination of Religion and Global Affairs as a department within State will make it more difficult for the administration to engage religious voices more broadly in diplomatic and global challenges while also confronting issues of religious freedom.
The views expressed in this article do not necessarily reflect those of Churches for Middle East Peace (CMEP).
Popular in the Community