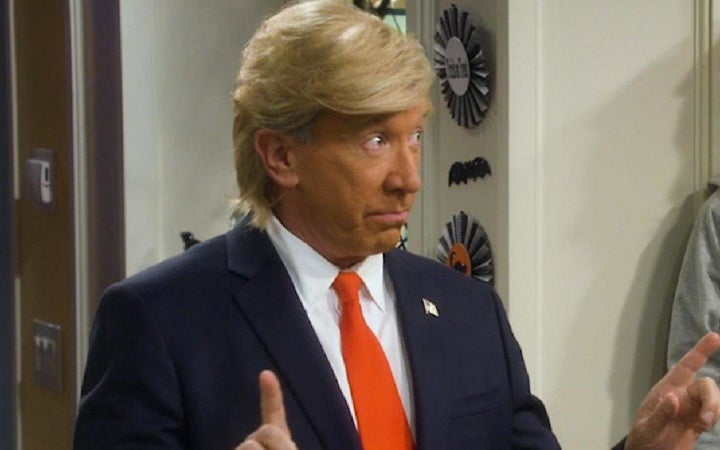 Just a couple months after the hyperbole remark, ABC cancelled Allen's show, "Last Man Standing," despite the high ratings it had garnered.
At the time, the company was murky about the details for the decision, citing "business and scheduling" reasons as driving the decision, but now ABC Entertainment Chief Channing Dungey is being more definitive. "Politics had absolutely nothing to do with it," said Dungey at a Television Critics Association event on Aug. 6.
"Stunned and blindsided by the network I called home for the last six years. #lastmanstanding," Allen wrote in a tweet immediately after the cancellation.
Dungey had brushed off suggestions shortly after the announcement that the axing was due to political reasons. "I wouldn't say that was the deciding factor," Dungey said during a May conference call about the fall lineup.
"I canceled 'Last Man Standing' for the same business and scheduling reasons I canceled 'The Real O'Neals,' 'Dr. Ken,' 'The Catch,' 'American Crime,'" the ABC executive said in May according to Deadline.
A Change.org petition created by a user under the pseudonym called "Deputy Matt" received over 400,000 signatures advocating to save the show, partly because it extolled conservative values.
"There's a lot of news, and I think that people are definitely looking to television as a place they want to feel, they want to laugh, they want to cry ... the mood of the country has told us that television is a little bit of an escape," Dungey said in May regarding the potential political implications. "What people want to do now is connect and experience and to feel ... that did frame a lot of our development thinking this season."
Before the election, Allen's character on "Last Man Standing" dressed up as President Donald Trump for a Halloween costume in an episode. The comment Allen made on Kimmel's show came after the late night host asked Allen to talk about attending Trump's inauguration, which many celebrities had boycotted.
At the TCA event, Dungey further said that the decision to cancel "Last Man Standing" had been "disappointing" and that she "unfortunately was not able to create room for it."
"Last Man Standing" had lasted six seasons. Allen had previously starred in the ABC sitcom, "Home Improvement," for eight seasons.
"Tim Allen is a valuable part of the Disney ABC family and has been for a very, very long time," Dungey said. At another point, she stressed, "we have actors on our shows who have all sorts of different political views."
Popular in the Community