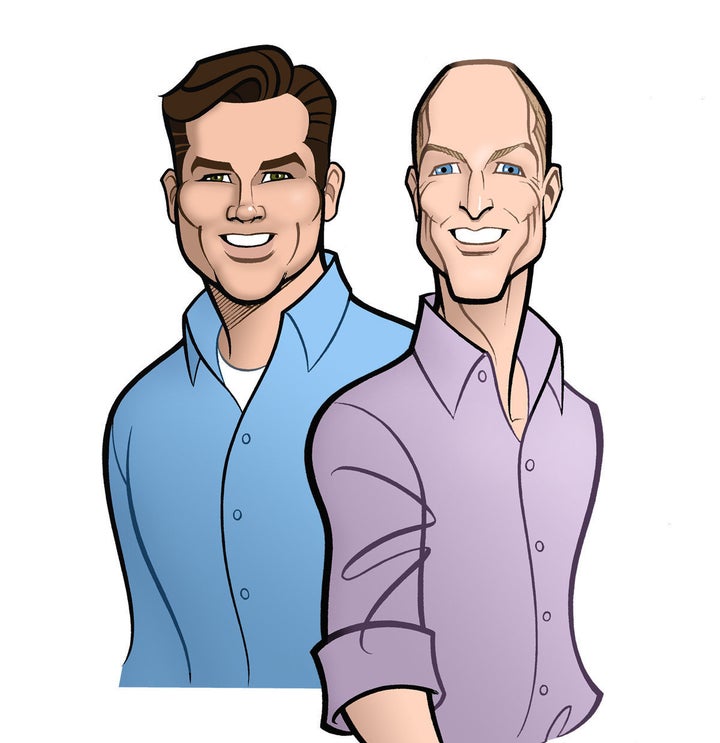 Tim Bennett and John Nash say gay pride should be celebrated on one agreed-upon day, "like the Fourth of July," and that the movement needs a new marketing strategy.
The problem with marketing gay pride, according to Nash, is that the demographic is split between those who lived through the peak of the AIDS crisis and those who grew up afterward.
Bennett and Nash interview companies, celebrities, ad executives and creatives on their Sirius XM radio show, "The Focus Group," airing live on Saturdays at 11 a.m. and replaying on Sundays at 10 a.m. It's shop talk about Madison Avenue and beyond for LGBT marketers and consumers -- like whether the Super Bowl commercial bonanza affects gay viewers at all. (Their answer, by the way, is yes.)
Either way, Gay Pride Month arrived this June at a time when gay-themed advertising has increased among traditionally mainstream companies, such as JCPenney and the Gap. The retailers have remained steadfast in their gay-inclusive advertising, despite protests from conservative group One Million Moms.
Bennett and Nash have helped create some of the history that they now analyze. Commercialcloset.org said the pair's Subaru print campaign was the first mainstream advertising campaign to target gay consumers. Subaru billboards started popping up around the country in 1997, showing cars with vanity plates such as "XENA-LVR," "P-TOWN" and "CAMP OUT."
Bennett, Subaru USA's advertising director at the time, and Nash, whose agency had been hired by Subaru, had effectively stamped the brand as gay- and lesbian-friendly with a clever wink.
More of these bold yet "coded" ads followed, highlighted by a billboard and print push with the tagline "Get Out. And Stay Out." According to the radio hosts, the Harvard Business School still uses the Subaru campaign as a case study. The brand has persisted as a gay community favorite over the years.
True story, they swear: When one Subaru ad man, Tim Mahoney, proposed the gay-targeting ads in talks with Japanese executives, the executives hurriedly looked up "gay" in their dictionaries. Upon reading the definition, they nodded at the idea enthusiastically. Who wouldn't want happy or joyous advertising?
But when the executives were informed what the other "gay" meant, it took a little more persuading.
Nash and Bennett know gay ad history well, from the time when gay advertising wouldn't go further than a veiled gay reference (like "Hollywood Squares!" Nash cracked) to Volkswagen's 1997 spot of two fellows picking up a chair on the street and then leaving the chair by the side of the road. The commercial aired during Ellen DeGeneres' character coming-out on the sitcom "Ellen," prompting many to believe it was at least a gay-sympathetic statement, although Volkswagen never verified or denied those claims.
Bennett and Nash became platonic friends in high school in Southbury, Conn., and stayed in touch through college and visits to The Pines in Fire Island, a gay enclave near New York City. When Subaru's campaign brought them together professionally years later, Bennett knew how critical it was for Subaru to strike just the right tone in the ads. He treated his old pal as if he were just another creative.
"You would never know we were good friends," Nash said. "Tim is very church and state."
Nash and Bennett said they began their radio show in 2008 because the "what's next" factor in gay advertising appeared limited as the economic downturn dawned. "The recession became a good excuse to cut all kinds of advertising," Bennett told The Huffington Post. "We felt there were not a lot of places to reach the smart, hardworking LGBT professional."
The two are often asked to comment on what's right in gay advertising. For one, they said, an inclusive message like the recent JCPenney's Mother's Day and Father's Day catalogs, which interspersed same-sex couples amid straight ones.
The hosts also often talk about what's wrong in gay advertising. They hate the painfully obvious, like showing a rainbow or two guys holding hands. "When it's done authentically and with care, it does resonate," Nash said. "Whether or not that person becomes a consumer, they become a customer at that point."
These days, the two are united in their head-scratching over how to advertise gay pride. Nash said marketing executives still have to figure out how to market toward the two distinct gay demographics: those 40 and older, and the younger generation. The difference is that the former remembers when a moment of silence meant remembering a half-dozen or so loved ones who died within the previous two years, while the latter have "no awareness" of this history and are more intent on scoring swag than remembering the past. "That becomes a real advertising rubicon," Nash said.
Bennett said huge swaths of the national gay community still do not support gay pride. He mentions that he didn't even attend festivities in Philadelphia, where he lives. Bennett, who has a consultancy firm called Tribury Productions with Nash, couldn't offer a solution on that front.
But he had definite advice on another. The various dates and durations of gay pride events addle the ad guru in him. Boston's pride celebration period was June 1 to June 10; San Franciso's takes place over a weekend (this year it's June 23 and 24); and New York City's official site shows events from June 16-24. Las Vegas' pride period doesn't even take place in what's generally known as Gay Pride Month, unfolding instead on Sept. 7-8.
Pick one universal day, Bennett urged. He recommended the last Saturday or Sunday in June, which would keep it close to the June 28 anniversary date of the 1969 Stonewall uprising. If not that, then Bennett said someone should find another milestone on which to peg the celebration.
"Pride should always be one day," Bennett said. "It will have a lot more impact."
Related
Popular in the Community