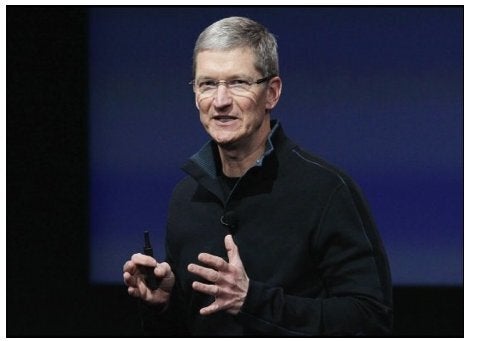 Apple CEO Steve Jobs announced in an email to Apple employees that he will be taking a medical leave of absence, during which time Apple COO Tim Cook will be taking over the company's day to day operations.
"I have great confidence that Tim and the rest of the executive management team will do a terrific job executing the exciting plans we have in place for 2011," Jobs wrote in the note (Read the full text below).
Cook stepped in during Jobs' previous leaves of absence in 2009, during which time the CEO underwent a liver transplant, and 2004, during which time Jobs received treatment for pancreatic cancer.
BACKGROUND: Cook, 50, who was named COO in 2005, joined Apple in 1998 as senior vice president of Operations. Prior to his work at Apple, Cook worked in operations at Compaq and spent 12 years at IBM. Born in Alabama, he graduated with an M.B.A. from Duke University and studied engineering at Auburn University.
According to Apple, as COO Cook "is responsible for all of the company's worldwide sales and operations, including end-to-end management of Apple's supply chain, sales activities, and service and support in all markets and countries. Cook also heads Apple's Macintosh division and plays a key role in the continued development of strategic reseller and supplier relationships, ensuring flexibility in response to an increasingly demanding marketplace."
The Wall Street Journal writes of Cook's tenure at Apple, "Mr. Cook shed bloated inventories and whipped the company's supply chain into shape. [...] Mr. Cook ran day-to-day operations during Mr. Jobs's absence [in 2009] and was praised for his ability to make Apple's sprawling operations move on time. He has established himself as the CEO-in-waiting since his stint taking over for Mr. Jobs."
Amid speculation over what Jobs' absence will mean for the Cupertino company, now the most valuable tech firm in the world in terms of market capitalization, some have noted that Cook already plays a major role, albeit a less public one, in overseeing Apple. Bloomberg wrote in 2009, during Steve Jobs' last medical leave of absence, that insiders say Cook has already "been quietly running the company for several years."
"Tim runs Apple and he has been running Apple for a long time now," Michael Janes, a former Apple executive, told Wired in 2009. "Steve is the face of the company and very involved with product development but Tim is the guy who takes all those designs and turns it into a big pile of cash for the company."
See photos of Cook below. Read more about Steve Jobs' medical leave of absence here.
Jobs' email to Apple employees:
Team,

At my request, the board of directors has granted me a medical leave of absence so I can focus on my health. I will continue as CEO and be involved in major strategic decisions for the company.

I have asked Tim Cook to be responsible for all of Apple's day to day operations. I have great confidence that Tim and the rest of the executive management team will do a terrific job executing the exciting plans we have in place for 2011.

I love Apple so much and hope to be back as soon as I can. In the meantime, my family and I would deeply appreciate respect for our privacy.

Steve
Popular in the Community