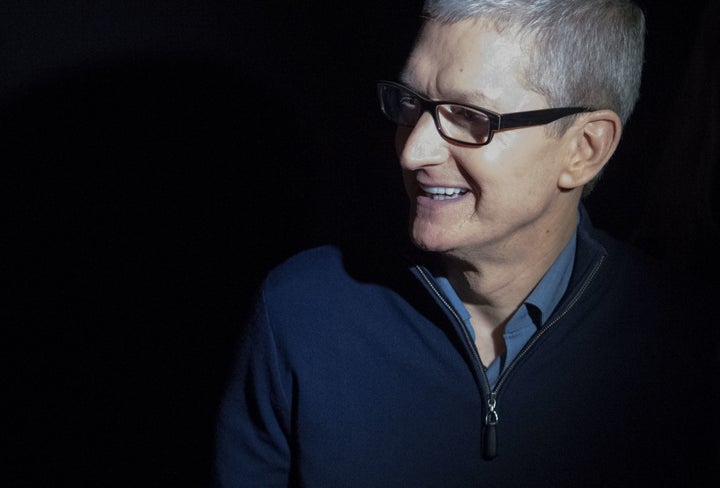 It was supposed to be a chummy weekend with GOP lawmakers and billionaires. Instead, Sen. Tom Cotton (R-Ark.) got into it with Apple CEO Tim Cook over his company's refusal to help the FBI hack into iPhones.
The exchange, which took place at the American Enterprise Institute's World Forum, left a number of attendees "a little uncomfortable about how hostile Cotton was," a source familiar with the back-and-forth told The Huffington Post on Monday.
A senator who was present for the argument told HuffPost that there was some discussion of whether Apple had "done some things for China that they weren't willing to do for the U.S."
The senator described the Cotton-Cook exchange as "tense."
"I don't think he's used to being spoken to in such an adversarial manner," added the senator, referring to Cook. "I don't think he gets that from his subordinates."
Cook was one of several tech CEOs and billionaires who attended the conference at the luxury resort on Sea Island, Georgia. Elon Musk, the CEO of Tesla and SpaceX, was also in attendance, as was Google co-founder Larry Page and Facebook/Napster's Sean Parker.
According to the source, Cotton was "pretty harsh" on Cook, hitting him on Apple's dispute with the Department of Justice and the FBI. The tech giant has refused to help authorities unlock one of the iPhones of the San Bernardino shooters, prompting administration officials to seek a judge to order Apple to bypass security measures.
The annual conference is usually a chance for politicians to hobnob with some of the wealthiest donors in politics. And this year, in addition to the lengthy list of Republican lawmakers -- Speaker Paul Ryan (R-Wis.), Senate Majority Leader Mitch McConnell (R-Ky.), House Majority Leader Kevin McCarthy (R-Calif.), House GOP Conference Chairwoman Cathy McMorris Rodgers (R-Wash.), and many more -- the Dalai Lama was also in attendance.
You can read more about the secretive conference, including talk of how to stop Donald Trump from winning the GOP nomination, here.
Ryan Grim and Nick Baumann contributed reporting.
This story has been updated with comments from a senator who was present at the meeting.
Calling all HuffPost superfans!
Sign up for membership to become a founding member and help shape HuffPost's next chapter